Rockin Moroccan Stew || A healthy, filling, flavor-packed vegetarian main dish that's as delicious as it is colorful. And it's make-the-same-day-simple and perfect for a cold winter day.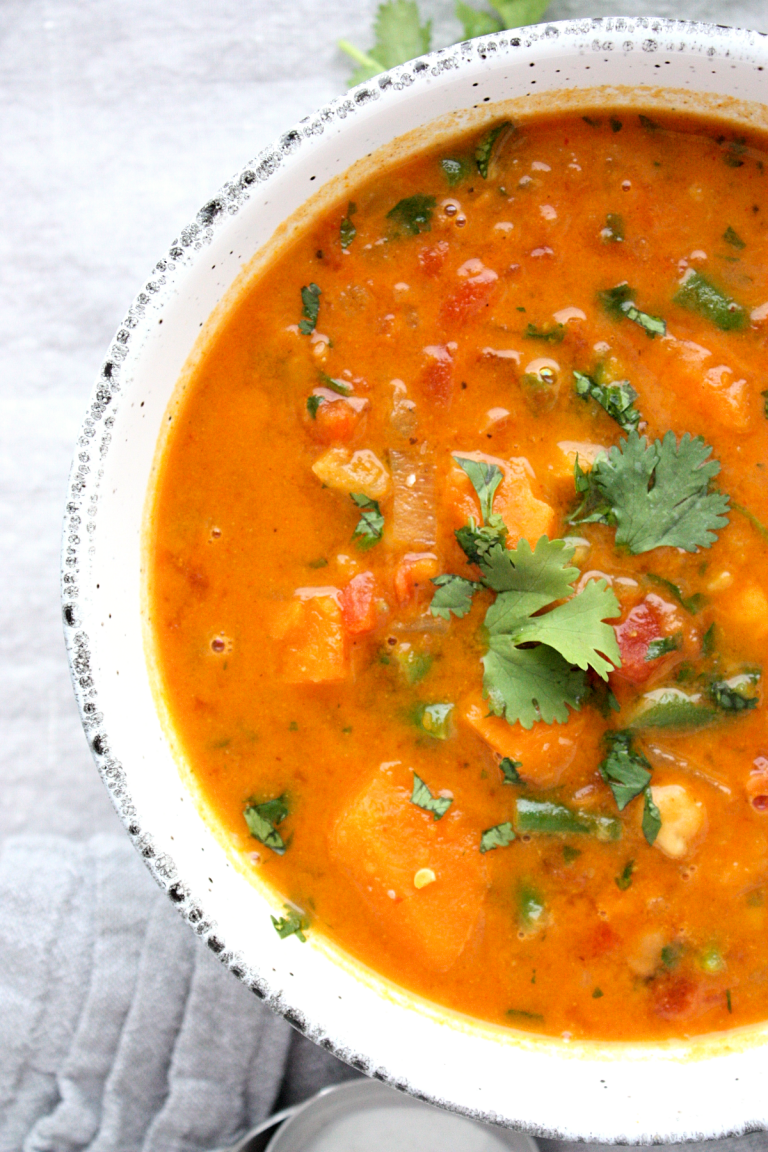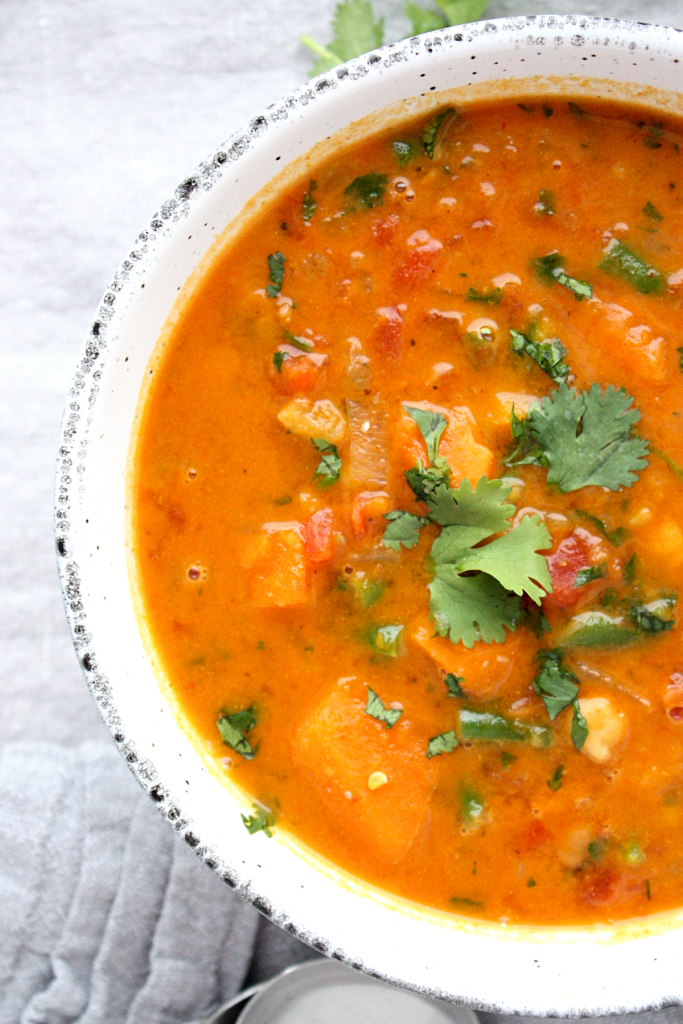 I've been making this stew, a slightly adapted Looneyspoons Collection recipe, for years. It's filling and so yummy, with loads of good healthy ingredients like chick peas, sweet potatoes, ginger and garlic, plus a bunch of spices and more veggies.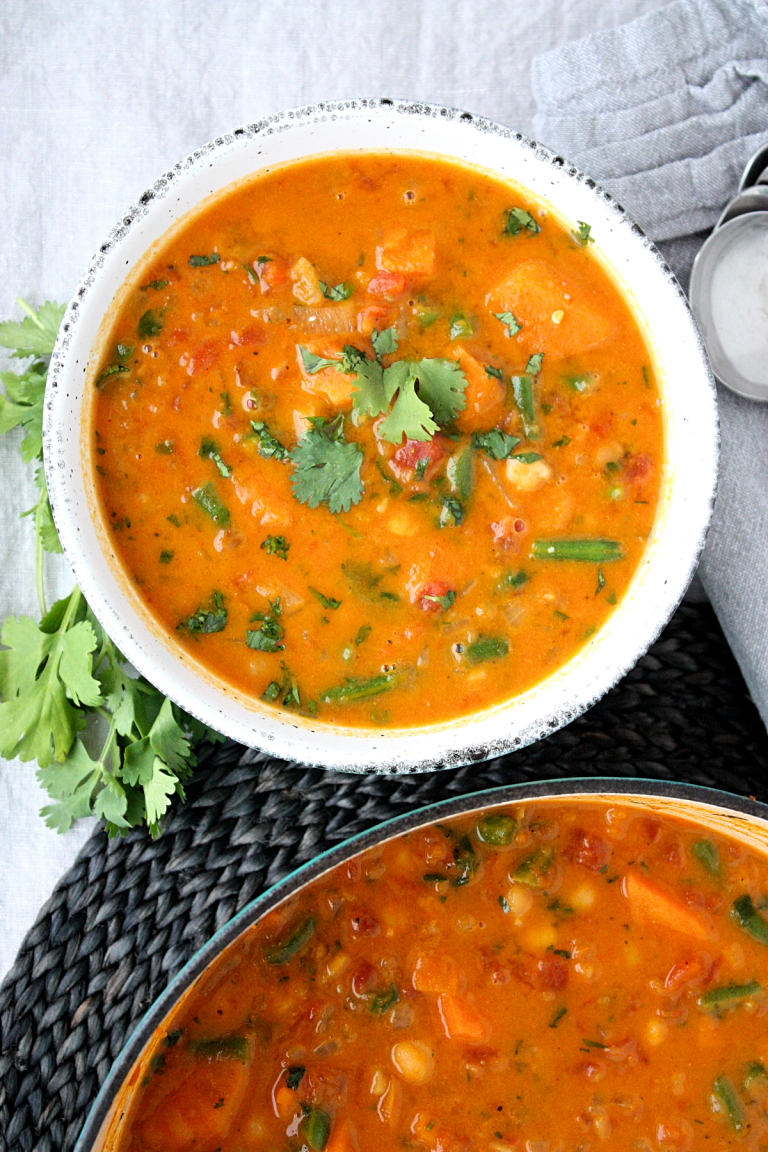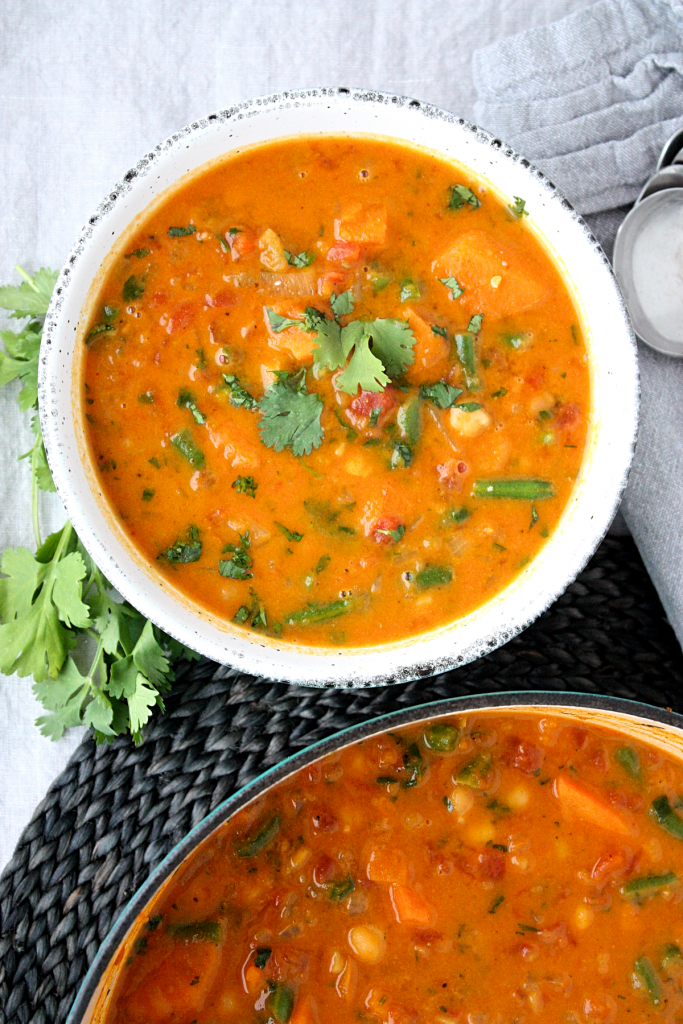 It had been a while since I last made this stew. I wasn't sure how well it would go over with little people, and rarely will I make separate meals for kids and adults. But little by little, I've been breaking down their kid-related aversions to things like stews, casseroles and soups.
There must be something in the presentation, something frightening and mysterious about a bunch of ingredients transformed into one cohesive dish, that FREAKS kids out. RIGHT? Is it all the colors, the texture? Someone please study and report back.
---
Thankfully, my little people are becoming more and more adventurous eaters by the day, devouring casseroles and other dishes that in the past they questioned. They also recently decided to like soup, so my hopes were high for this veggie stew. And the verdict? They tried it and loved it. #ThingsThatBringYouJoyInYour30s.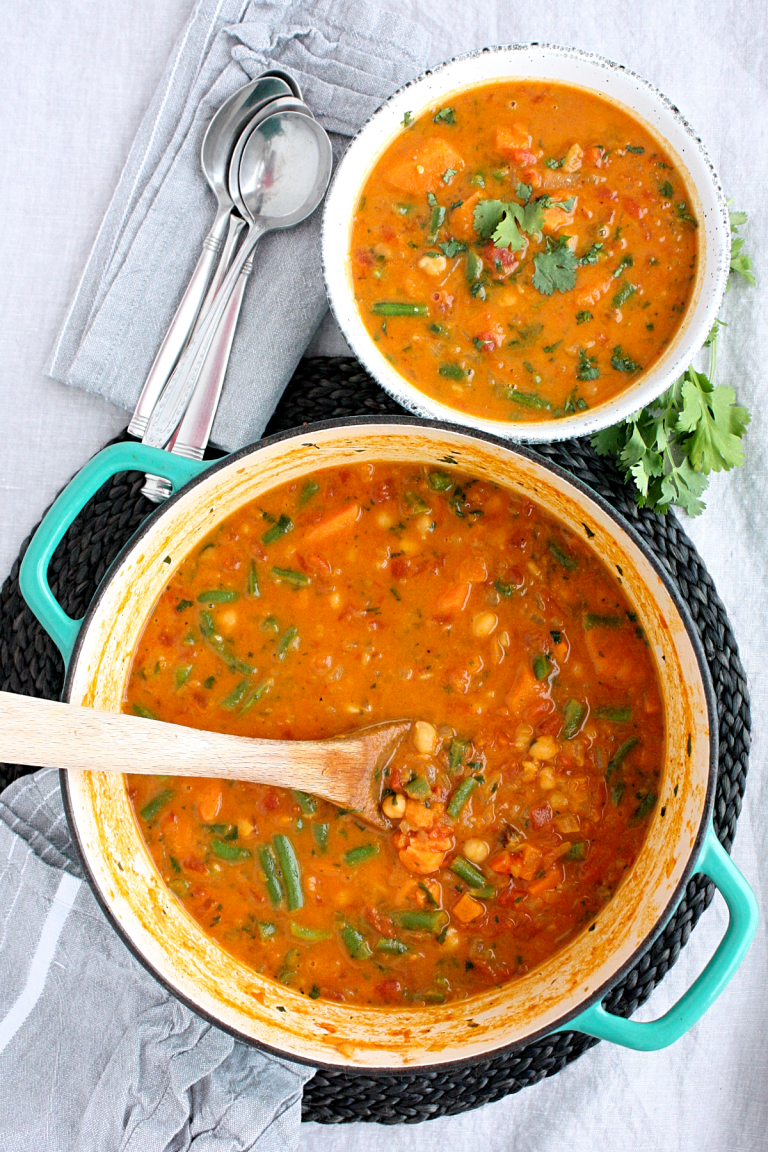 Tell me, are your little ones picky eaters? Or have you been blessed with adventurous eaters? Let me know in the comments below.
On the topic of picky eaters, here are a few of my tricks for getting kids to try new foods and recipes.
If they're finicky about a particular ingredient, chop it up SO finely they won't even notice (onions and celery), or blitz it (chunky tomato marinara), or swap it for something else (here I swapped the celery and bell peppers for fresh green beans).
When making a dish they've never tried before, like this one, tell them about the ingredients, the ones they know and like already. Get them on board while you're making it. This is half the battle.
Involve them. My kids love making guacamole. They fight over who gets to squish the avocados into the mixing bowl. Side note, there's something about squishing food that kids find deeply pleasing.
Encourage them to try whatever new thing it is you are making. At least a bite. I once spent 20 minutes coaxing a stubborn, teary-eyed two-year-old into having a bite of chicken pot pie. From that moment on, it was his favorite meal (and now I can lord this over him).
Be impressed by them trying and liking new things. Kids love impressing mom and dad.
xo
P.S. If this rockin moroccan stew appeals to your inner veggie, you WILL love this Healthy Coconut Veggie Soup. One of my favs.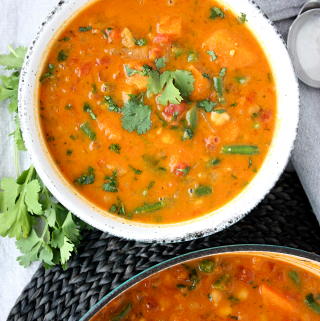 Rockin Moroccan Stew
Ingredients
2

tsp

olive oil

1

medium/large yellow onion

finely chopped

1

cup

of fresh green beans

*chopped into 3/4 inch bites

2

cloves of garlic

minced

2

tsp

ginger root

minced

1

tsp

ground cumin

1

tsp

curry powder

1

tsp

ground coriander

1

tsp

chili powder

4

cups

vegetable broth

*One 900 ml carton

3

cups

sweet potatoes

peeled and cubed

540

ml

diced tomatoes (petite cut)

drained

540

ml

chickpeas

One can - drained and rinsed

1

tbsp

lemon juice

freshly squeezed

1/2

tsp

salt

1/4

tsp

black pepper

1/4

cup

raisins

3

tbsp

peanut butter

*see notes

2

tbsp

fresh cilantro

minced - plus more for serving
Instructions
In a large pot over medium high heat, sauté onions and garlic in olive oil for 2-3 minutes. Stir in ginger root, cumin, curry powder, coriander and chili powder and continue cooking for another 30 seconds.

Add the remaining ingredients to the pot—except the raisins, peanut butter and cilantro—and bring to a boil. Reduce heat and simmer for 20 minutes or so, until all the veggies are tender.

Add in peanut butter, raisins and cilantro. Mix well. Let simmer for another 5 minutes before serving.
Notes
*The Looneyspoons recipe calls for 3 cups of broth, but I use 4 cups for a couple reasons:
1. Most broth cartons are 900 ml, i.e 4 cups and I hate wasting that last cup (because it inevitably wastes away, unused in my fridge despite best intentions).
2. This is a thick stew, and I find it needs that extra liquid.
*The Looneyspoons recipe calls for 1/2 cup diced celery and 1/2 cup diced green pepper, which I replace with 1 cup of  chopped green beans. Reason: to please the little people in my life. 
*The original recipe calls for 2 tbsp of peanut butter, but I top it up to 3 tbsp. I just find it that much yummier. I suggest starting out with 2 tbsp, tasting, and adding a little more to suit your tastebuds.
Share