Guys, this herb loaded kale and quinoa salad — I could eat it for DAYS. It's got ALL. THE. GOOD. STUFF. Healthy, feel-amazing stuff like red and yellow peppers, a trifecta of herbs, a light lemony dressing, plus pine nuts and parm.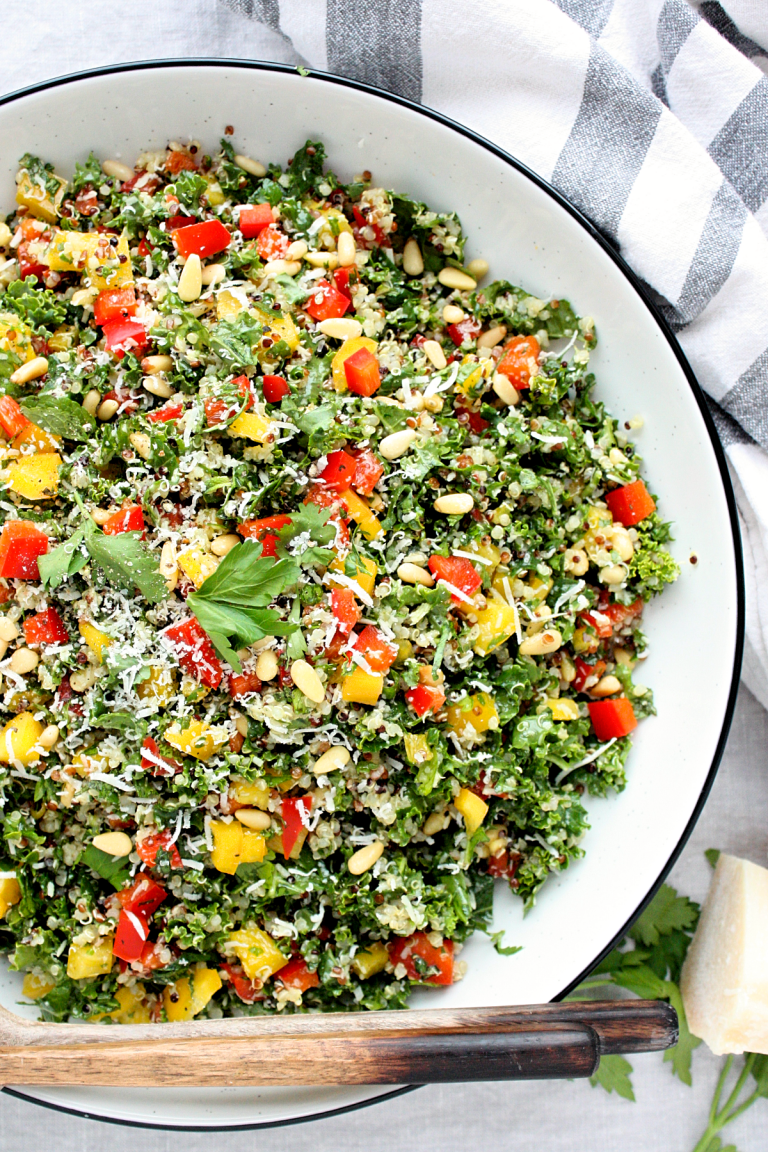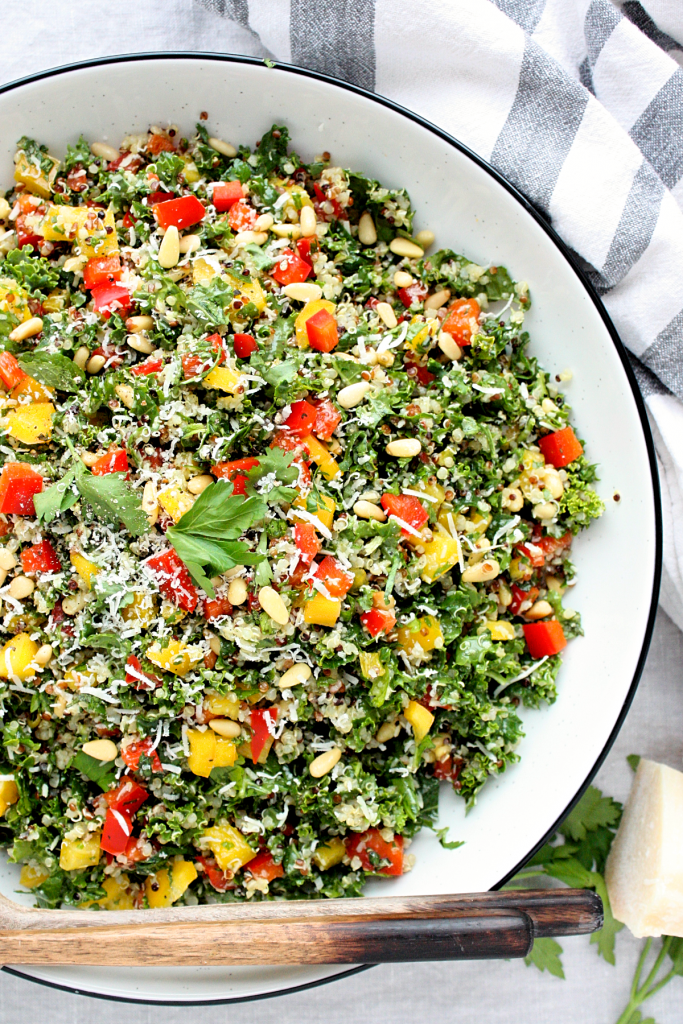 As mentioned, this kale and quinoa salad is full of healthy goodness, but it's also jam-packed with flavor. Because, in my world, why use just one herb, when you can use three. Right? Here I use finely chopped fresh cilantro, flat-leaf parsley, and mint, but you can easily adapt to suit your tastes and what you have on hand. Go all-in on mint, up the amount used and forgo the other herbs. Not a cilantro fan? Swap it out for another…like chopped basil.
Same goes for the colorful peppers. While I personally think they are perfection here, I'm also pretty confident that any colorful veggie you throw in will play nicely.
SO adaptable.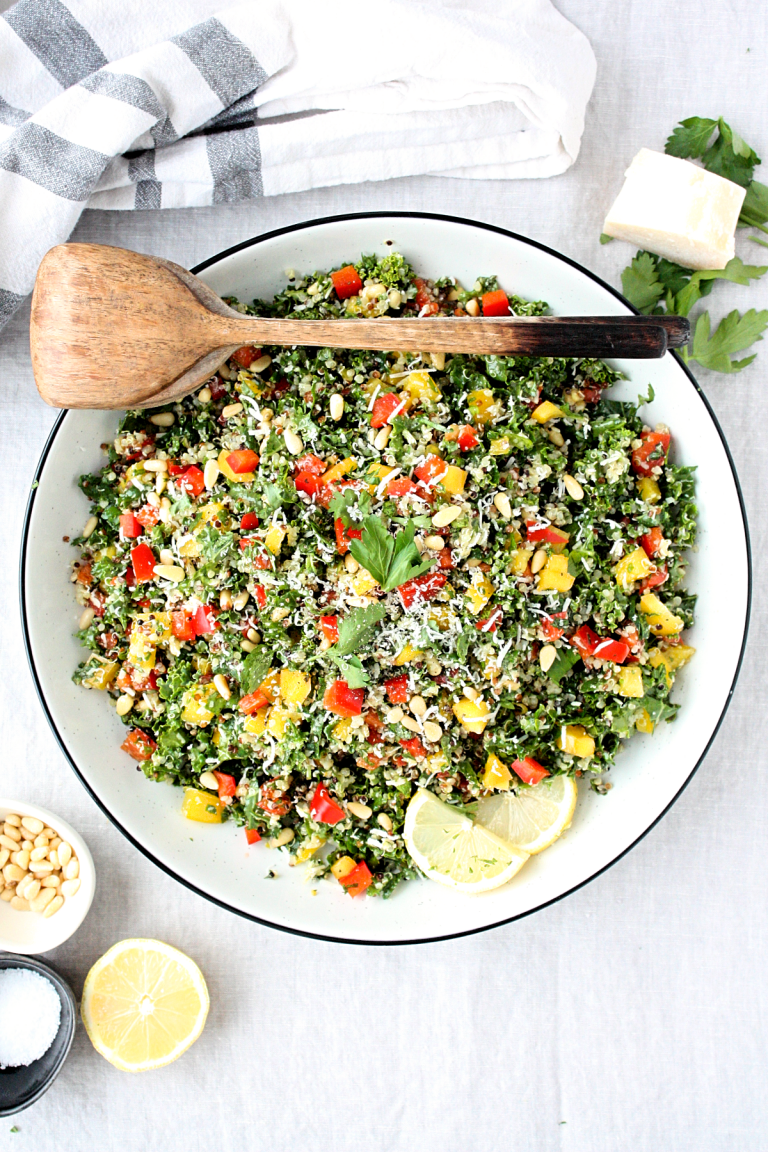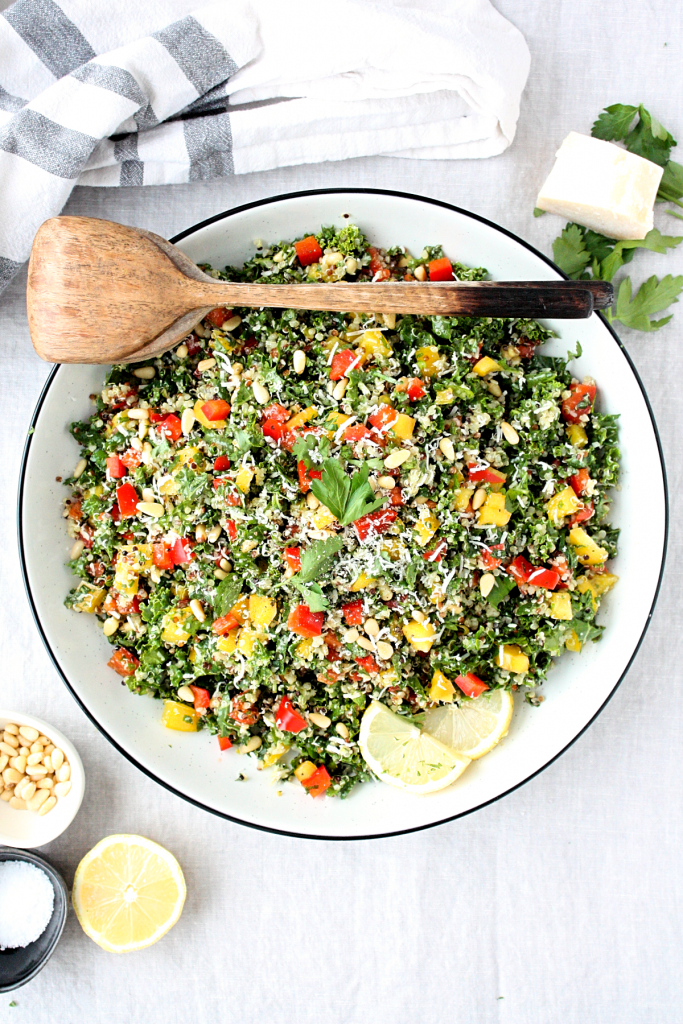 ---
What else has me full-on loving this healthy salad? It keeps so well. The kale is plenty hardy to keep for a couple of days — even all dressed up. Salad lovers rejoice. That means lunch tomorrow is taken care of. And maybe even the next day's lunch.
Having salad ready to go makes eating healthy easy and this brings me loads of good feelings. Because how often do we open the fridge, absolutely starving and end up inhaling a ton of less-than-healthy snacks, only because they are ready to eat immediately and your growling belly won't let you take the 10-15 minutes needed to make something healthy and tasty?
So high-fives to this non-wilty salad winner, that you will be pleased to see at the first sign of hunger.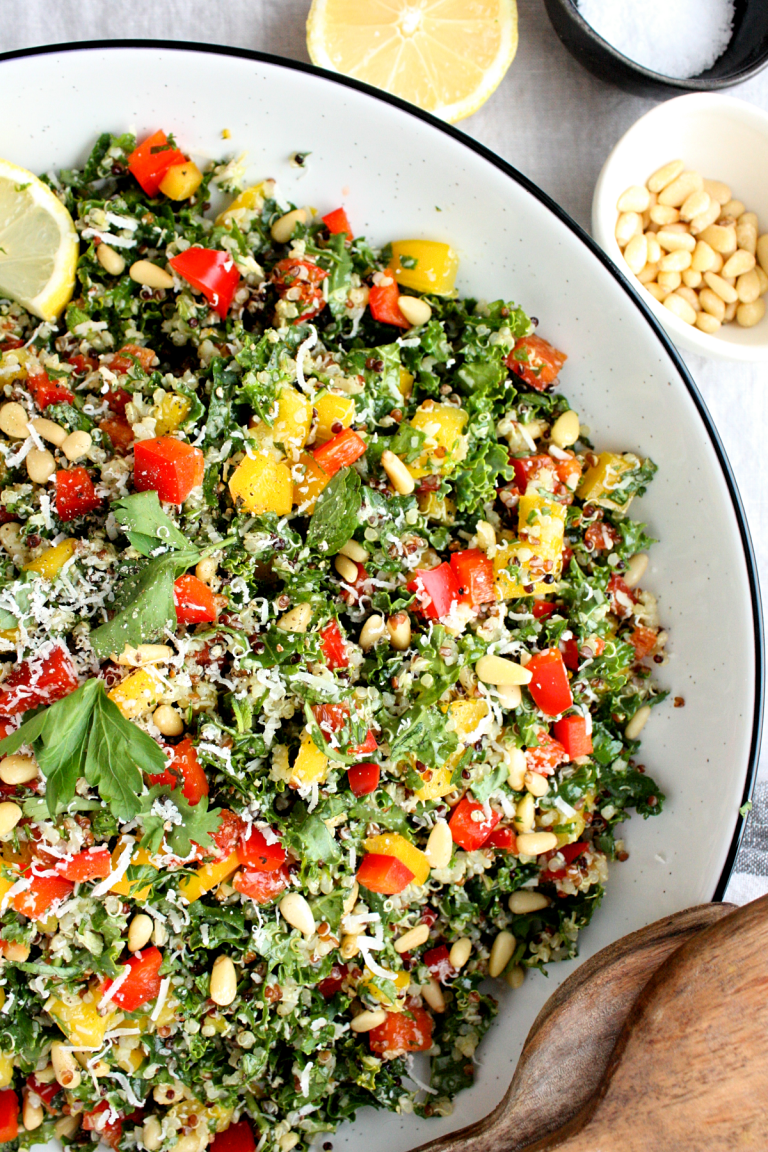 As a meatless main, this serves two hungry humans, but also makes a perfect side salad for 4-6 people. Bonus points because you can make it ahead of time.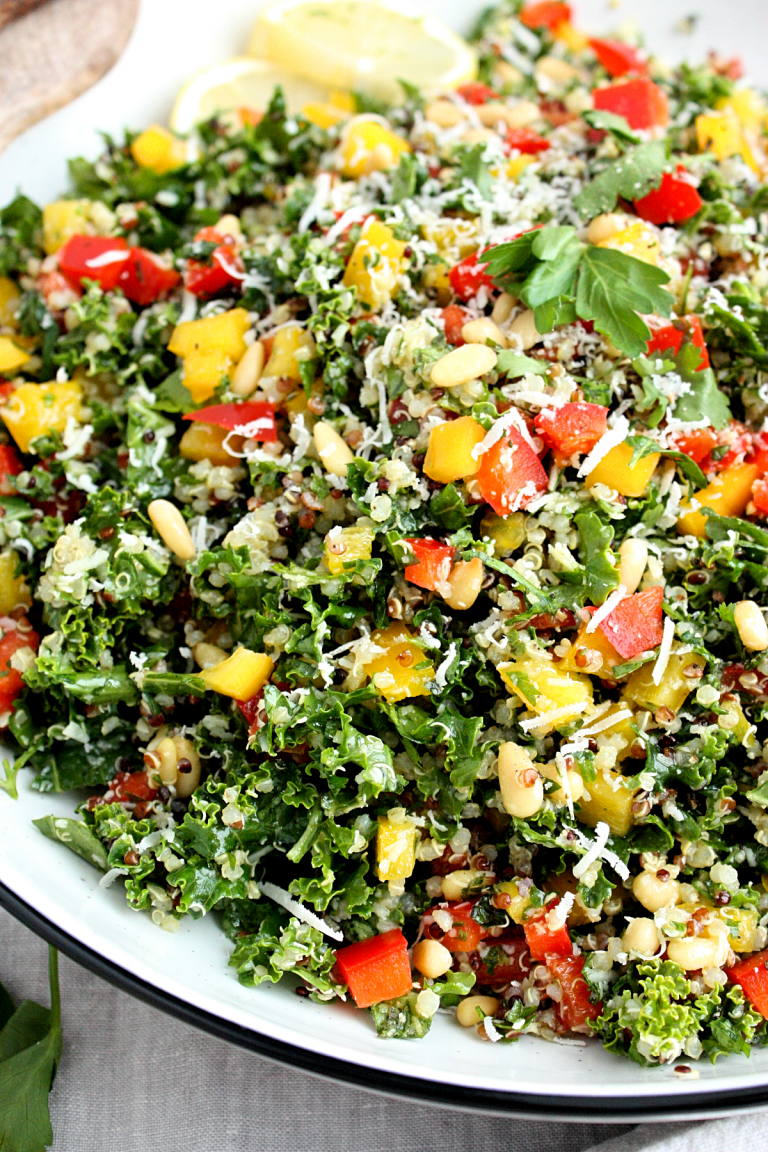 More salad ideas here. Like this fave green salad and this rainbow beet salad.
xo
Herb Loaded Kale and Quinoa Salad
Ingredients
4-5

cups

kale

washed, dried and chopped up into small bites

2

cups

cooked tri-color quinoa

(for 2 cups cooked, you'll need 1 cup of dry, uncooked quinoa and 2 cups of water)

1

red pepper

chopped

1

yellow pepper

chopped

2

tbsp

fresh flat leaf parsley

finely chopped

2

tbsp

fresh cilantro

finely chopped

2

tbsp

fresh mint leaves

finely chopped

1/2

cup

parmesan reggiano

finely grated

1/4

cup

pine nuts

1/3

cup

olive oil

juice of one lemon

1

tsp

kosher salt

1/4

tsp

freshly ground pepper
Instructions
Combine all and add extra salt and pepper to taste.

* I use tri-color quinoa, but any color or color combination will do!

* How to cook the quinoa: Rinse the dry quinoa (1 cup) with cold water. Toss the quinoa into a medium pot and toast over medium-high heat in a glug of olive oil for a minute or two. Add 2 cups of water and bring to a boil. Reduce heat and simmer uncovered for 12-15 minutes -- until all the water is absorbed. Cover and let cool.
Share