The Best Zucchini Muffins || Dense, delicious zucchini muffins made with chopped pecans, grated zucchini, cinnamon, sour cream, and brown sugar.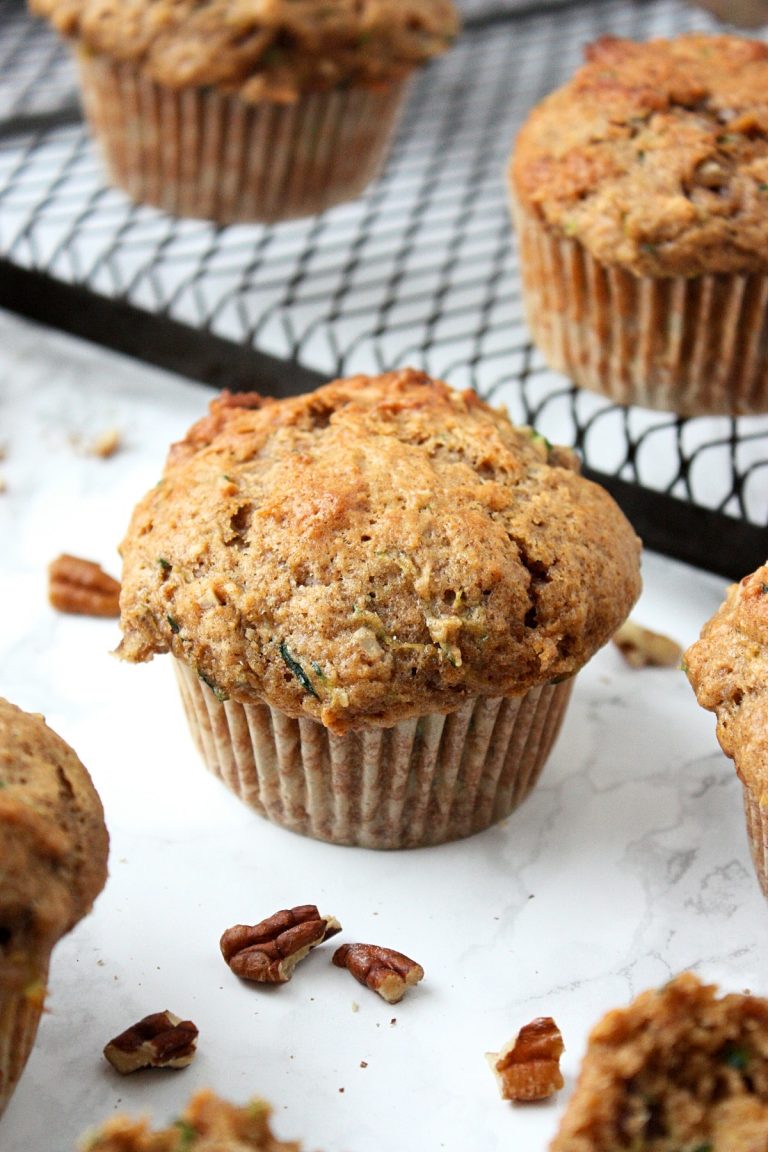 If you love my zucchini cake with brown sugar icing and my zucchini bread, try these big, dense, moist zucchini muffins. They are SO. GOOD. Especially with a latte, at 2pm.
How to make the best zucchini muffins:
Start by grating two small fresh zucchini, which should give you approximately two cups. Grate the zucchini over a tea towel so you'll be ready for step two—squeezing out all the excess liquid.
Draining as much liquid from the zucchini as you can (without going overboard) is key. If left undrained, the excess liquid will affect the overall batter and make for soggy muffins. So fold the tea towel around the grated zucchini and ring out as much liquid as possible.
Next up, roughly chop pecans into small pieces and set aside. *If you don't have any on hand, you can easily forgo or sub with walnuts.*
Now, for the easy. Mix all the dry ingredients together and add in the zucchini and pecans. Ensure they are well-integrated and not clumping.
Whisk all the wet ingredients (eggs, sour cream, oil, and vanilla) until smooth and fold the wet mixture into the dry. The batter WILL be quite thick and sturdy and ready for baking.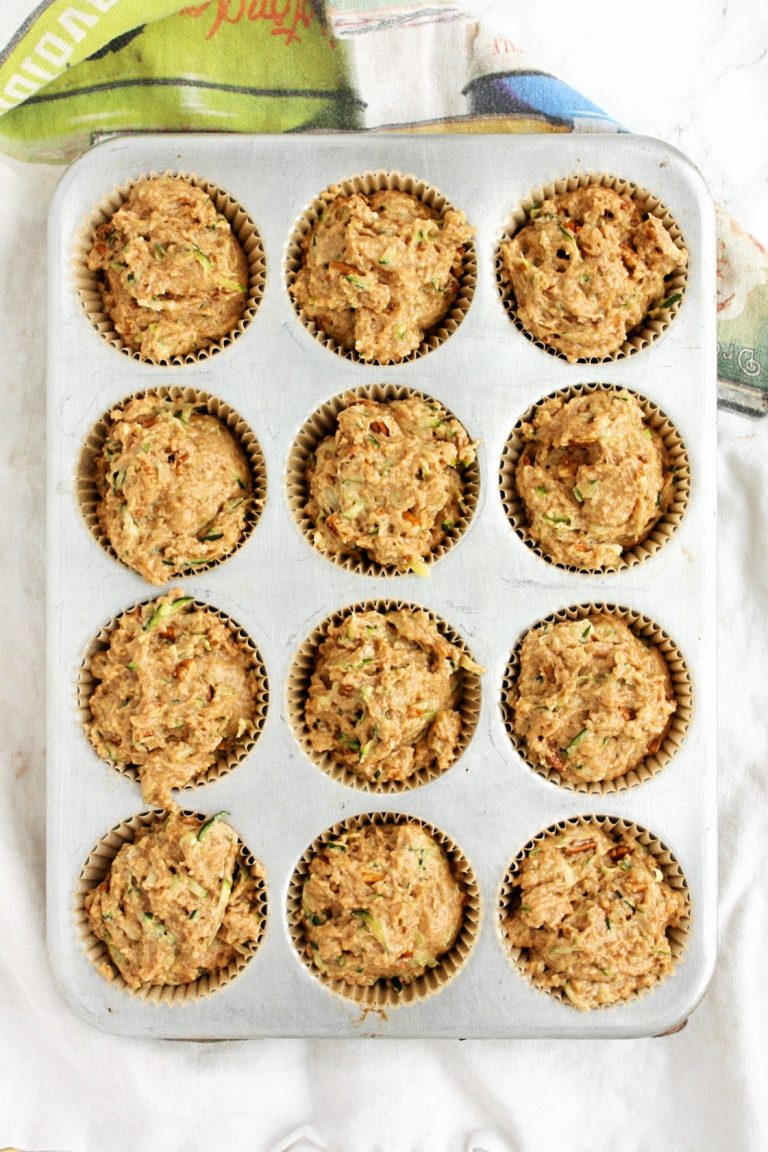 Healthy Substitutions:
I do consider these zucchini muffins to be slightly more indulgent than most of my muffin recipes (hello, sour cream, and brown sugar), BUT, you can easily make them healthier with a couple of swaps. Namely:
Swap all or part of the sour cream for plain greek yogurt (0% or 2%)
Cut the brown sugar down by half—from one cup to half a cup. Or swap the sugar entirely for half a cup of liquid honey. The muffins will be less sweet, but still delicious.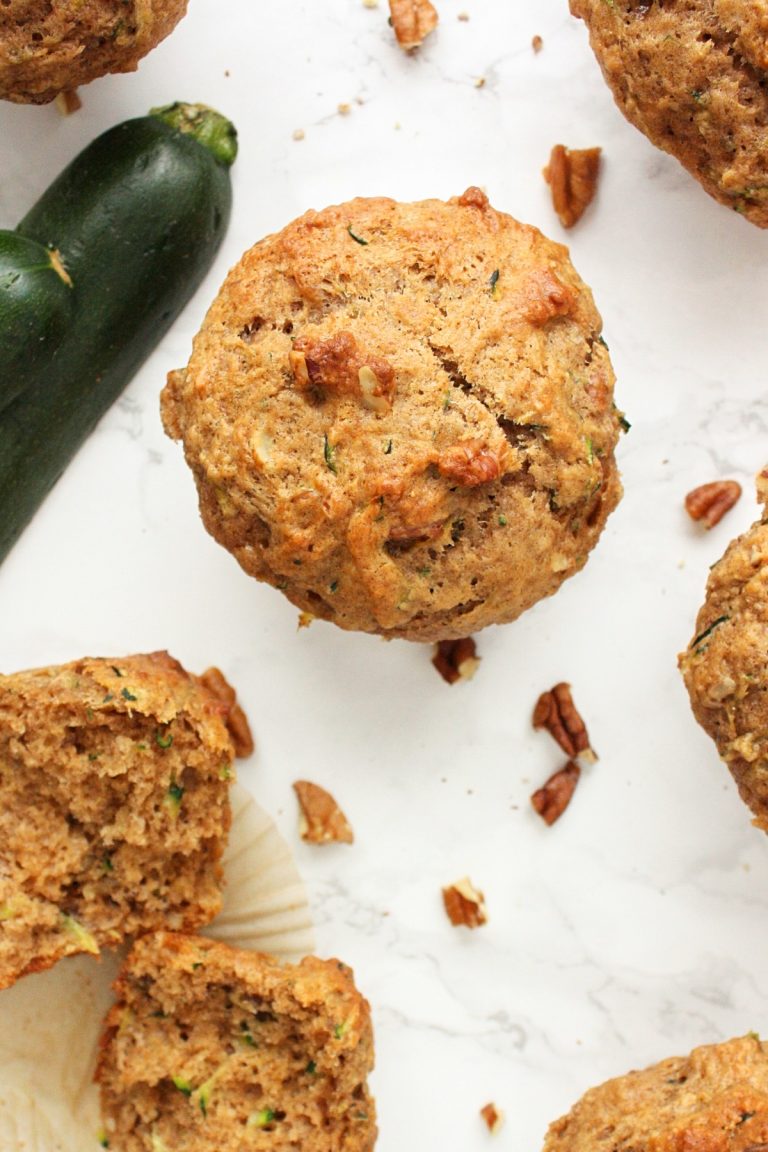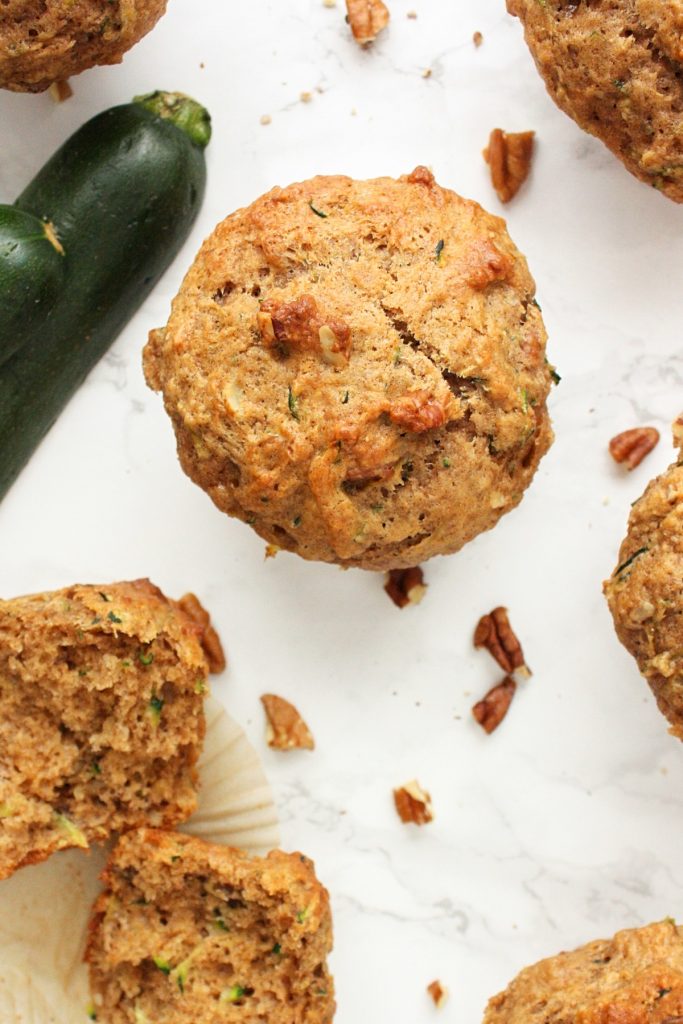 If you make these zucchini muffins, please let me know in the comments below and share your rating—I love to hear from you!
xo
Bri
P.S. Looking for more muffin ideas? Try these healthy carrot and date muffins and these orange cranberry muffins.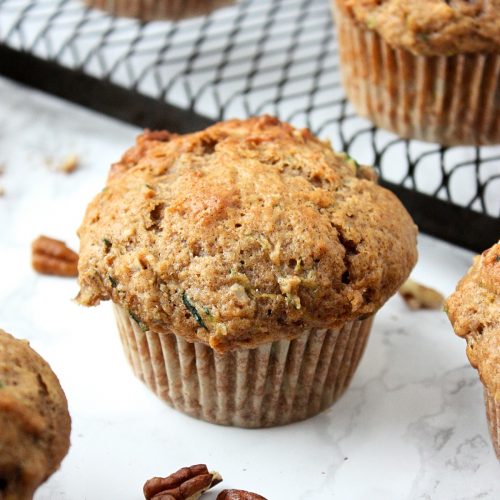 Best Zucchini Muffins with Pecans
Dense, delicious zucchini muffins made with chopped pecans, grated zucchini, cinnamon, sour cream, and brown sugar.
Ingredients
2

cups

all purpose flour

1

cup

brown sugar

For a less sweet muffin, you can get away with only using half a cup.

1

tsp

baking powder

1

tsp

baking soda

1

tsp

salt

2

tsp

ground cinnamon

2

cups

grated zucchini

~ 2 small zucchinis, drained

1

cup

roughly chopped pecans

2

large

beaten eggs

1/2

cup

vegetable oil

substitution: melted butter

1

cup

sour cream

substitution: plain greek yogurt

2

tsp

vanilla extract
Instructions
Preheat oven to 400 degrees.

In a large mixing bowl, combine flour, sugar, baking powder, baking soda, salt and cinnamon.

Wash and grate two small zucchinis.

Remove excess water using a dry clean tea towel. Place the grated zucchini in the center of a towel, fold the towel in half over the zucchini and wring out the excess water.

Add the zucchini to the flour mixture and toss to ensure the zucchini is well coated.

Stir in the chopped pecans.

In a medium mixing bowl, beat eggs.

Whisk in oil, sour cream and vanilla until smooth and well combined.

Fold the egg mixture into the flour mixture. Stir until well combined (the batter will seem thick, but not to worry, these muffins will turn out super moist).

Spoon into parchment-lined muffin tins and bake at 400 for 20-25 minutes — until golden and a fork comes out clean.
Notes
Depending on the size of your scoops, you'll get between 12-14 muffins.
Share