Double Chocolate Banana Muffins || I'm forever a caramel girl at heart, but these double chocolate banana muffins oozing with semi-sweet baker's chocolate and a touch of salt have me ALL ABOUT the dark side.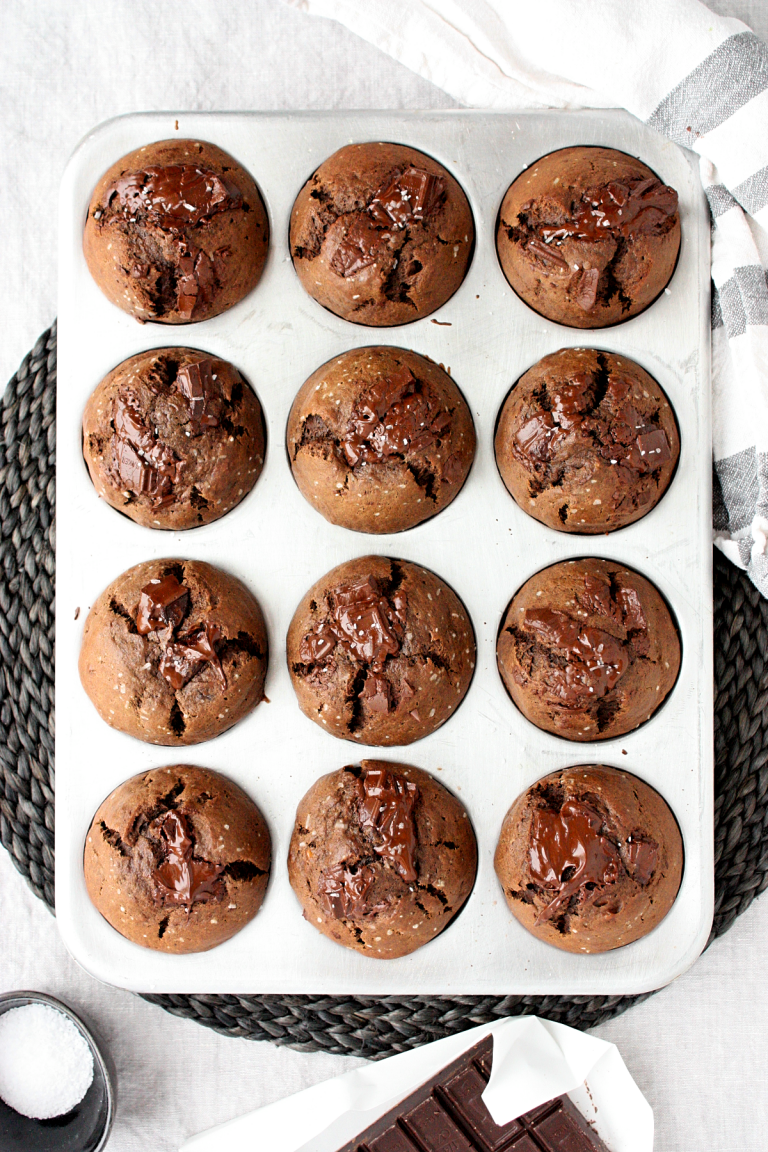 This recipe is based on one by my all-time favorite domestic goddess, Nigella Lawson. I've ever-so-slightly tweaked her chocolate banana muffin recipe (which is of course amazing as-is), topping up the cocoa powder, swapping vegetable oil for olive oil, adding in kosher salt and gifting each muffin a semi-sweet baker's chocolate square. The melting, lava-like chocolate takes these very dense and super moist muffins from snack to dessert-worthy treat.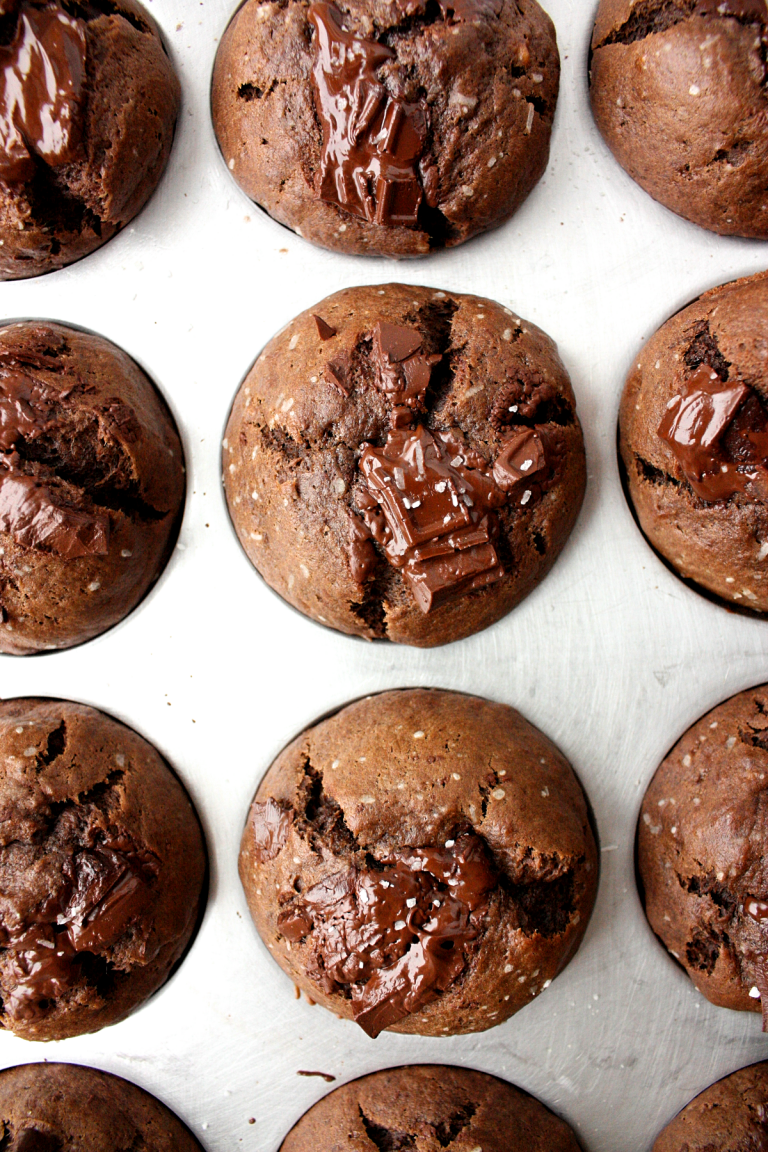 As soon as they're out of the oven (and the chocolate is still soft), I like to give them the tiniest pinch of kosher salt. Because chocolate = good, chocolate + salt = ya, now we're talking.
What I also love about this recipe? ONE bowl. SO quick. Less time doing dishes = SO much joy (also, this might be the most math I've done since 1999). I literally tell my husband everyday: 'I love cooking and making a mess in the kitchen, but dishes? They are my joy-sucking nemesis.' So high-fives to this one-bowl delicious muffin recipe.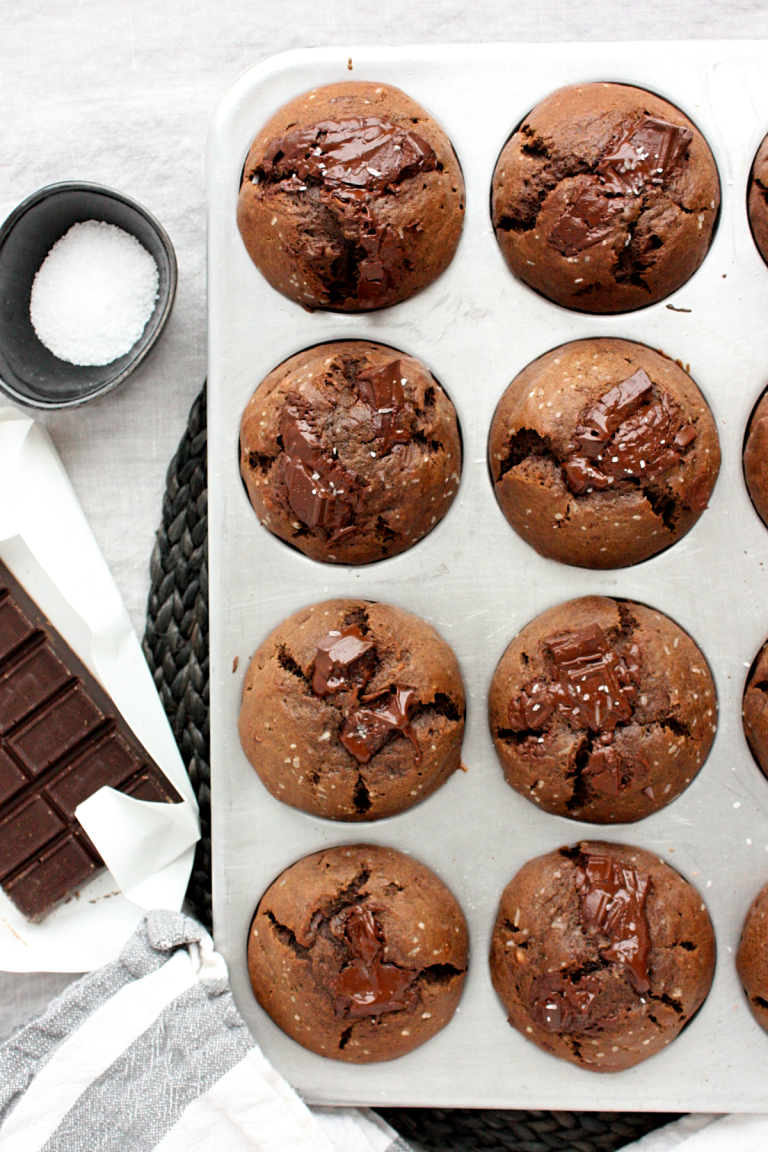 Like most muffin recipes, these double chocolate banana muffins are best straight out of the oven or shortly there after. They'll still be delicious on day two and day three, but better if you warm them slightly. Not that they are likely to hang around for very long.
This recipe is based on Nigella Lawson's Chocolate Banana Muffins, from her Kitchen: Recipes From the Heart of the Home cookbook–which I LOVE. It also features pictures galore of Nigella baking away in her red silk housecoat, which I find both adorable and inspiring #LifeGoals.
xo
P.S. Check out these fan favorites: Scrumptious Carrot Date Muffins & Best Banana Bread.
Double Chocolate Banana Muffins
Ingredients
3

very ripe bananas

2

large eggs

1/2

cup

olive oil

*Nigella uses vegetable oil

1

tsp

vanilla

1/2

cup

light brown sugar

1 3/4

cup

flour

4

tbsp

coco powder

*Nigella uses 3 tbsp

1

tsp

baking soda

1

tsp

kosher salt

plus a pinch to top

12

semi-sweet baker's chocolate squares
Instructions
In a large bowl, mash bananas.

Beat in olive oil, eggs, and vanilla, followed by sugar.

Using a sieve over the bowl, sift in the flour and cocoa powder. Add baking soda, and salt and stir all until well combined.

Spoon batter into well greased (or parchment lined) muffin tins. Add one square of bakers chocolate to each muffin, tucking it into the centre of the muffin, leaving a quarter or so of the square above the batter line.

Bake at 400 degrees for 15-20 minutes, until the muffins are firm and your kitchen smells like a chocolate factory.

Sprinkle a tiny pinch of kosher salt over the tops of the muffins, while the chocolate is still hot and melty.
Share