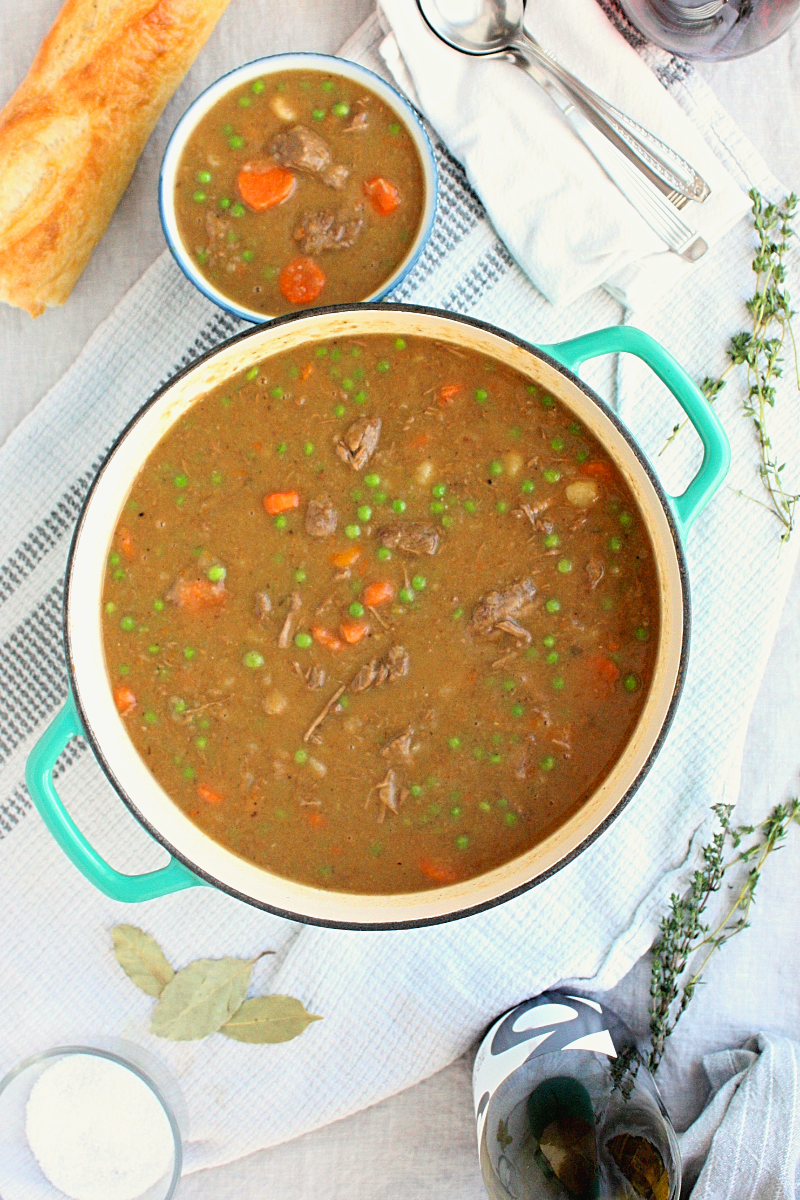 Not much is more satisfying on a particularly cold day than a hot bowl of hearty beef stew, a loaf of crusty bread and a generous pouring of red wine. Today is THAT day. Here in Montreal it's a very balmy -13 degrees, so warmth and comfort are pretty high up there on my priority list.
I want to eat a big bowl of this low maintenance beef stew, park myself on the couch—wrapped up in a big fleece blanket—and binge watch Netflix. Who's with me? And what are we watching? No really, give me some ideas.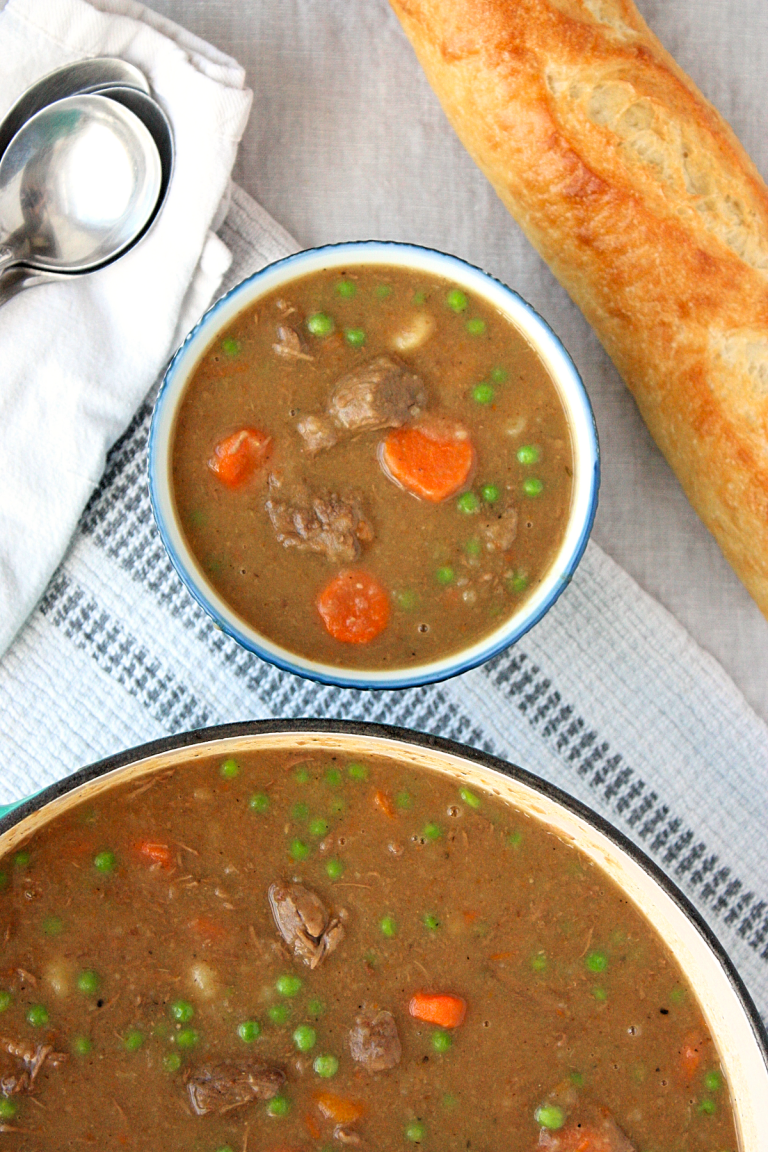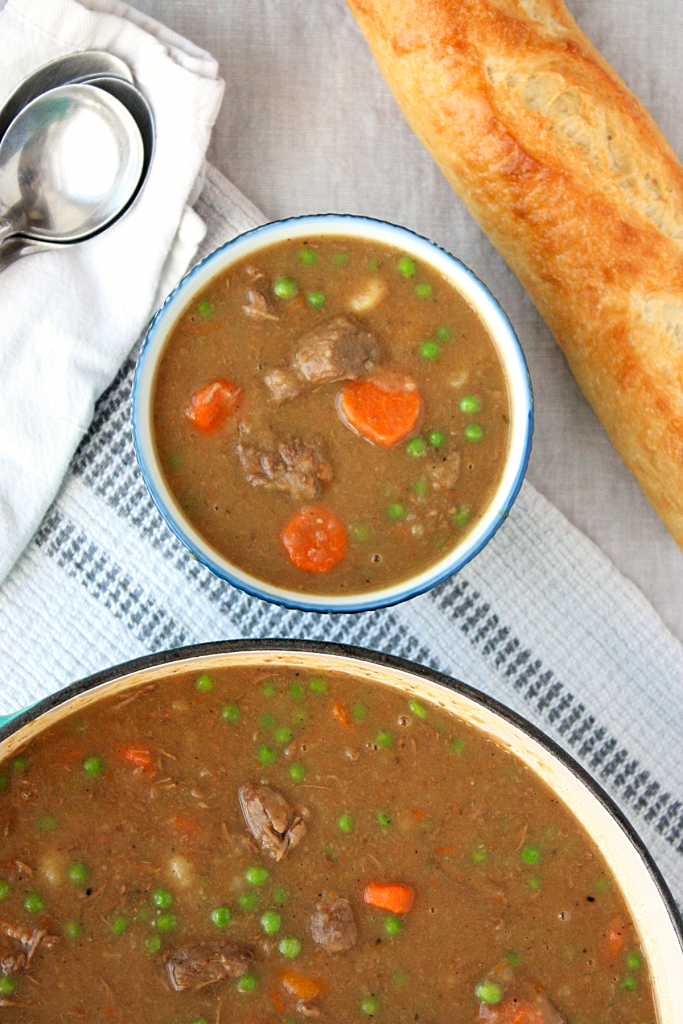 As mentioned, this hearty beef stew is low maintenance and kid friendly (full disclosure: there is some red wine action happening, but it will cook off…). If your take on 'kid friendly' and mine don't quite see eye to eye, by all means, swap the wine for additional beef broth, and all will be well in the world.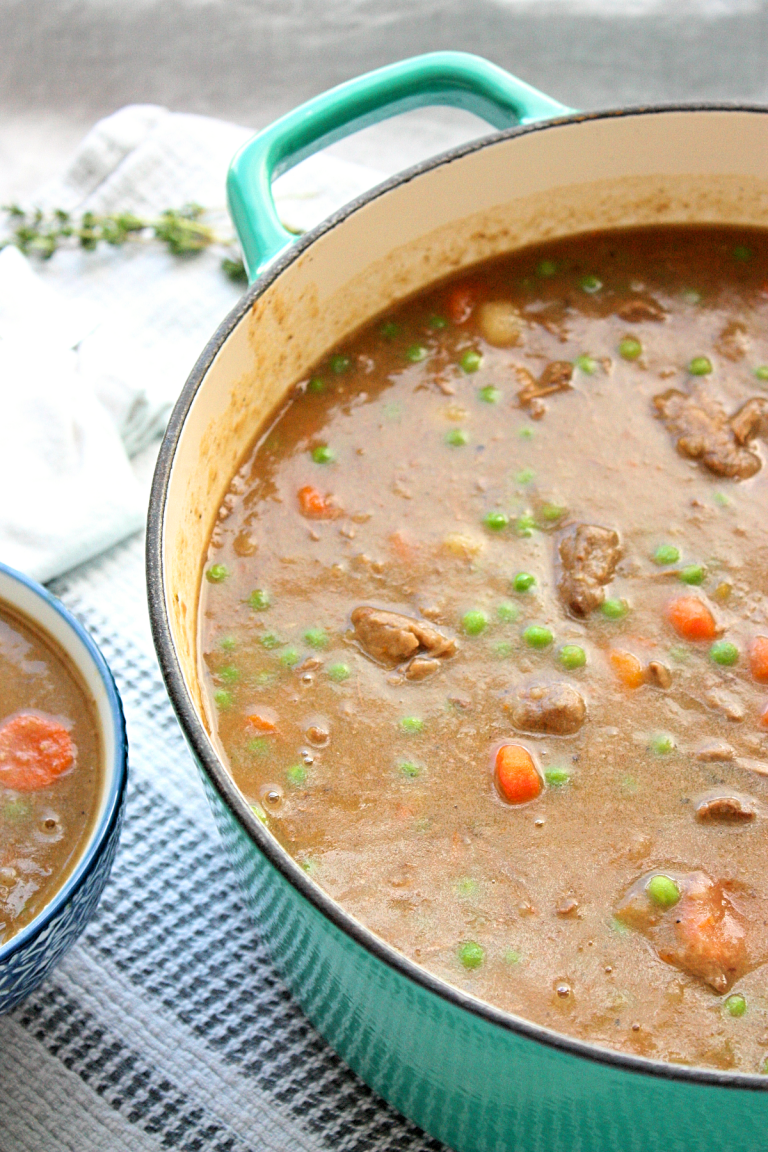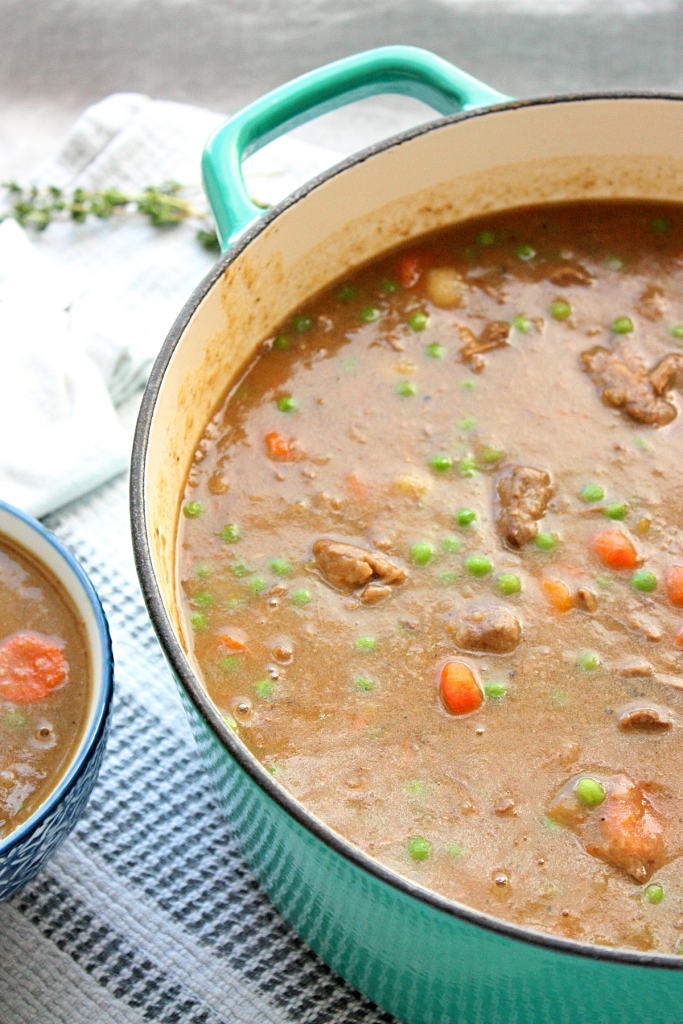 This stew recipe, despite appearances, is not as rich as it looks, which translates to you feeling good about the second helping you're likely to have.
---
I occasionally make a good friend's beef stew recipe, which calls for an entire pint of Guinness Beer, two sticks of butter, plus a package of bacon, and let me tell you, it is bananas good. But also coma-inducing. This recipe is my much 'healthier' version.
A couple recipe notes.
Make sure to cut up the beef cubes into small bites. The beef will tenderize more quickly and you'll have beef in every bite.
You do want to nicely brown your beef in butter before adding it to the stew. Given the amount of beef, this is best done in two batches. The beef is then removed and set aside while the onions and carrots are cooked in the same pot with a little more butter and olive oil.
My veggie loving kids seem to put up a real fuss about celery, so I don't include it here, only for the sanity that comes with not having to watch little people pick apart their dinner. If you are adding, I recommend finely chopping two stalks and cooking them alongside the carrots and onion.
The only flour used in this stew is to lightly coat the beef cubes before they are browned. Plenty of recipes call for a flour-based roux, but I wanted to err on the slurpy side, so here, the potatoes do all the thickening.
The russet potato cubes will really cook up, so my trick is to add four of the six potatoes early on and add the remaining two for the last thirty minutes of simmering. This way, the stew will be amply thick and you'll still have some intact potato bites.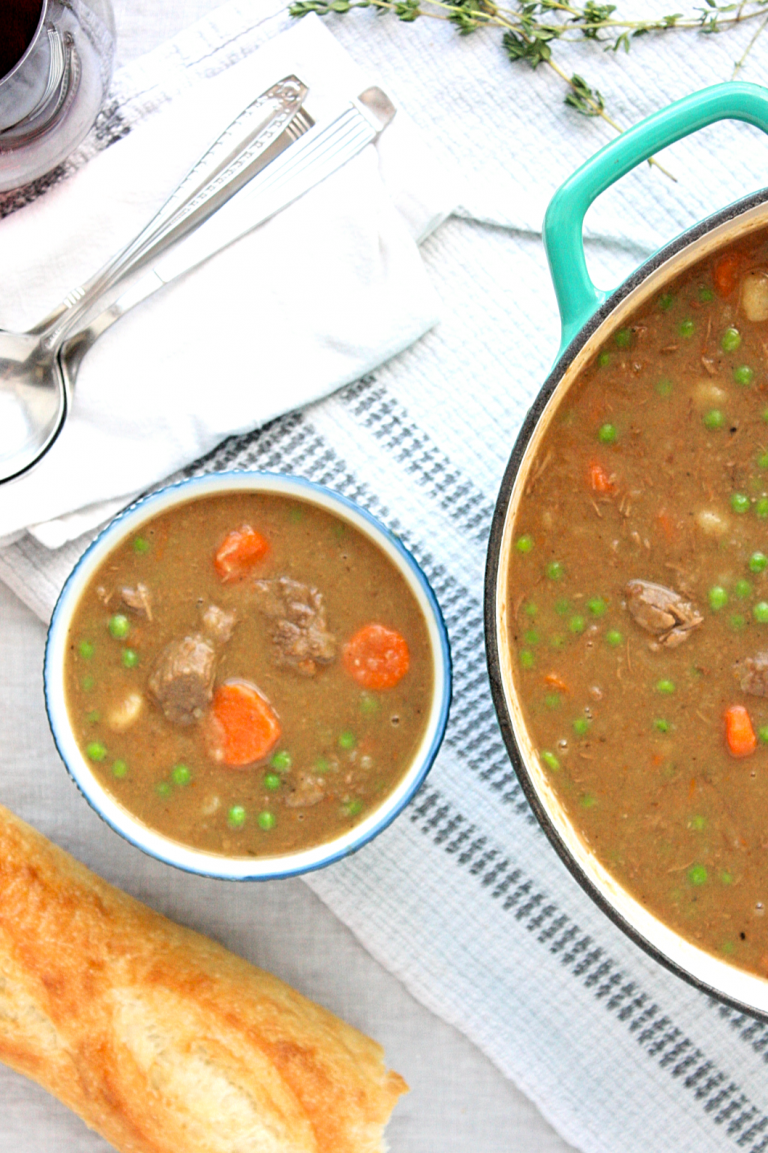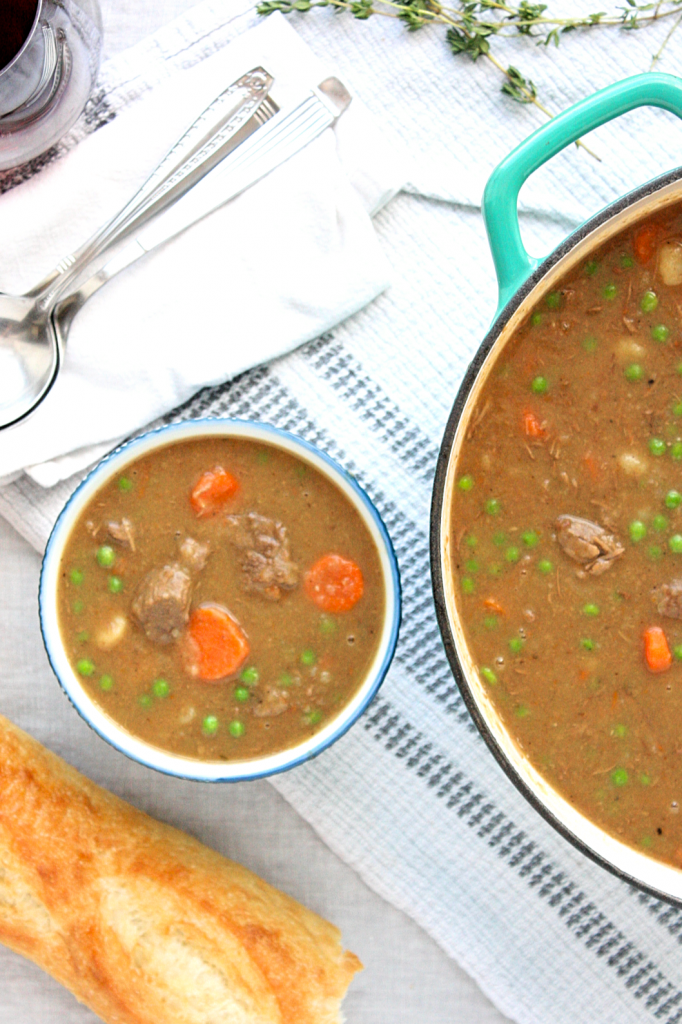 Hope you're all staying warm and cozy, wherever you are.
Also SO GOOD when it's chilly out, this cauliflower lentil soup and this healthy coconut veggie soup.
Bon appetite.
xo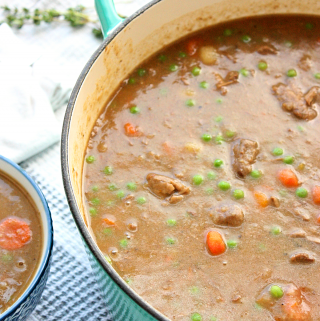 Hearty Beef Stew
Ingredients
1.4

kg

stewing beef cubes

about 3 pounds -- cut into smaller bites

1800

ml

beef broth

2 cartons

3

tbsp

butter

3

tbsp

olive oil

1/4

cup

all purpose flour

1/2

cup

red wine

1

large

yellow onion

finely chopped

3

large

carrots

peeled and chopped

6

large

russet potatoes

peeled and chopped into 1/2 inch cubes

1

bay leaf

2

small

sprigs of fresh thyme

2-3

dashes

worcestershire sauce

3

cups

frozen peas

kosher salt and fresh pepper to taste

between 1-1/2 tsp salt and half to a tsp of pepper depending on your tastes.
Instructions
Add flour to an extra large ziplock bag, along with a few generous pinches of salt and some fresh pepper. Add half of the beef cubes (which have been cut into small bites) to the bag, seal and shake until all the cubes are well coated.

Remove coated cubes and place into a large stovetop pot sizzling with 1 tbsp butter and 1 tbsp olive oil. Cook on medium heat, stirring as needed until the cubes are browned on all sides. Using a large slotted spoon, remove cubes to a large bowl and set aside.

Repeat steps one and two with the second batch of beef cubes.

At this point, the bottom of the pot will be covered in all sorts of glorious, yummy brown bits—the flavor. Add the red wine and deglaze the pan, vigorously scrapping the bottom and sides with a wooden spoon. Pour this wine glaze over the beef that has been set aside.

Back to the pot. Over medium heat, add the remaining tablespoon of olive oil and tablespoon of butter. Add chopped onion and carrots and sauté for a good 5-8 minutes, until the onions are translucent and the carrots are just starting to become tender.

Return the beef and wine glaze back to the pot. Add four of the six potatoes (cubed), the beef broth, bay leaf, sprigs of thyme, worchestershire sauce, and a few pinches of salt and pepper. Bring to a boil and let gently simmer for an hour and a half (stirring occasionally). During this time, the beef will become tender, the potatoes will break down and the stew will thicken.

Add in remaining potatoes and frozen peas. Simmer for another 30 minutes, until the newly added potatoes are cooked. Taste and add additional salt and pepper as needed. Remove bay leaf and thyme and serve hot with some really good bread and butter.
Share