Creme de menthe marshmallow oreo squares. Or as my family calls it, Irish Delight. I have NO idea why. This frozen treat, with an ice-cream-like marshmallow and whipped cream filling is a minty green, but I'm grasping at straws to come up with an Irish connection. What I can say definitively is how yummy and quintessentially Christmas these squares are.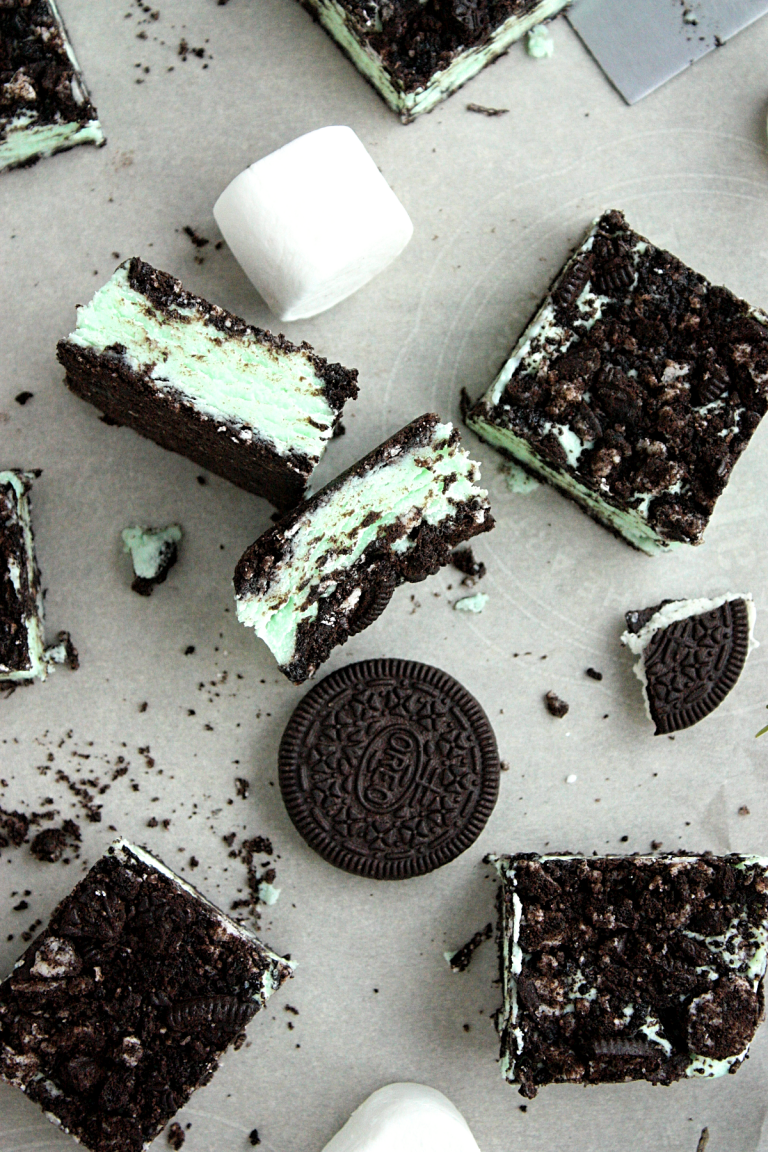 And speaking of Christmas, I feel like time is running out. Only five days left until the joy and chaos of celebrating and feasting and hosting and overindulging. Five days, which is why I feel like I must get this recipe to you NOW (like literally this second), just in time for your Christmas baking sprint. BECAUSE, these creme de menthe marshmallow oreo squares check off all the important Christmas dessert boxes.
Pretty and festive with a seriously delish creme de menthe marshmallow filling.
Prefect for making ahead of time. Make and stash in your freezer until just before serving.
No bake, no stress, and five ingredients.
39 crushed oreos constitute the base and topping.
And that's where I leave you, because if you're not sold after the 39 oreos, nothing's going to sell it.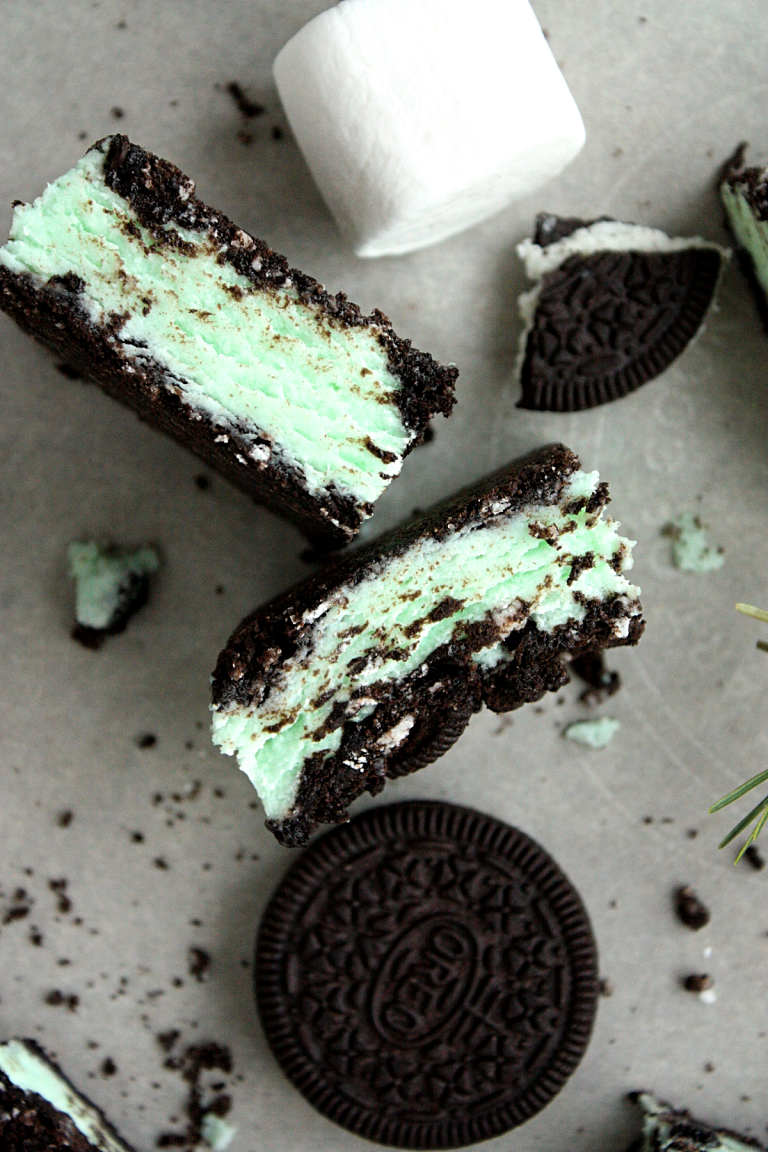 These gorgeous oreo-custed squares taste like mint ice cream sandwiches, but WAY better, in my completely biased opinion.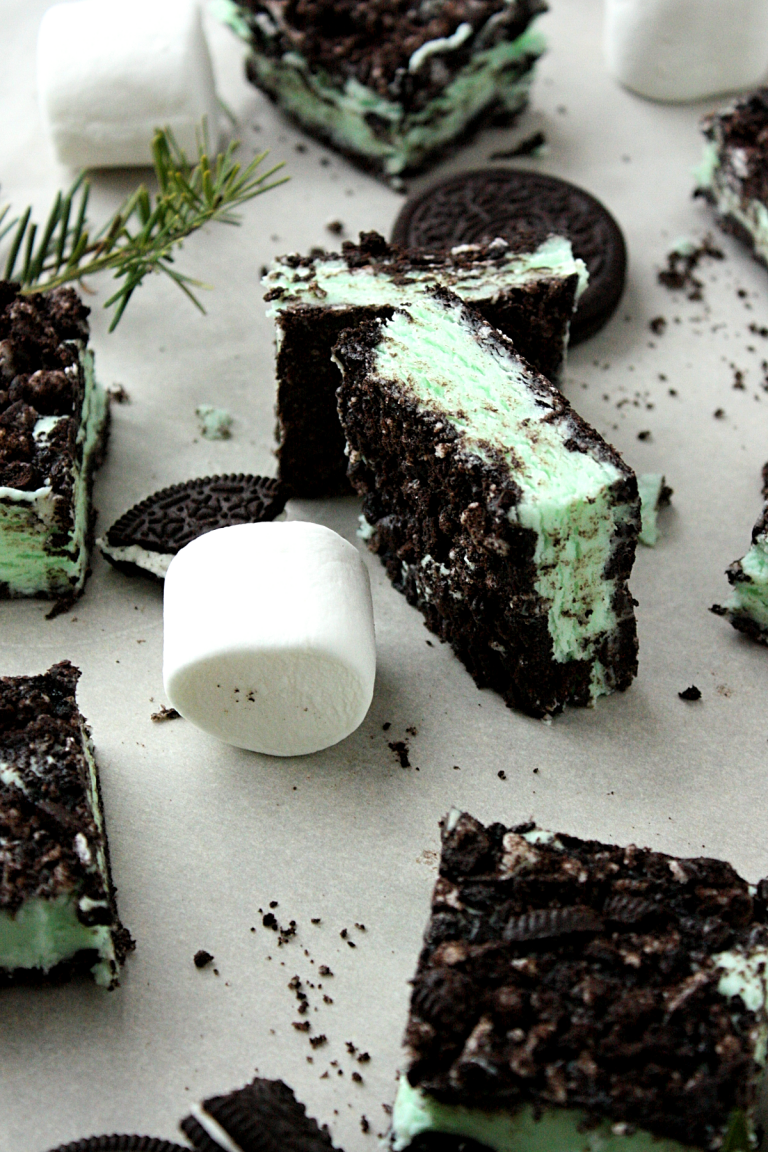 ---
My mum has been making this recipe forever and I have very fond childhood memories of sneaking into the deep freeze with a spoon and a mission.
What are your family favorite holiday desserts? Let me know in the comments below!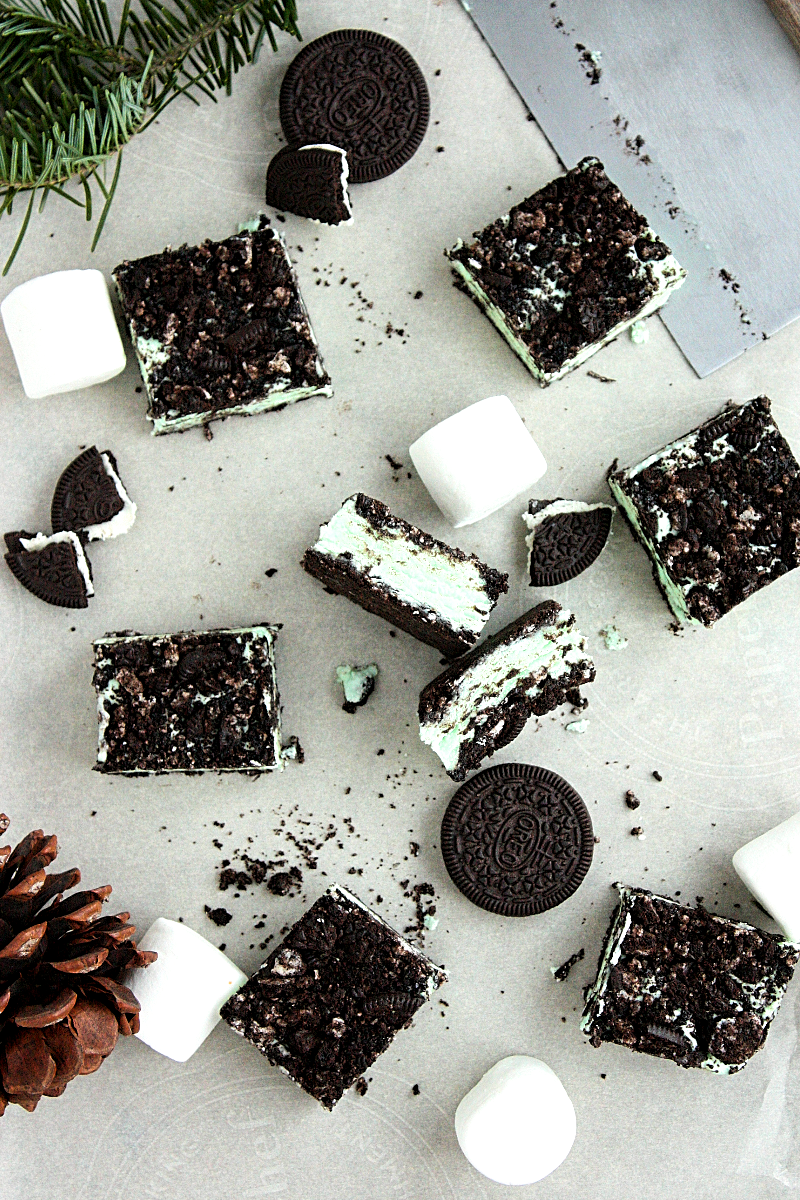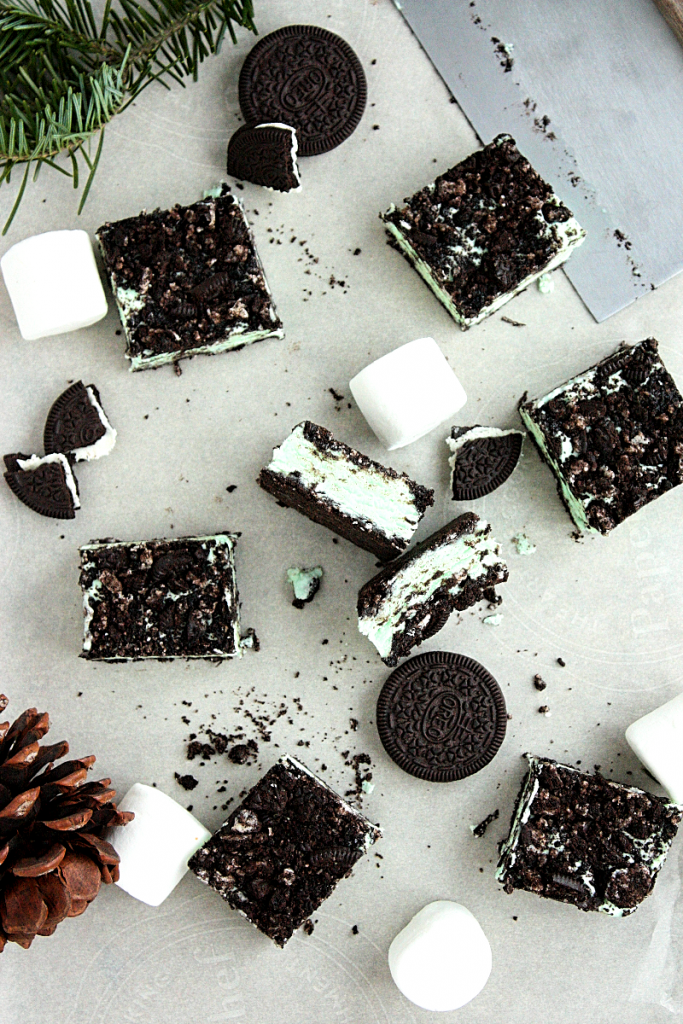 More holiday baking inspiration: check out these chocolate wonders and these ginger snap cookies.
xo
Creme de Menthe Marshmallow Oreo Squares
Creme de menthe marshmallow oreo squares, the best no bake Christmas treat, made with only five ingredients. This mint loaded frozen dessert, with an oreo base and topping, is SO GOOD, like little minty ice cream sandwiches, only better and so easy to make. Perfect for the holidays.
Ingredients
39

oreo cookies

40

large marshmallows

one 400 gram bag

1/2

cup

milk

8

tbsp

creme de menthe

1

pint

whipping cream

473 ml carton
Instructions
Crush 24 oreo cookies and spread evenly over the bottom of a 9 x 13 inch greased baking dish. *I crush the oreos by putting them in a large ziplock and roll a rolling pin over them until they are roughly crushed.*

In a large heavy bottomed stovetop pot, melt 40 large marshmallows in milk, stirring occasionally. Remove from heat and let cool for 10 minutes.

Meanwhile, using electric beaters, beat whipping cream on high, until stiff.

Stir creme de menthe into the marshmallow mixture, until well incorporated. Fold in whipping cream.

Very gently spread over top of the crushed oreos. Add by spoonful and use a spatula to spread. DO NOT dump the whole mixture onto top of the crushed oreos at once.

Crush 15 more oreos, and spread evenly overtop.

Immediately cover and freeze for a 3-4 hours before serving.

Serve from frozen.
Share