Toasted maple mixed nuts are my jam. Well, actually they're my nuts, but you get me. I love nuts. Just about as much as I love cheese—and that's A LOT.
I also love bringing mixed nuts to cocktail parties and book club meetings (where we mostly eat and drink); throwing them in salad; and sprinkling them around a pre-dinner cheese / charcuterie platter.
This recipe for glorious maple-coated, kissed-with-salt, cocktail nuts is awesome for a few reasons:
Five ingredients (three if you count the nuts as one).
Five minutes (really).
Your kitchen will smell like a bonafide sugar shack. BEST. SMELL. EVER.
People love nuts (and are always happy when you bring over freshly toasted maple-coated nuts).
Any combo of nuts will do, whatever you have on hand. This recipe is all about easy. Add more variety by mixing in a bunch of other nuts, or just use one kind.
My favourite combo is walnuts, pecans and almonds. I find the pecans especially delicious.
This recipe can easily be made at the last minute, but be sure to let them cool for a good 10 minutes (not in the pan) on parchment paper. *Don't pop them from the pan to a sealed jar (they won't have the right crunch at all).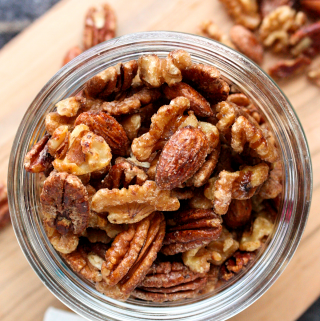 Toasted Maple Mixed Nuts
Ingredients
1

cup

walnuts

raw or dry roasted (no seasoning!)

1

cup

whole pecans

raw or dry roasted (no seasoning!)

1

cup

whole almonds

raw or dry roasted (no seasoning!)

4

tbsp

pure maple syrup

2-3

pinches

of kosher salt or fleur de sel
Instructions
Toast walnuts, pecans and almonds in a dry pan over medium heat for 3-5 minutes, or until fragrant and browning slightly. Stir/toss frequently to ensure they don't burn.

With the heat still on, quickly drizzle the maple syrup over the nuts and toss to coat evenly.

Sprinkle a few pinches of kosher salt, toss once more and take off the heat. Important: once the maple is drizzled and the nuts tossed, don't let them cook any longer (this way they'll stay gorgeous and shiny). They really only need a few seconds to cook off the excess maple.

Tip nuts immediately onto parchment paper (NOT wax paper) to cool for at least 10 minutes. Enjoy!
Notes
*Be sure to let them fully cool before storing in a sealed container or they won't have the right crunch at all.*
Share