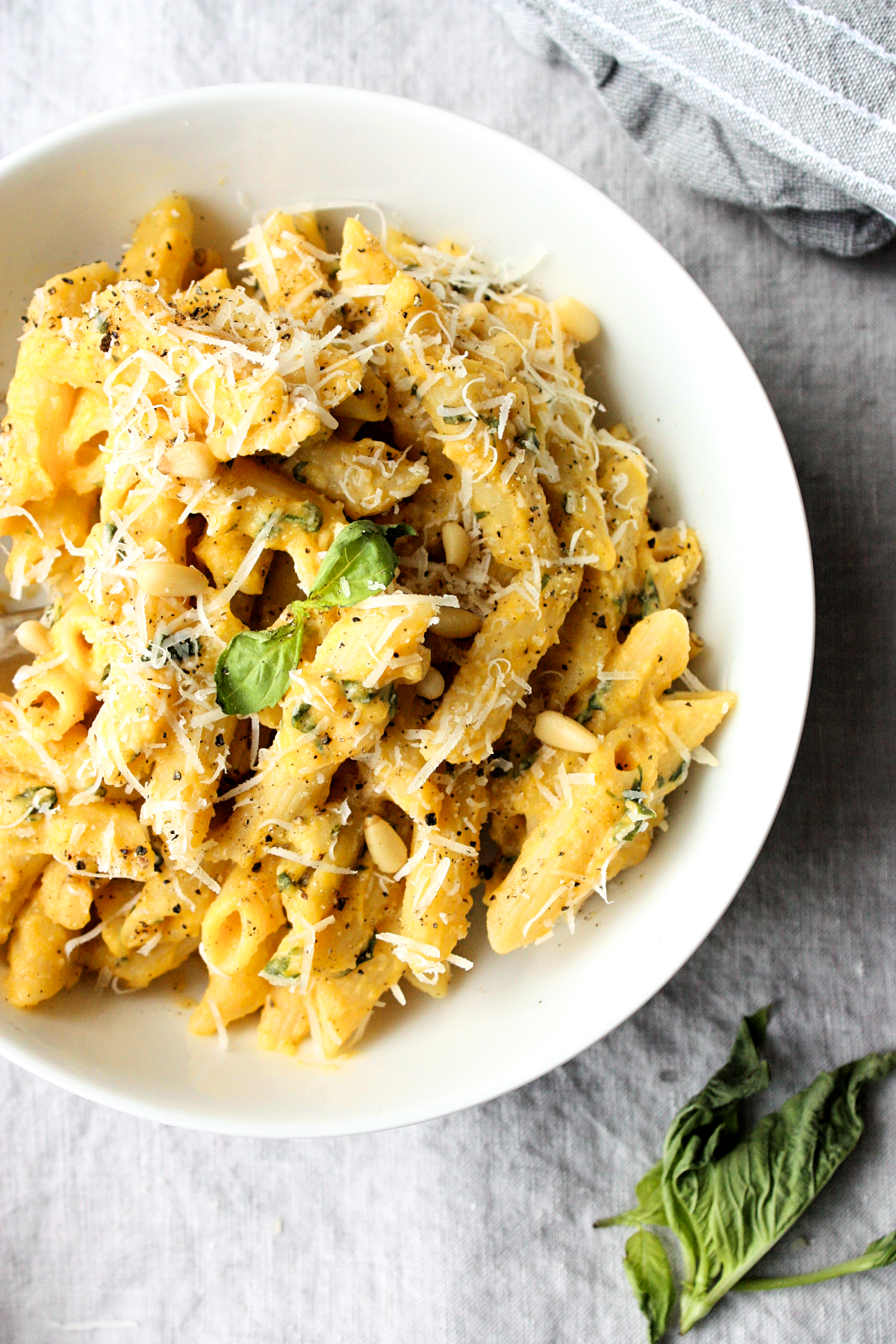 Folks, get ready for an onslaught of pasta, casserole and stew recipes over the next few months, like this yummy roasted butternut squash pasta.
I hate to break it to you, but Halloween has now passed, and we've officially moved into the November blaas. That's right, November, the month we must get through on our way to December, where it will be white and pretty (albeit much colder) and holidays and festive celebrations await us.
With the bleakness of November fully settling in (at least over here in Montreal, where it's dark at 5pm and still dark at 7am — insert sad face), we'll all just have to find comfort however we can. For me, comfort is heart-warming, cozy-feeling food—and hearty, creamy pasta recipes are just what November ordered. That is, unless your November is still pretty and warm and lovely, like in California or some other sunny state. And if that's the case, we can still be friends, but maybe we should take a break from each other until, say, next May. Yes, May. the world will be lovely and green again in May.
Now, a few things about this roasted butternut squash pasta. This is a weeknight friendly dish (if you allow for a little planning). The only time consuming element here is roasting up half a butternut squash, which took me 50 minutes in a 425 degree oven. For a quick weeknight meal, roast your squash the night before and have it ready to throw into the sauce, which for the record, is super simple and flavourful. Olive oil, scallions, cooking cream, parmesan, salt and pepper, a pinch of nutmeg (and the squash of course). That's it. Whisked together, brought to a slow boil, and finally, blended smooth with a hand-held immersion blender (all while your pasta of choice simmers away nearby). Pour the sauce into the cooked pasta, add pine nuts, and chopped basil. Season with salt and pepper, and stir until well combined. Serve with additional parmesan for good measure. Hungry mouths will be happy.

Side note on immersion blenders: you need one. For sauces and soups, they are a-mazing. Transferring batches of hot liquids back and forth from the stove to a blender? The mess, the extra time. The a-gony. Trust me, pick up an immersion bender, preferably stainless steel (says the girl who melted her last plastic one). I'm currently using this Cuisinart one and it does the job well, but if anyone has recommendations I'd love to hear them in the comments below!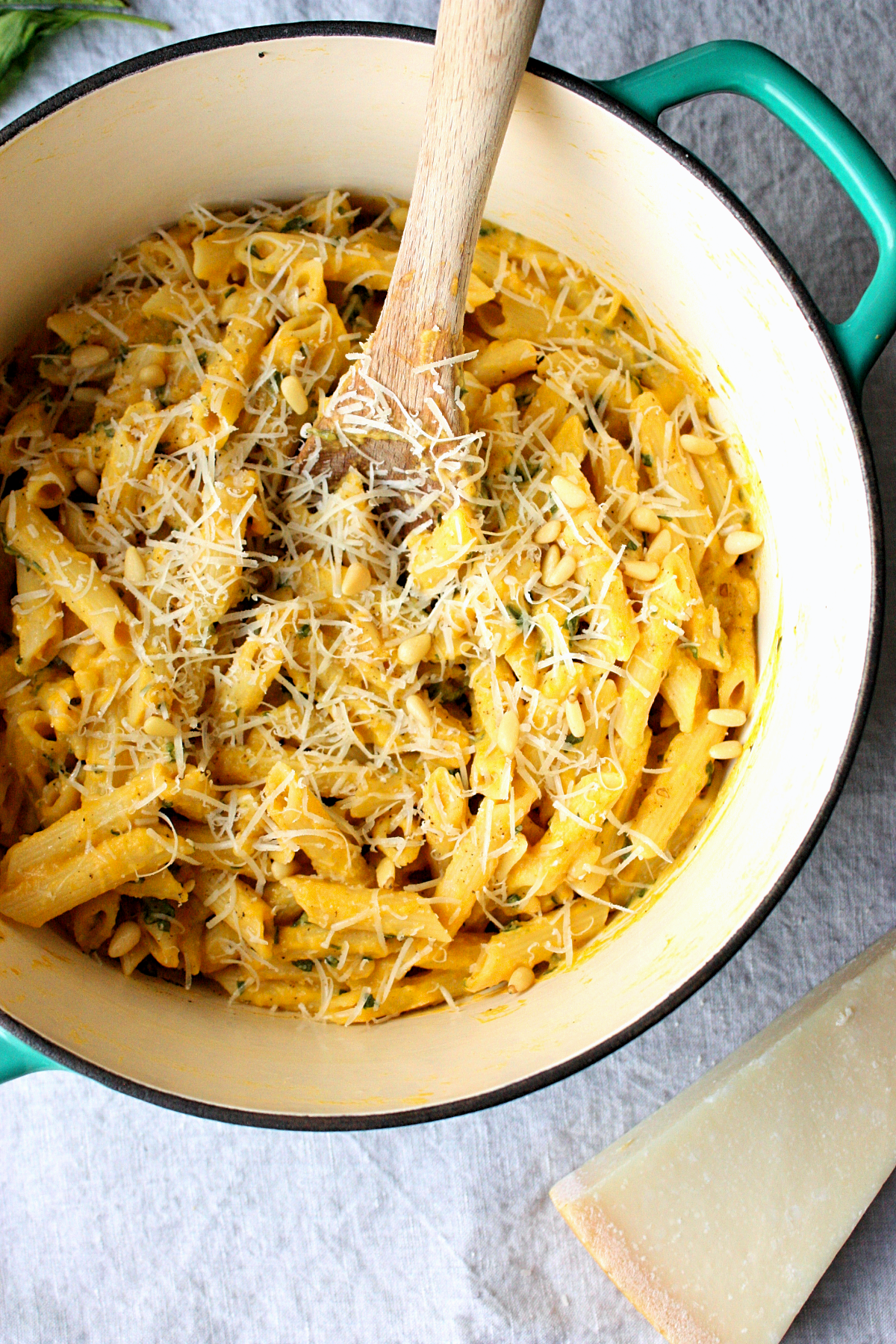 Look at all those glorious, comforting, November-busting bites.


Roasted Butternut Squash Pasta
Ingredients
2

tbsp

olive oil

1/2

a medium-sized butternut squash

roasted

2-3

scallions

finely chopped

1/2

cup

15% cooking cream

1/2

cup

water

pinch

of nutmeg

kosher salt and pepper to taste

1/4

cup

fresh basil

finely chopped

4

tbsp

pine nuts

finely grated parmesan reggiano

to serve

375

grams

penne pasta

1 box
Instructions
Place half of a medium-sized butternut squash on a parchment paper lined baking sheet skin side down. Drizzle with olive oil and add a sprinkle of kosher salt. Roast in a 425 degree oven for 40-50 minutes until the flesh is very tender and easily scooped out of it's skin.

In a medium-sized stovetop pot, over medium heat, sauté finely chopped scallions in a tablespoon of olive oil until soft and translucent (3-5 minutes). Add in roasted squash, cooking cream, grated parmesan, 1/2 cup water, a pinch of nutmeg, and ample kosher salt and pepper to taste. Whisk together and bring to a gentle boil. Let simmer for 10 minutes.

Remove from heat. Using a hand-held immersion blender, blend until smooth and creamy.

Pour sauce over cooked pasta (any kind will work, I used Penne) and toss until well combined. Stir in basil and pine nuts. Serve with additional parmesan and salt and pepper. Enjoy!
Share