For the past week or so I've been full-on, holiday-baking consumed. A woman on a mission. But the veg-lover in me has been craving green, and so this crunchy broccoli ramen salad with peanut dressing and roasted chicken was born. And just so we're clear, we're talking fill-you-up, main-dish-worthy salad. Nothing sparse or dainty or delicate.
The portions here are perfect for two (hungry human adults), but this recipe is super adaptable and can easily be halved for a solitary dinning experience or turned into a yummy veg-only side salad that serves 4-6 by leaving out the chicken. Because who doesn't like a good crunchy broccoli salad? That's right, NOBODY.
This recipe calls for chopped romaine, but if you're making this as a side and would like to make ahead of time—or plan on having leftovers—I'd recommend swapping out the romaine, which will wilt, for another small broccoli crown. IF you are planning on making this slightly ahead of serving, I'd also suggest mixing your greens, ramen, peanuts and dressing just before serving for optimal crunchiness. Crunchiness is good.
In addition to the crunch factor, I also love that this broccoli ramen salad is hearty and filling, while still being moderately healthy. See pic above and left as evidence. Look at all the bright colours. And that peanut butter dressing. Yum.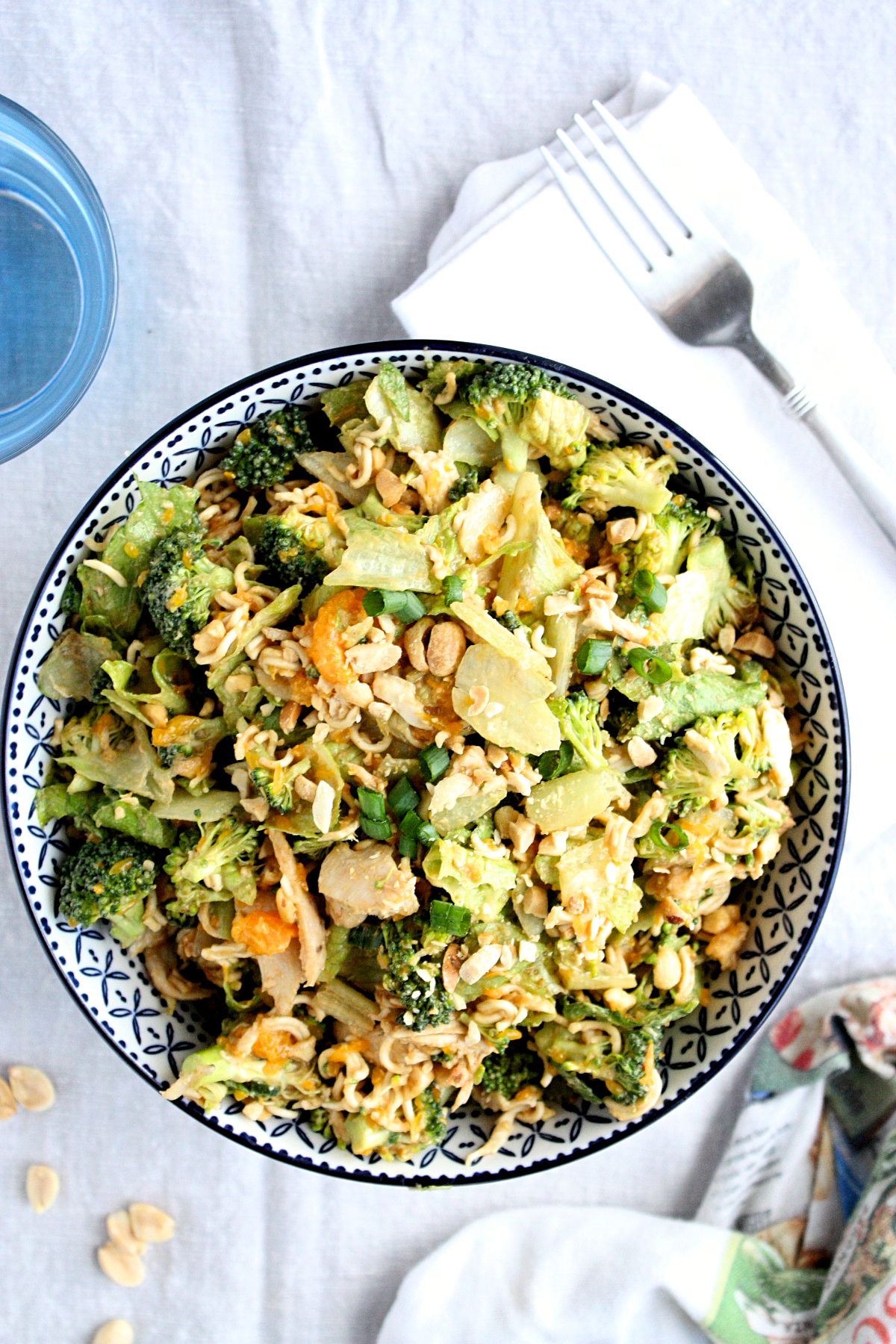 If you're in the mood for green, might I also suggest checking out my fav green salad and my go-to kale salad?
And now, back to baking. Because Christmas waits for no one.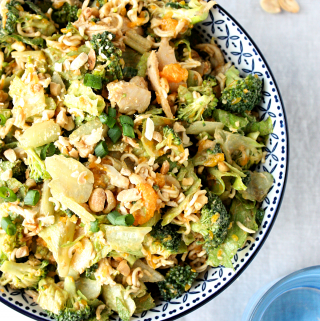 Broccoli Ramen Salad with Peanut Dressing
A crunchy broccoli ramen salad with peanut dressing and roasted chicken. Plenty hearty to satisfy the hungriest of veg-lovers.
Ingredients
Broccoli Ramen Salad
1

small broccoli crown

washed and broken into small florets

1

head of romaine lettuce

washed and chopped into bites

2

green onions

washed and finely chopped

1 x

85 gram

package of ramen noodles

crushed

1 x

284 ml

can of mandarins

drained

1

large roasted chicken breast

chopped or shredded

1/4

cup

crushed peanuts
Peanut Dressing
1/2

cup

peanut butter

melted in the microwave

1/4

cup

cold filtered water

2

tbsp

sesame oil

2

tsp

soya sauce

2

tbsp

rice wine vinegar

2

tsp

liquid honey

2

small cloves of garlic

minced
Instructions
In a large serving bowl, toss broccoli florets, romaine, green onions, crushed ramen, mandarins, chopped chicken and peanuts.

In a small bowl, melt and stir peanut butter (microwave for 1 minute on high). Whisk in water, sesame oil, soya, vinegar, honey and garlic. Add a splash or more of water until your desired consistency is reached.

Drizzle dressing over salad and toss until well coated. Serve immediately. Enjoy!
Share