Sautéed Mushroom and Parmesan Tart || Perfect for your next holiday party or for lunch with the girls.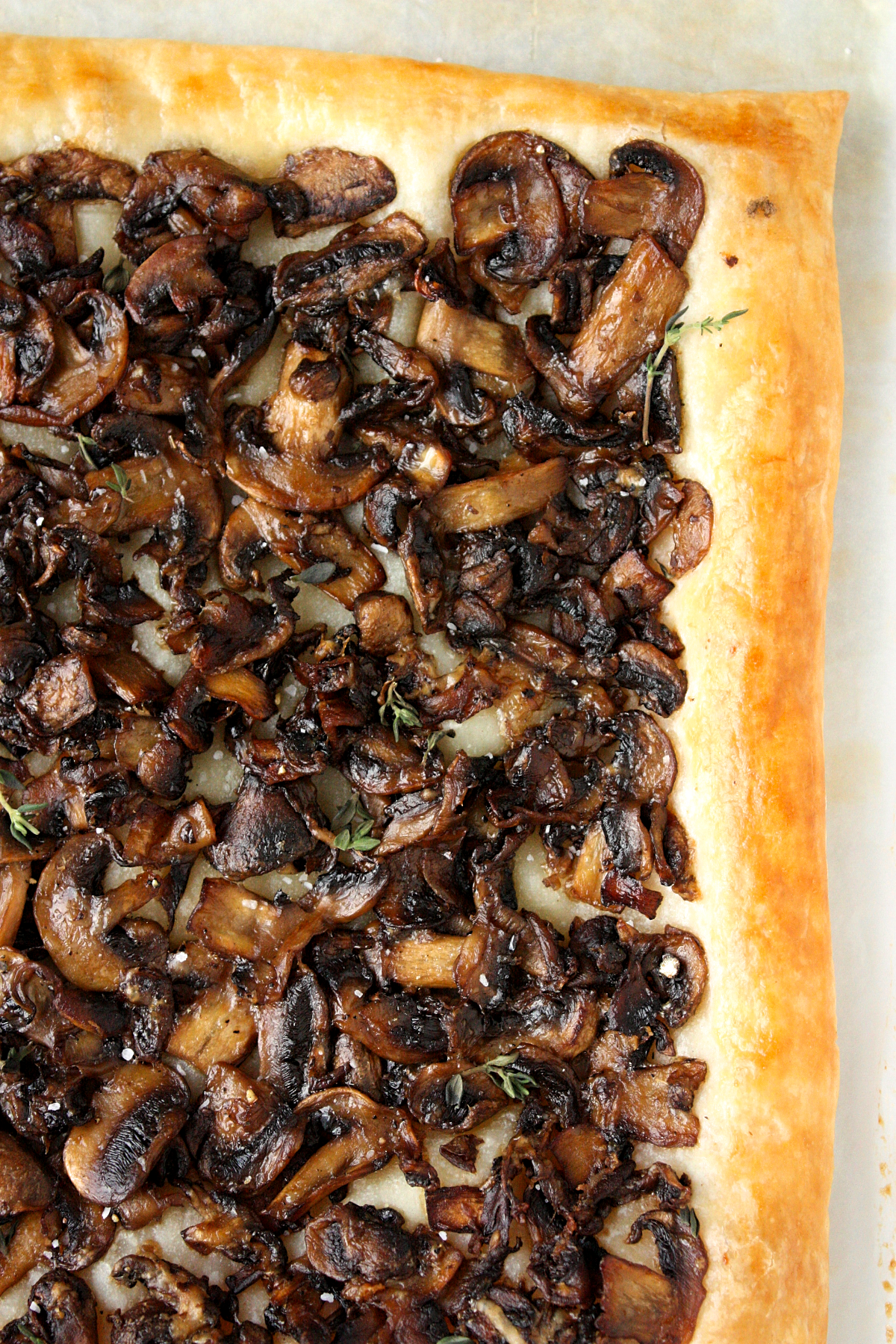 About this sautéed mushroom and parmesan tart
Guys, another perfect holiday app coming at you—this savory sautéed mushroom and parmesan tart. I know. A lot of apps happening over in this corner of the world. But this one can wear many hats. Like cocktail party star and vegetarian main dish for two. Yup, this is one versatile mushroom tart. And it works for brunch, lunch, or dinner. WIN.
It's also unfussy (read: no stress), full of yummy mushroom flavor, and comes together with only a few basic ingredients. Mushrooms, sautéed until browned and crispy, are the star of this dish, and a little garlic, parmesan, and kosher salt transform them into the most satisfying topping.
Reader Q & A
Do your kids like mushrooms? Raw, cooked? Not at all? As a kid I strongly disliked them, but already my five-year-old daughter loves them. She'll eat them raw, roasted, sautéed, you name it. This brings me much joy (especially knowing how long it took me to come around). My 8-year-old son is still on the fence…he'll try them, but definitely won't devour them like his sister. I'm hoping he'll come around with time.
---
Let me know how your kiddos feel about mushrooms in the comments, ok? I truly find the eating habits of other people's children fascinating:)
---
Look at all those delicious mushrooms.
A few thyme leaves tossed about adds some presentation wow. Fresh parsley would also taste and look pretty.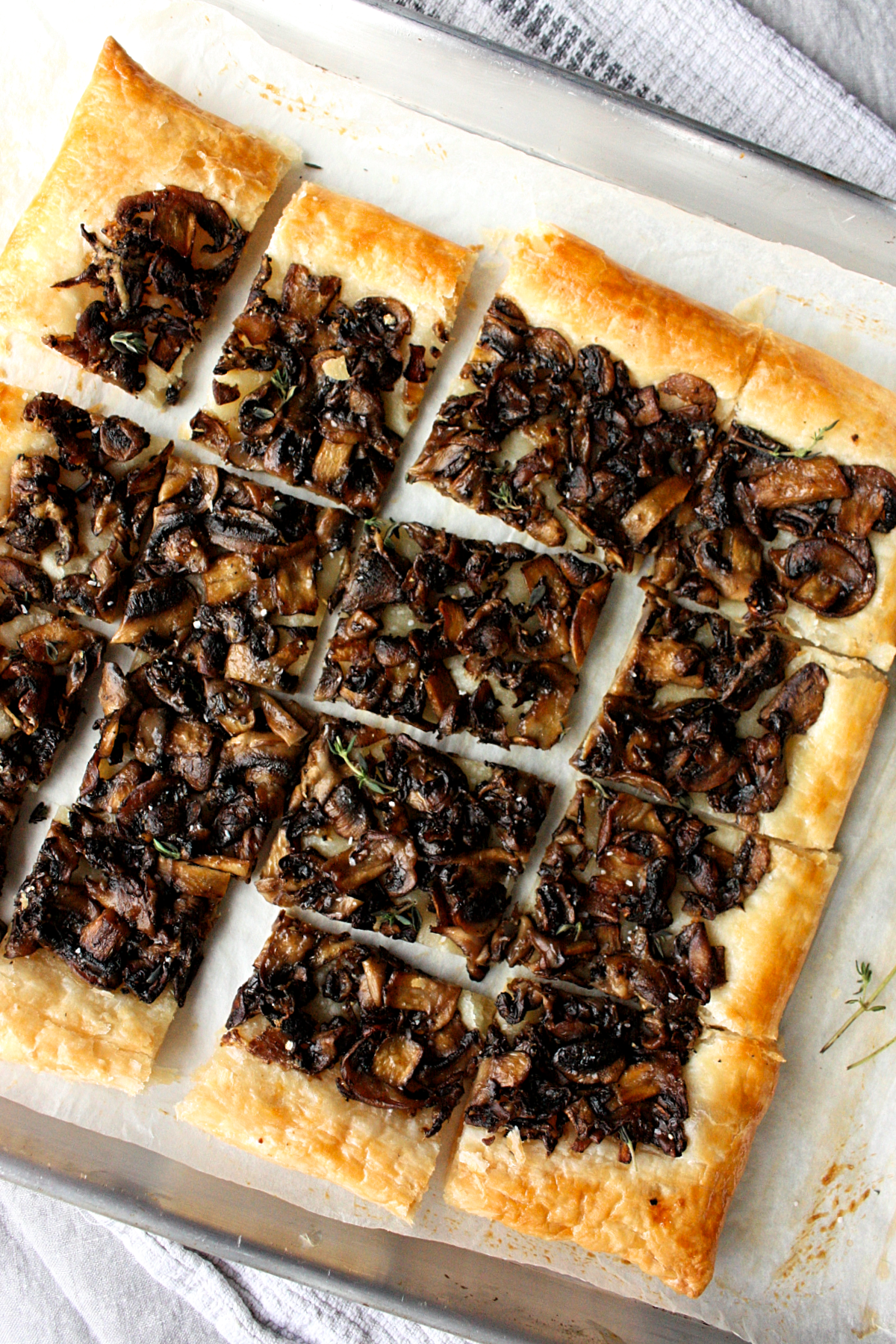 My recipe tip: make the mushrooms the day before (sautéed, with everything added)—they'll keep well in the fridge, and on the day of, all you'll have to do is spread them out over the puff pastry and bake. I use these rolled puff pastry sheets.
If you make this sautéed mushroom and parmesan tart let me know in the comments below. I love to hear from you!
xo Bri
---
Looking for more appetizers?
---
Sauteed Mushroom and Parmesan Tart
Ingredients
1

tbsp

olive oil

2

tbsp

butter

454

grams

cremini or white button mushrooms

two 227 gram containers — washed and thinly sliced

1/2

cup

shredded parmesan cheese

a few good pinches of kosher salt

freshly ground pepper to taste

1

small clove of garlic

minced

fresh thyme leaves

a small bunch for garnishing

1

egg beaten

to wash the puff pastry

1

square puff pastry sheet

thawed and rolled out
Instructions
Thaw puff pastry sheet according to directions on the package (2 hours at room temperature).

Preheat oven to 400 degrees.

When the puff pastry is nearly ready to roll out, prep the mushrooms (wash and slice), and add oil and butter to a stovetop pan over medium high heat.

Add sliced mushrooms and sauté, stirring occasionally until they begin to crisp and brown—five to 10 minutes. If the mushrooms begin to burn, reduce the heat slightly. *The pan must be hot for the mushrooms to crisp up and for the water they'll release to evaporate.*

At this point, add in minced garlic, kosher salt, pepper and continue cooking.

Once the majority of the mushrooms are crisp and brown, stir in shredded parmesan and mix well.

Remove from heat and set aside.

Roll out puff pastry onto a baking sheet.

Spoon mushrooms over the pastry evenly, leaving a little less than an inch border.

Using a pastry brush, gently wash the pastry border with the beaten egg.

Bake at 400 for 20 minutes, or until the puff pastry is raised and golden.

Garnish with fresh thyme leaves as you like (a teaspoon or two is perfect).

Using a pizza cutter, slice into squares and serve warm. Enjoy!
Share
Did you make this recipe? Tag @mondaysundaykitchen on Instagram and hashtag it #mondaysundaykitchen!