This baked maple brie with pecans and cranberries is one of those classic Fall/Winter dishes that you'll want to whip out at holiday gatherings time and time again. A total crowd pleaser, pretty and festive to boot. AND literally NO prep time.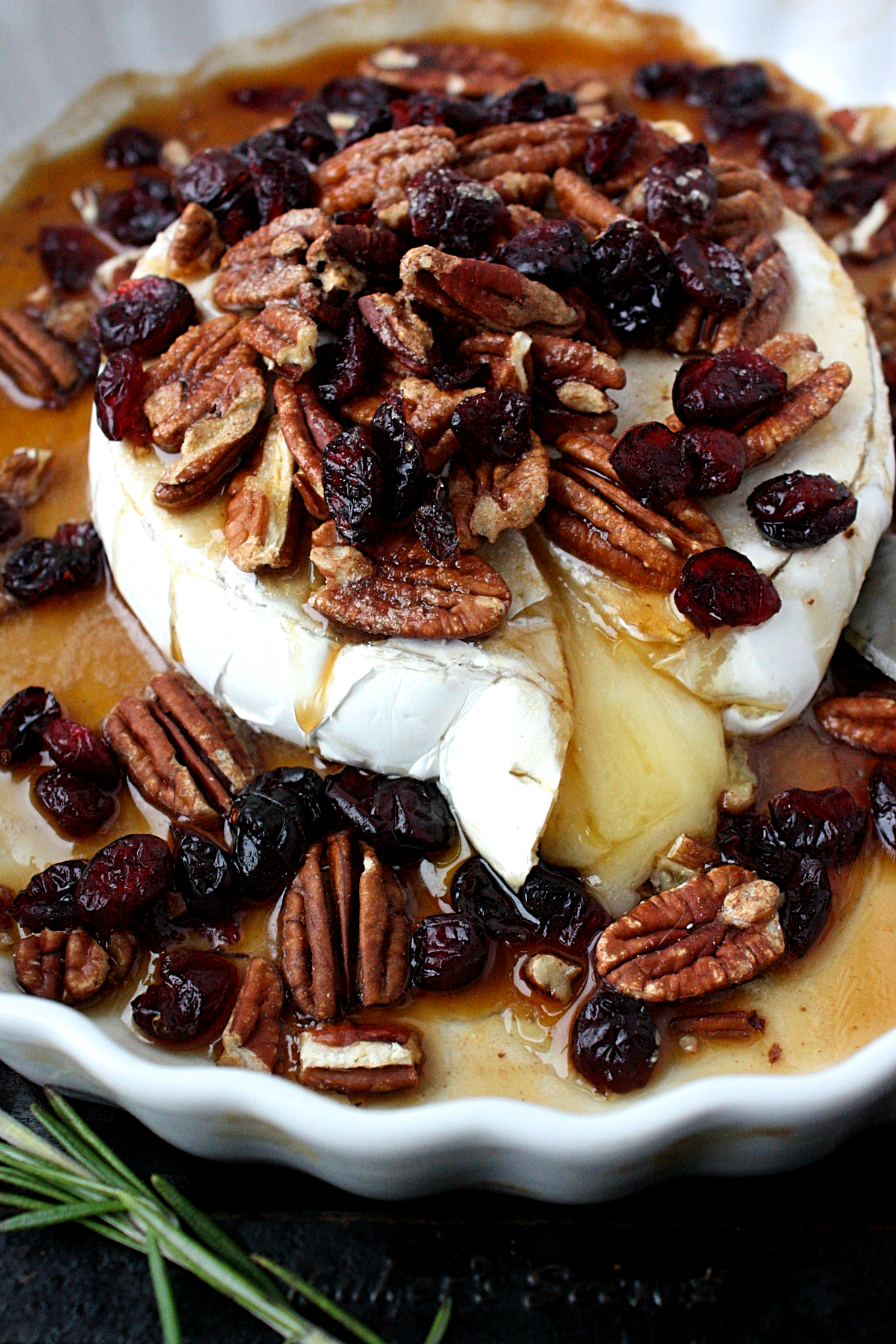 I mean really guys…look at that cheese, oozing out, draped in maple and just waiting to be slathered onto a warm crusty piece of bread or some fragrant crisps. When I make this, at least once or twice a year, I just wait for the accolades to roll in. And they do, oh ya they do. Because WHO doesn't love a warm cheese app? Especially at this time of the year, and as pretty as this one.
I literally want to eat this entire wheel of melted brie, chase it with half a bottle of red wine and take a 4 hour long nap. But being the grown up that I (apparently) am, I'll instead take a ba-zillion pictures of it in all its festive looking glory and share it with you, with the hope that you'll make it and tell me all about it. With details please.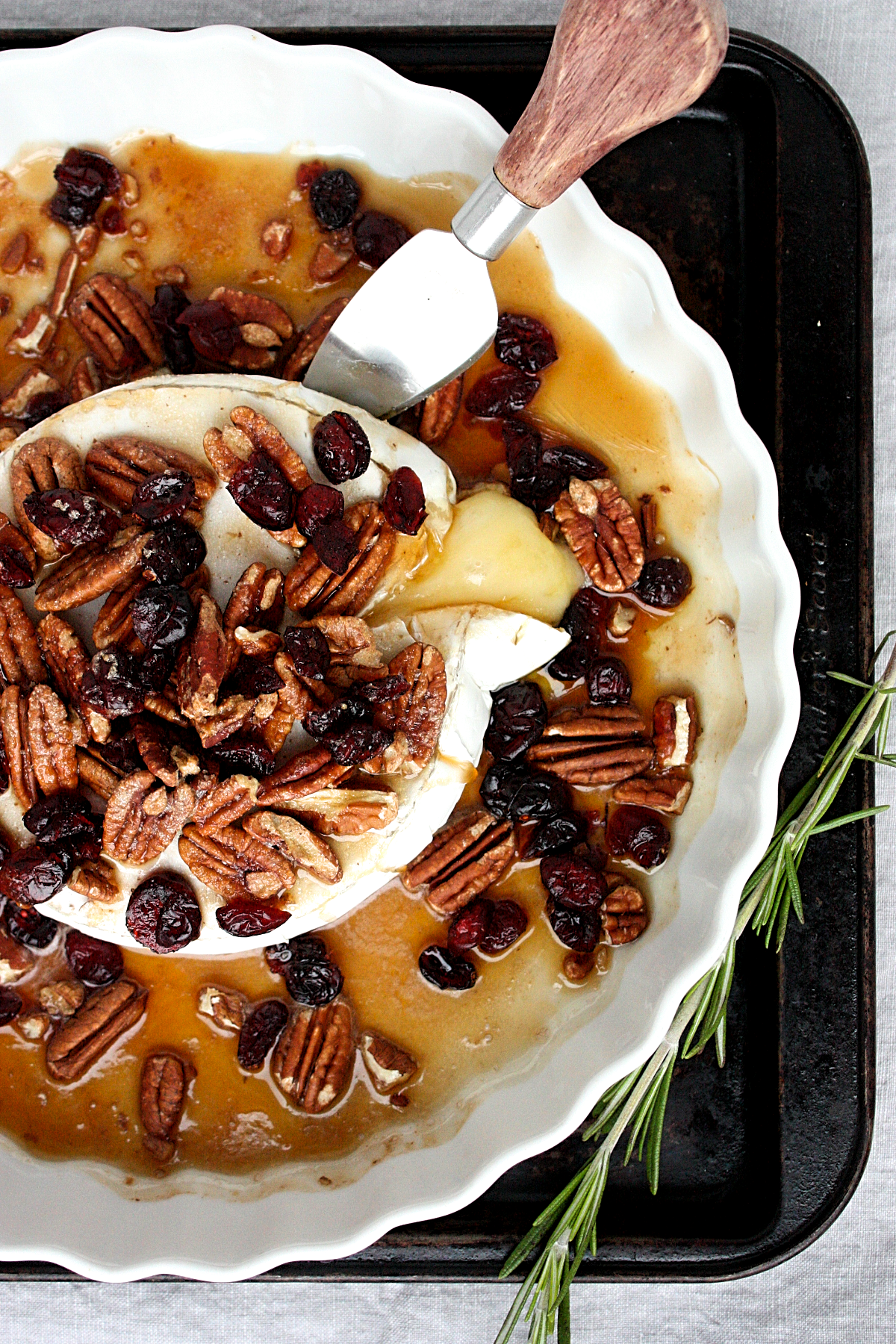 Onto logistics. When should you make this gorgeous, easy cheesy dish? Definitely this holiday season. And also at Thanksgiving, cocktail parties, super bowl parties, when your mood is in the dumps and whenever the weather turns cold.
Presentation wise, I like to keep it simple. While the mounds of maple drenched pecans and cranberries do all the heavy lifting, I do like to add a few sprigs of fresh rosemary. It's festive and smells so good.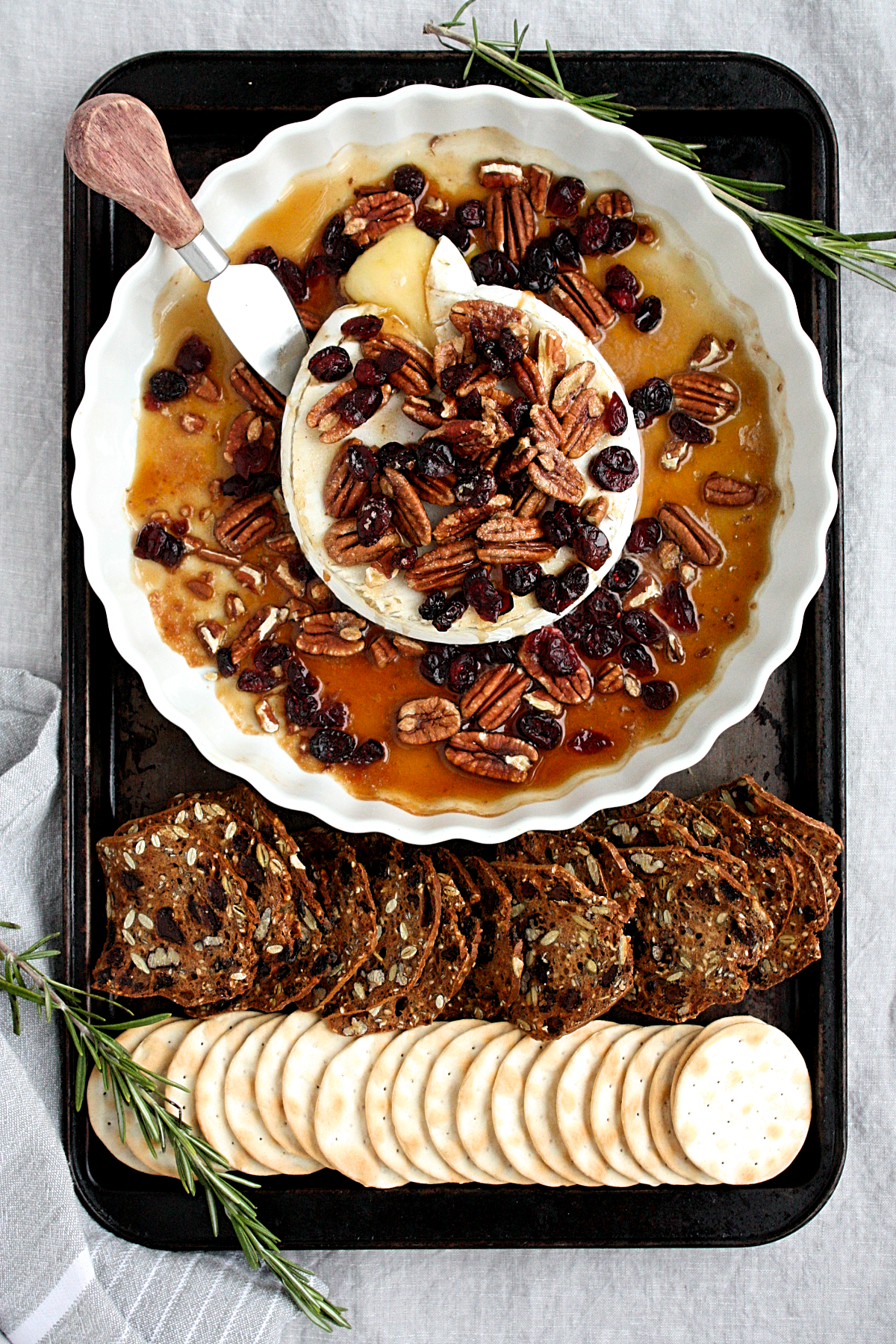 This recipe is adapted from a Martha Stewart recipe—my version uses more maple syrup, less brown sugar and a touch of water, which results in a lovely gooey almost maple taffy on snow texture. Our methods also differ. I pour the maple mixture right over top of the brie, pecans and cranberries and let it cook alongside. Martha brings her maple mixture to a boil on the stovetop and adds it once the brie is out of the oven. Whatever the method, when it comes to melted brie and maple, it's a win, win.
If you give it a try, let me know in the comments below!
Baked Maple Brie with Pecans and Cranberries
Ingredients
1

350 gram

wheel of brie cheese

1/2

cup

whole pecans

dry roasted

1/4

cup

dried cranberries

1/4

cup

maple syrup

2

tbsp

brown sugar

1

tbsp

water
Instructions
Place the brie wheel in the center of a shallow baking dish or ceramic pie plate.

Sprinkle pecans and cranberries on top of and around the brie.

In a small bowl, whisk maple syrup, brown sugar and water until well combined. Pour the maple mixture over top of the brie, pecans and cranberries.

Bake at 325 for 20 minutes.

Serve with an assortment of your favourite crackers, crisps and bread. Enjoy!
Share