These easy oatmeal cookies have a crispy exterior, soft, chewy center, and the best buttery, brown sugar flavor. This recipe is as tried and tested as it gets—passed down from my great grandmother all the way to me. ♡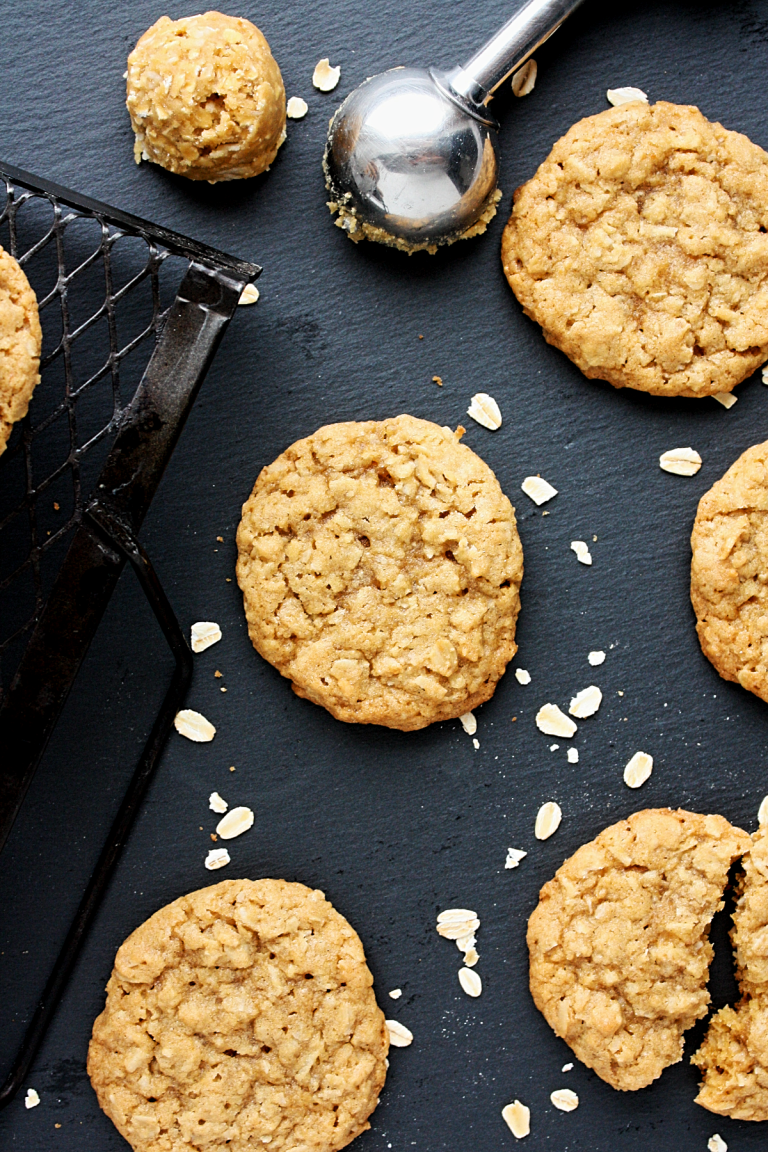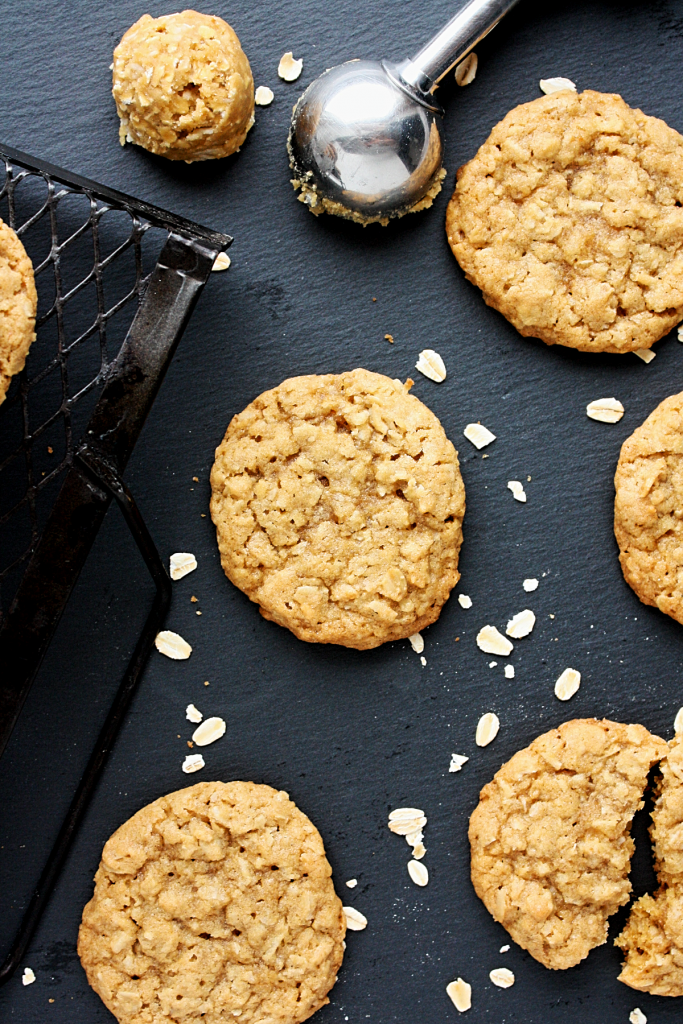 About these easy oatmeal cookies
Guys, I don't even know where to begin…because I want you to know how good these easy oatmeal cookies are. They spark joy.
You should also know that I ate a lot of cookie dough while making them, and I couldn't help myself. 🤫 Full disclosure, I did have a stomach ache hours later, which is, of course, to be expected when you eat spoonfuls of raw oatmeal cookie dough, followed by three, four, maybe five-plus freshly baked oatmeal cookies—for testing purposes, of course.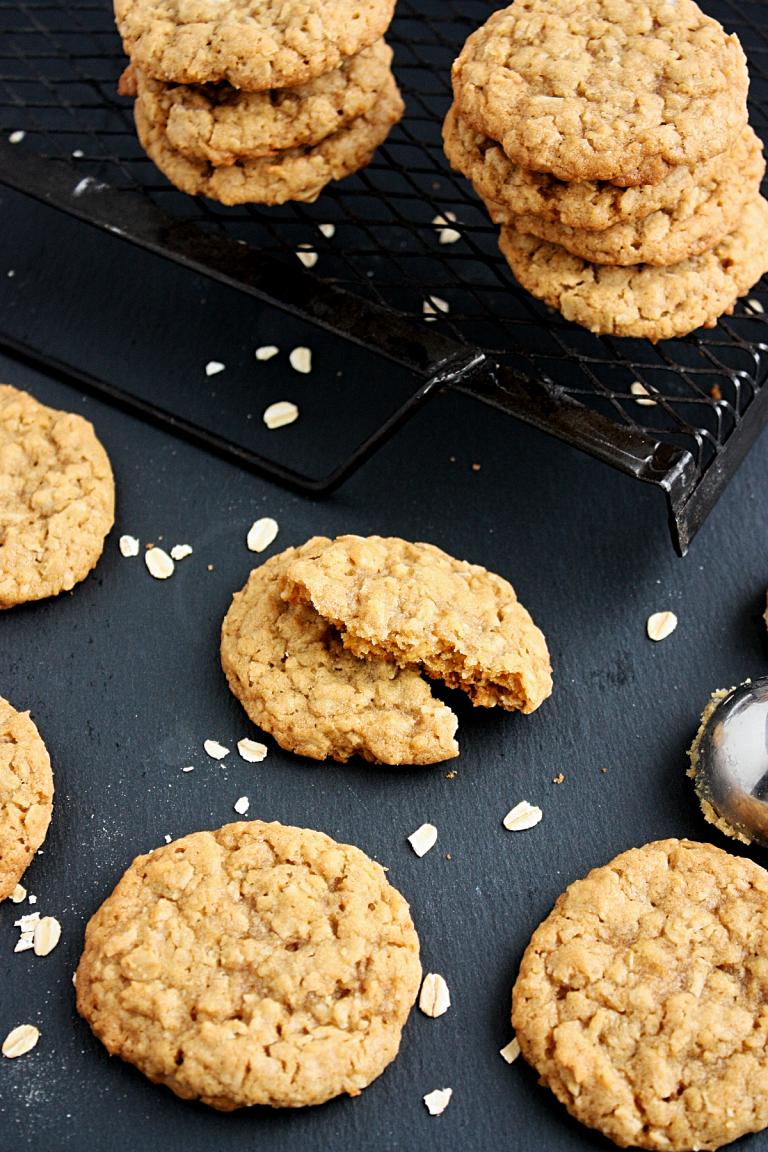 Easy oatmeal cookie recipe notes
These easy oatmeal cookies have a sweet, buttery brown sugar flavor and subtle saltiness. They are slightly crispy with a soft, chewy center. My kind of cookie. If you prefer a very crispy cookie, flatten the dough balls more than is called for below and let the baked cookies cool on the baking sheet for extra time. Your patience will be rewarded with a crispy cookie.
This recipe calls for large rolled oats, which makes for a more textured chewy oatmeal cookie. Quick oats work as well, as will a combination of large oats and quick oats (my preference).
If you have time to spare, I recommend toasting the oats for 15 minutes in a 350-degree oven to bring out their rich nutty flavor. Just be sure to let the oats cool fully before adding them to the cookie mixture, or they will melt the butter.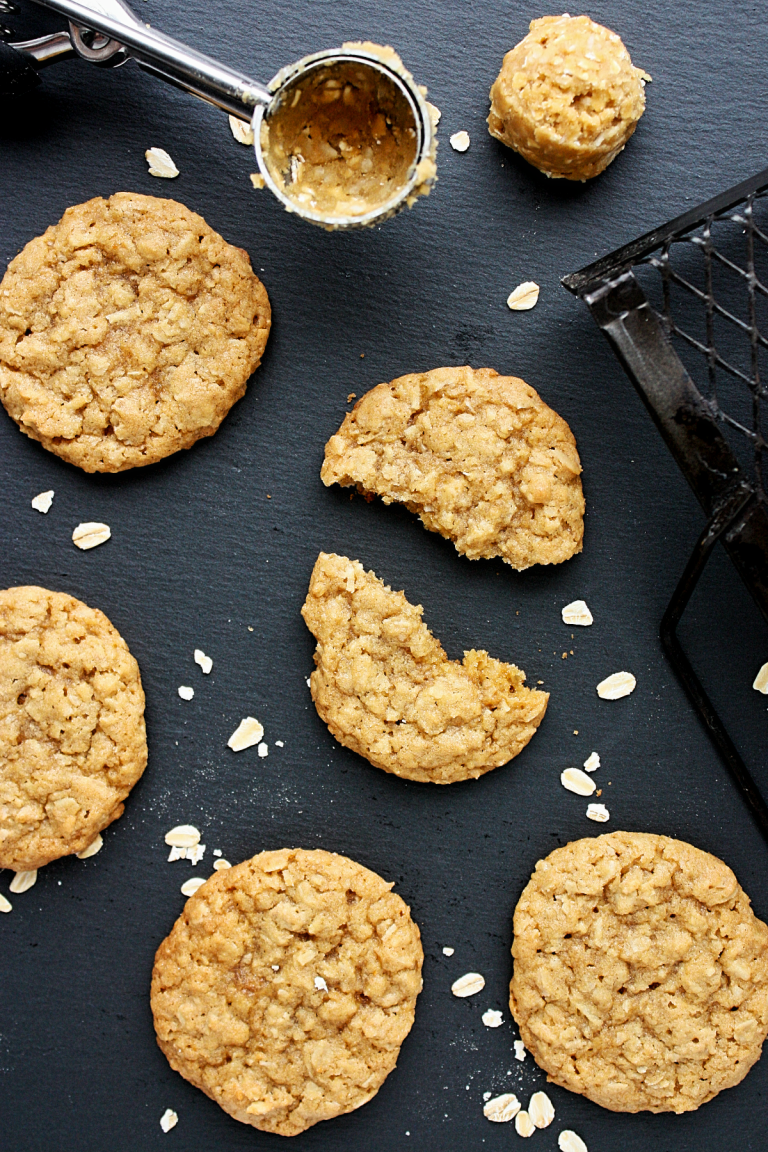 Luckily for you and all those in your household (and maybe your neighborhood), this recipe makes A LOT of oatmeal cookies. Using my treasured cookie scoop, I ended up with 75. Most of them are now stored in the deep freeze (to be pulled out as needed). Perfect for weekend play dates and spontaneous get-togethers.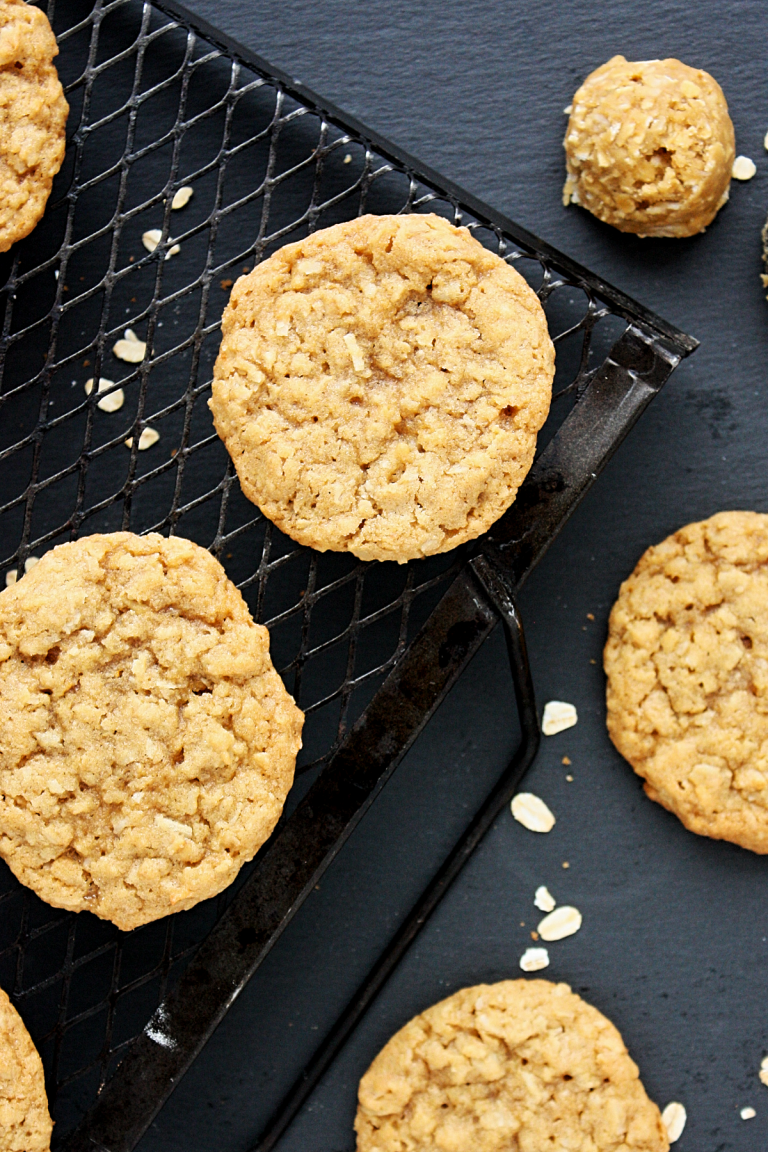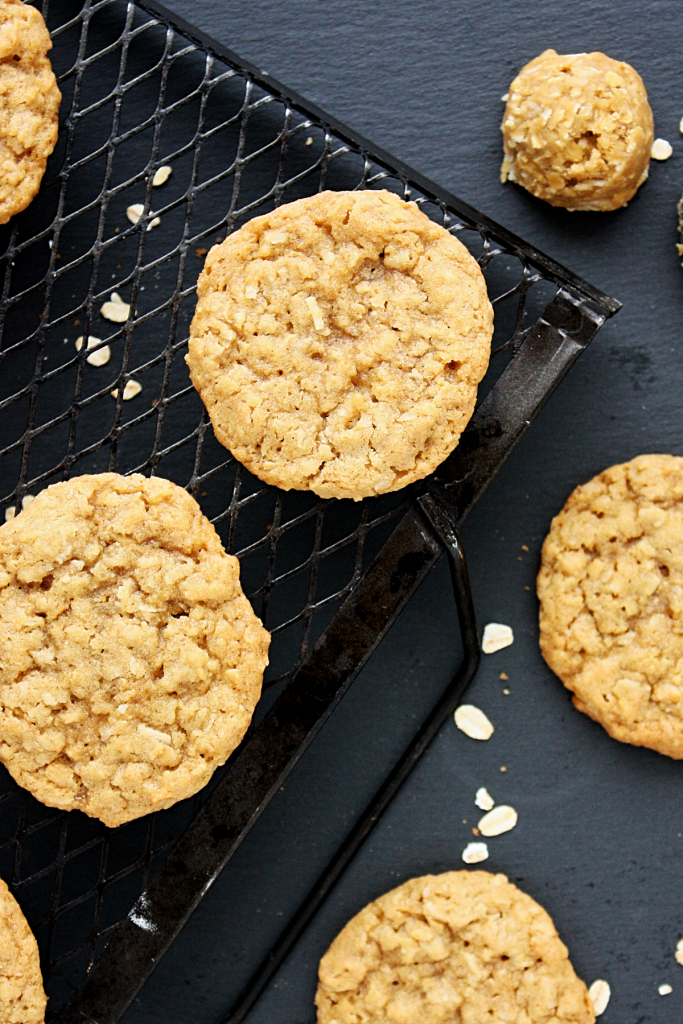 Want to know more about oats—the differences between large rolled oats, quick oats, and steel-cut oats? How they cook and the recipes they are best suited for? Check out this article from The Kitchn. Your inner kitchen nerd will rejoice.
xo Bri
---
Looking for more dessert recipes? Try these tried and true favorites:
---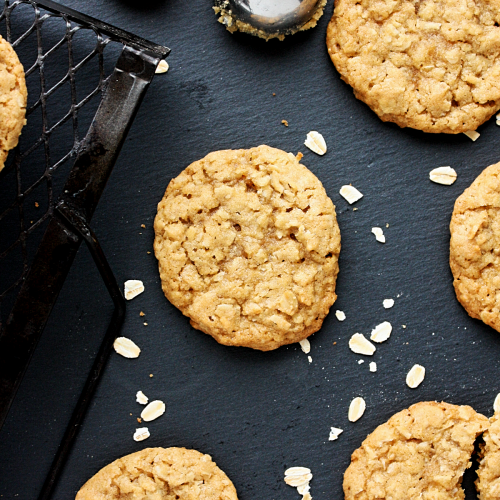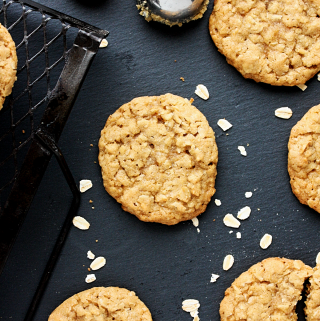 Easy Oatmeal Cookies
These easy oatmeal cookies have a crispy exterior, soft, chewy center, and the best buttery, brown sugar flavor.
Ingredients
1

cup

butter softened

2

cups

brown sugar

2

eggs

1

tsp

vanilla

2

cups

large rolled oats or quick oats

*optional – if you have a little extra time, toast the oats for a richer, nutty flavor – see notes

1

cup

shredded sweetened coconut

2

cups

all purpose flour

1/2

tsp

baking soda

1

tsp

salt
Instructions
In a large mixing bowl, cream butter and brown sugar (make sure your butter is soft!). Mix in eggs and vanilla.

In a separate bowl, combine toasted oats, shredded coconut, flour, baking soda and salt.

Add oat mixture to the wet ingredients and mix until well combined.

Using a cookie scoop or spoon, form dough into 2 teaspoon-sized balls and flatten them using your fingers or a fork. They don't spread out much, so be sure to flatten them.

Place on a cookie sheet, and bake at 375 for 8-10 minutes, until golden and fragrant. Remove and let cookies cool on the sheet for a good 10 minutes — they will crisp up as they cool.
Notes
If you have a little extra time (easy time) to spare, I highly recommend toasting your oats to bring out their rich nutty flavor. Super easy to do. Spread them out on a baking sheet and toast for 15 minutes in a 350-degree oven. Take them out and let cool while the other ingredients are being prepared. Wait until they are cool to use, or you will melt the butter and change the texture of the cookies!
Share