Easy weeknight pasta! This lemony rigatoni pasta with kale and shallots is delicious, light, plus, quick and easy to make any night of the week.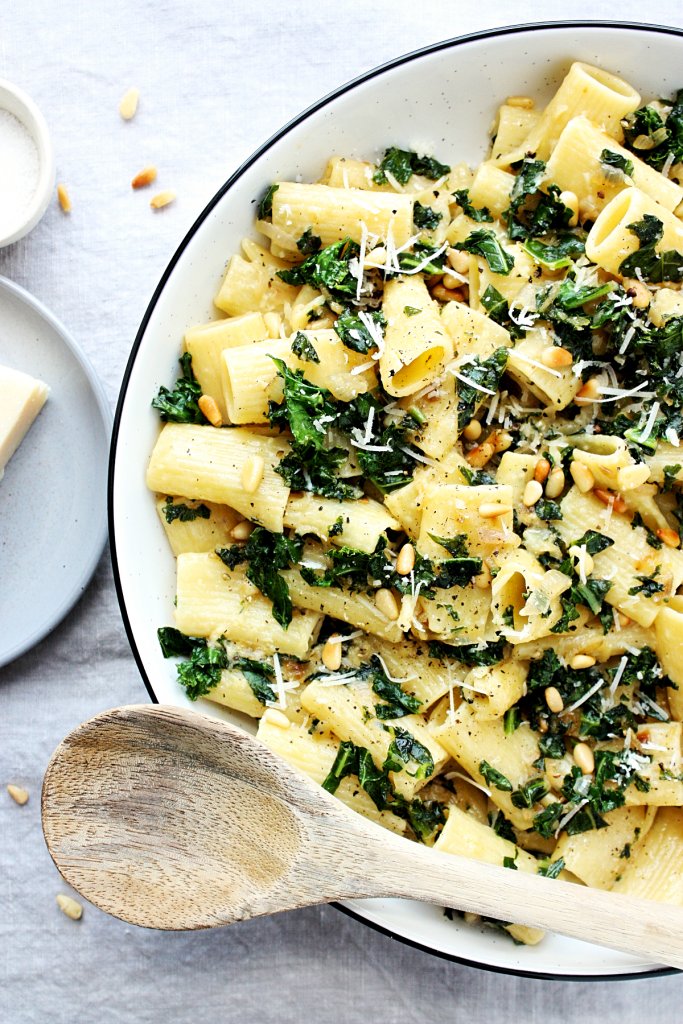 While I most definitely enjoy a good bowl of pasta from time to time, truthfully, pasta tends to rank low on my personal food totem pole…it's generally not one of those foods I crave. Or order out. I know, I know. WHAT THE…That is guys, until this lemony rigatoni pasta with kale and shallots came into being. Full of all my favorite things (hello kale, parm and pine nuts), this pasta, with a light and tasty lemon dressing, is so deeply satisfying.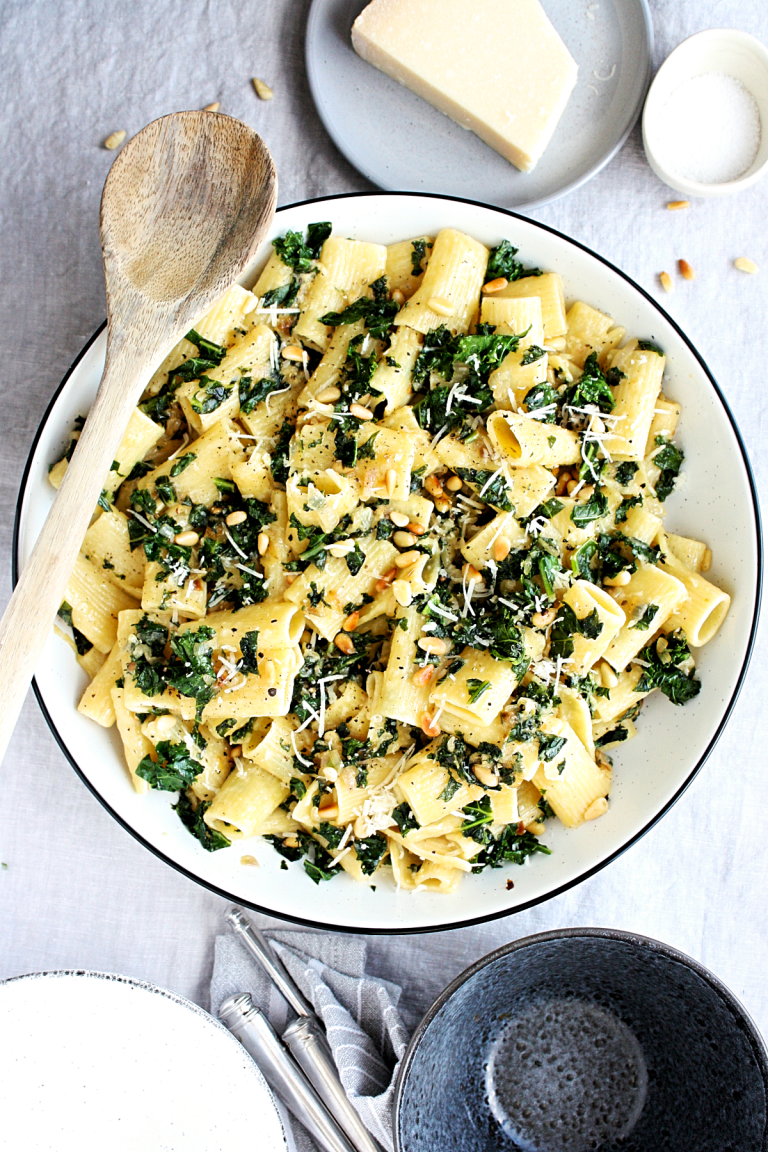 Because pasta is as weeknight friendly as it gets, and the people in my life are pasta maniacs, we serve it up on steady rotation. Frozen homemade marina sauce comes in very handy, as do frozen homemade meatballs. Note to self, time to stalk up.
This rigatoni pasta, however, requires no last minute thawing or deep freeze expeditions. It is simple and fresh in the best way, made quickly with pantry and fridge staples.
---
Granted, kale might not be a staple for most people, but it so should be. Unlike most washed, boxed salads, kale doesn't wind up slimy and yellow within a day or two. It's sturdy and keeps well for a good week or more in my experience. And it's a superfood star…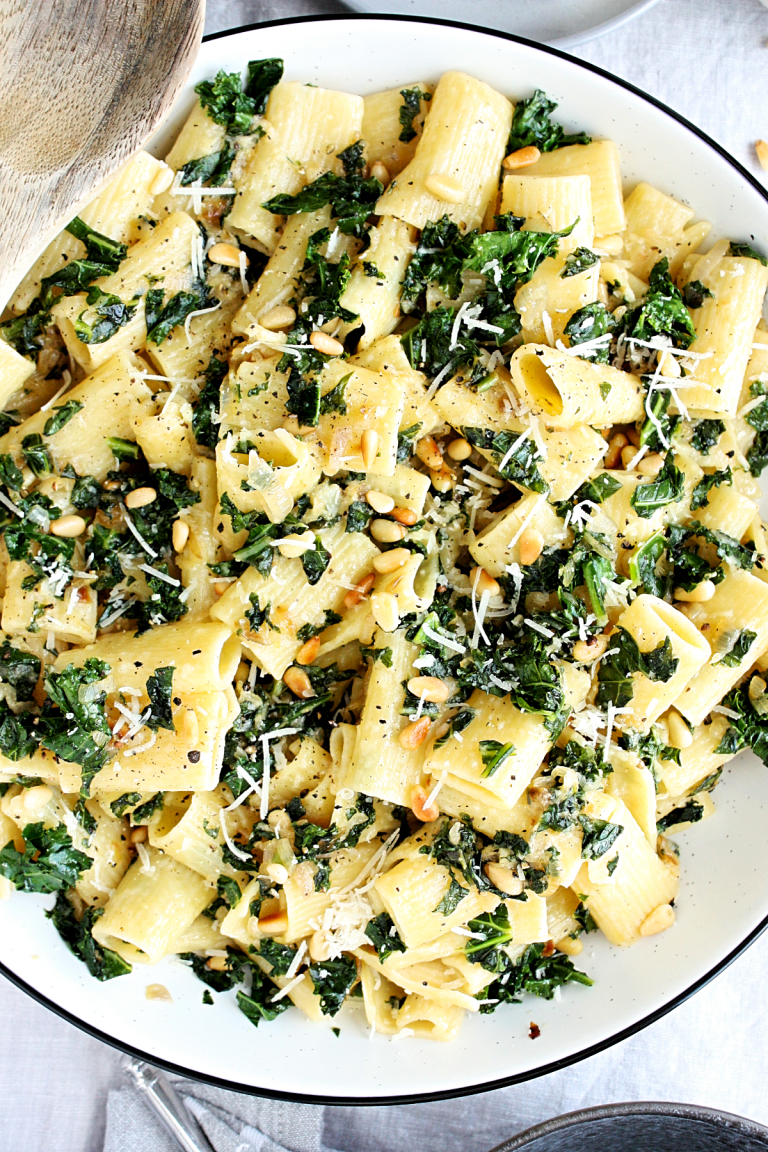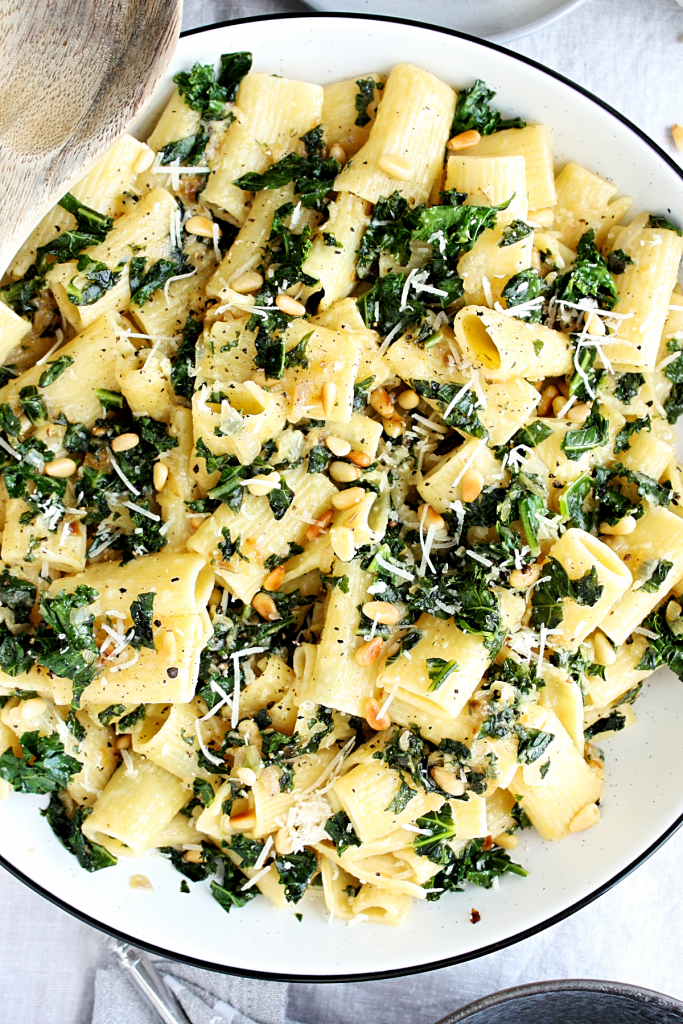 Now that you're sold on kale, let's fawn over all the yummy bits of flavor and simple fresh ingredients.
Key to the success of any good pasta is using really good ingredients. Like freshly grated parmesan reggiano (not the pre-shredded kind!), good kosher salt, and pine nuts—toasted ever so slightly in a dry pan.
The other flavor powerhouse in this kale pasta recipe? Shallots, thinly sliced and sautéed until sweet, golden and delicious.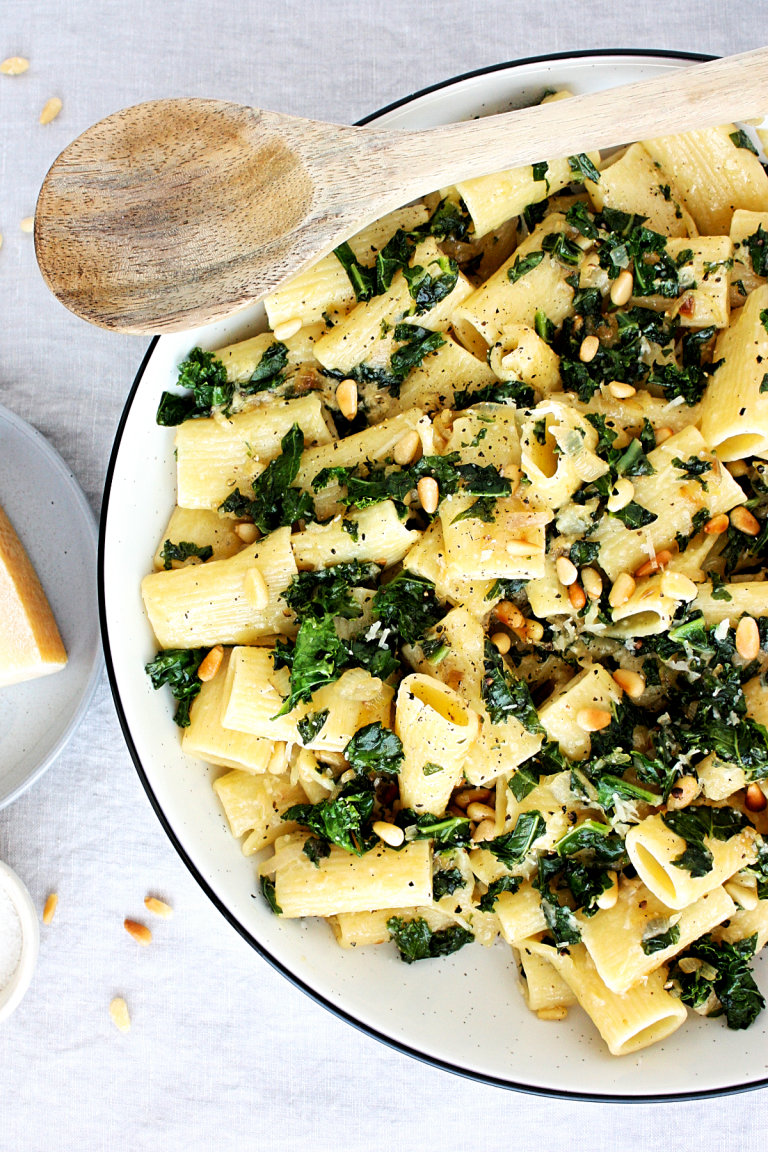 Need more weeknight friendly, meatless pasta inspiration? Check out this creamy avocado spinach pasta and this roasted butternut squash pasta.
xo
Bri
Lemony Rigatoni Pasta with Kale and Shallots
Ingredients
500

grams

dry rigatoni pasta

cooked until desired tenderness

6

cups

chopped fresh kale

~5-6 large kale leaves - washed, stems removed and chopped up into small bites

5

shallots

peeled, halved lengthwise and thinly sliced

1/4

cup

pine nuts

lightly toasted in a dry pan for a few minutes on medium heat

1/2

cup

parmesan reggiano

finely grated, plus more for serving

1/4

cup

olive oil

plus more for sautéing the shallots and kale

2

tbsp

pasta water

juice of one lemon

kosher salt

freshly ground pepper
Instructions
Bring a large pot of water to a boil and cook pasta to desired tenderness.

Meanwhile, in a large pan over medium heat, add a glug of olive oil (roughly a tablespoon). Add thinly sliced shallots, a pinch of kosher salt and cook for 8-10 minutes, stirring frequently until they are translucent and beginning to brown.

Add chopped kale to the pan, a pinch of salt, plus an additional tablespoon or two of oil, and gently stir to combine. Cook for an additional 2-4 minutes, stirring frequently. The kale will become tender and reduce by half.

In a small bowl, whisk together pasta water, 1/4 cup of olive oil, and the juice of one lemon.

Drain rigatoni and return it to the pot.

Add oil/lemon dressing to the rigatoni, plus a few generous pinches of kosher salt and freshly ground pepper. Stir until the pasta is well coated.

Add in sautéed kale and shallots, pine nuts and grated parmesan. Stir to combine. Be sure to taste and add additional salt and pepper as needed.

Serve with additional grated parmesan.