Looking for a healthy, easy chicken dish to make this evening? Try out this toasted coconut chicken. It's fragrant, flavourful, and light, plus, a breeze to whip up. Pair it with with your fav sides (I do sticky rice and broccoli) and you're in business!
What makes this dish super delish? The slightly crunchy, toasted coconut, yum, yum.
Bon appetit!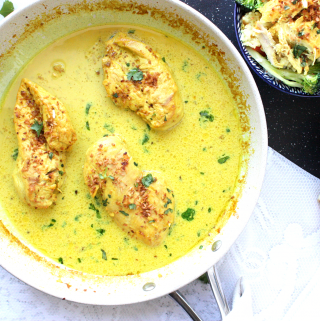 Toasted Coconut Chicken
Ingredients
1

tbsp

coconut oil

1

tbsp

olive oil

1

shallot

finely chopped

1

clove

garlic

minced

1

tbsp

gingerroot

finely minced

4

boneless chicken breasts

400

ml

can of coconut milk

1

tsp

tumeric

1/2

tsp

pink Himalayan salt

table salt will suffice

1/3

cup

unsweetened shredded coconut

to garnish

2

tbsp

fresh cilantro

roughly chopped - to garnish
Instructions
Preheat oven to 325.

In a large oven safe skillet, add oil and heat on medium high.

Add the shallot, garlic, and ginger — sauté (stirring occasionally) for 3-5 minutes, until fragrant and lightly browned.

Add the chicken and brown of each side (2-3 minutes a side).

Once browned, pour in the coconut milk, add the turmeric and salt and gently combine.

Pop into the oven for 15-20 minutes, until the chicken is fully cooked.

While the chicken is cooking, toast the shredded coconut in a dry stove-top skillet over medium heat for 3-5 minutes. Toss/stir frequently to ensure even toasting.

Remove chicken from the oven, top with fresh cilantro and toasted coconut and serve with your favourite sides. So good with jasmine rice and sautéed veggies.
Notes
The coconut sauce will be thin, so this dish is best paired with a side that will soak up all its yumminess. I suggest some fragrant sticky rice, like jasmine.
What makes this dish super delish? The slightly crunchy, toasted coconut, yum, yum.
Share