I came across this recipe while flipping through Cooking Light magazine's December issue, and being a sucker for anything butterscotch I had to give it a go. It did not disappoint.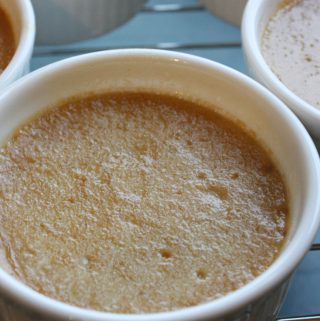 Butterscotch Pots de Creme
Ingredients
1 1/2

cups

whole milk (3.25 or 2%)

7

tbsp

brown sugar

2

tbsp

water

1

tbsp

dark molasses

1/2

tsp

salt

2

large eggs

2

large egg yolks

1 1/2

tsp

butter

1/2

tsp

vanilla extract

Whipped cream topping:

2

cups

heavy whipping cream

(small carton)

1/4

cup

sugar

1

tsp

vanilla
Instructions
Preheat oven to 325.

In a heavy-bottomed pot, heat milk to 180 degrees (do not boil).

In a medium mixing bowl, combine brown sugar, water, molasses, salt, eggs and yolks – stir well with a whisk.

Very, very gradually whisk 1/2 cup of the hot milk into the egg mixture (the tempering part). Be sure to whisk constantly!

Pour the egg mixture into the remaining milk, stirring constantly.

Strain mixture through a fine sieve into a bowl.

Stir in butter and vanilla.

Cover and chill for 1 hour.

Divid mixture evenly among 6 (8 ounce) custard cups.

Place cups in a 9 x 13" metal baking pan; add enough hot water to come halfway up sides of cups (helps it to cook gently and evenly).

Bake at 325 for 25 minutes or until the center barely moves when cup is touched.

Remove cups from pan and cool on a rack for 20 minutes.

Cover and chill at least 1 hour.

In a separate bowl, beat the whipping cream, sugar and vanilla on high speed until stiff peaks form.

Serve the butterscotch pots with whipped cream and enjoy!
Share