Oven-Baked Roasted Potato Frittata Recipe || A delicious, filling, everyday-easy baked frittata recipe loaded with roasted chive potatoes, corn, and freshly grated parmesan.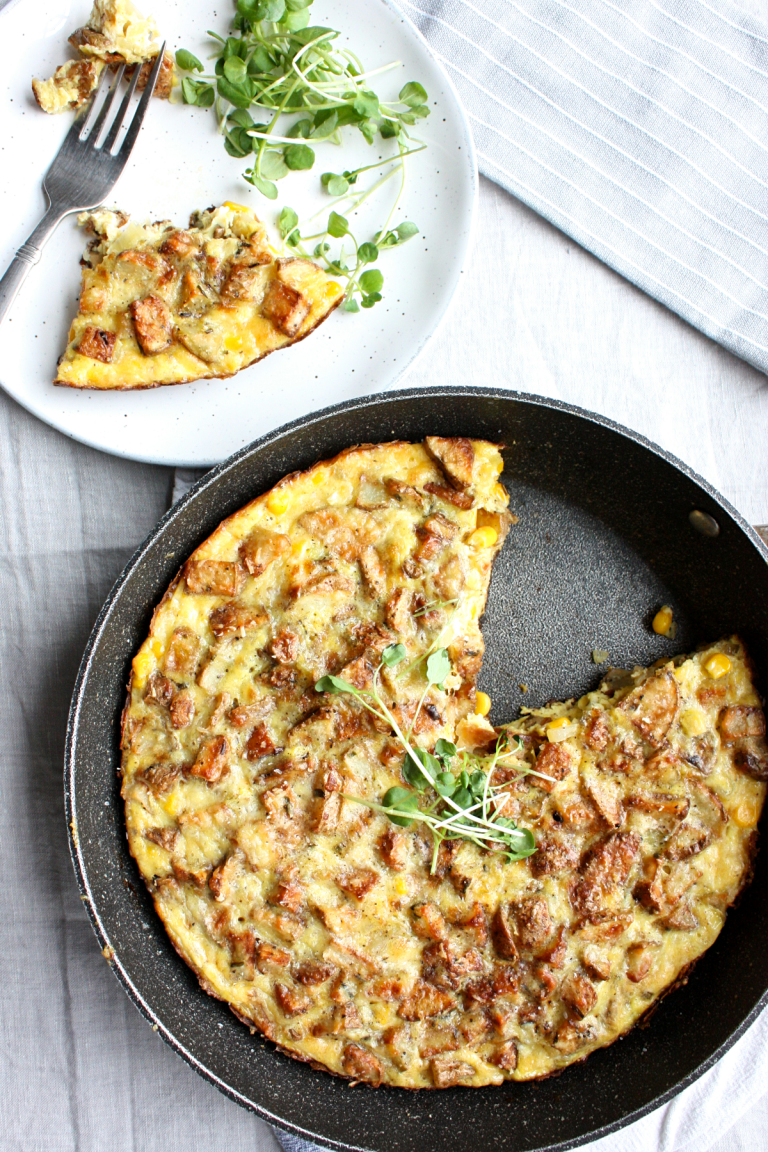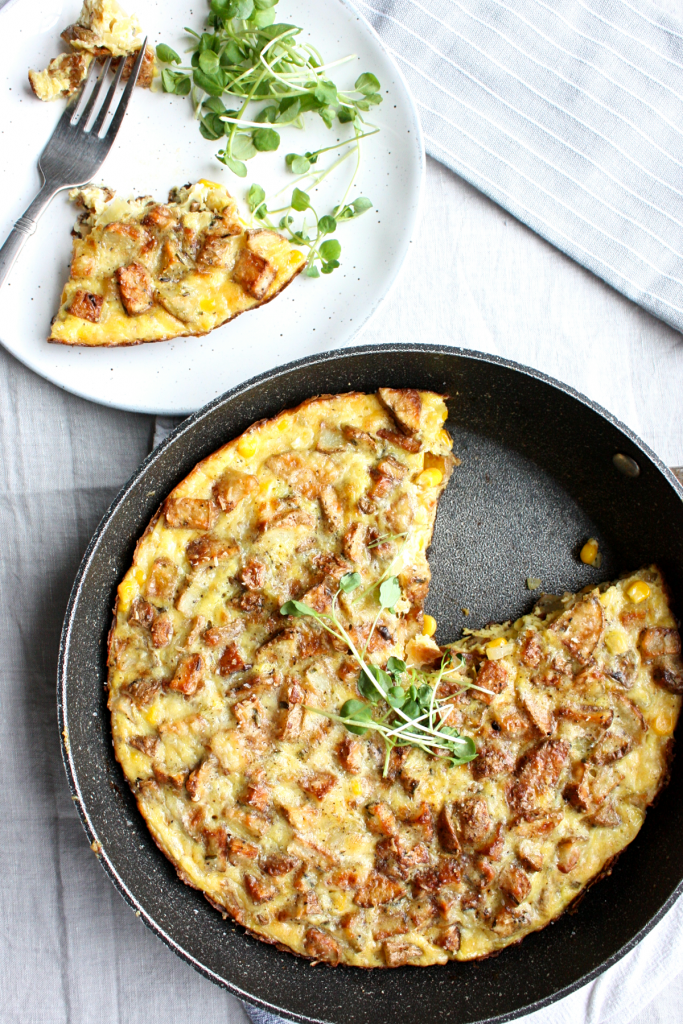 This frittata recipe is easy everyday comfort food. Perfect for a meatless Monday family dinner or brunch with your gal pals.
The star of the dish: crispy, chive flavored potatoes. The key is letting them bake away until browning and full of flavor. So don't skimp on the roasting time. Let them do their thing.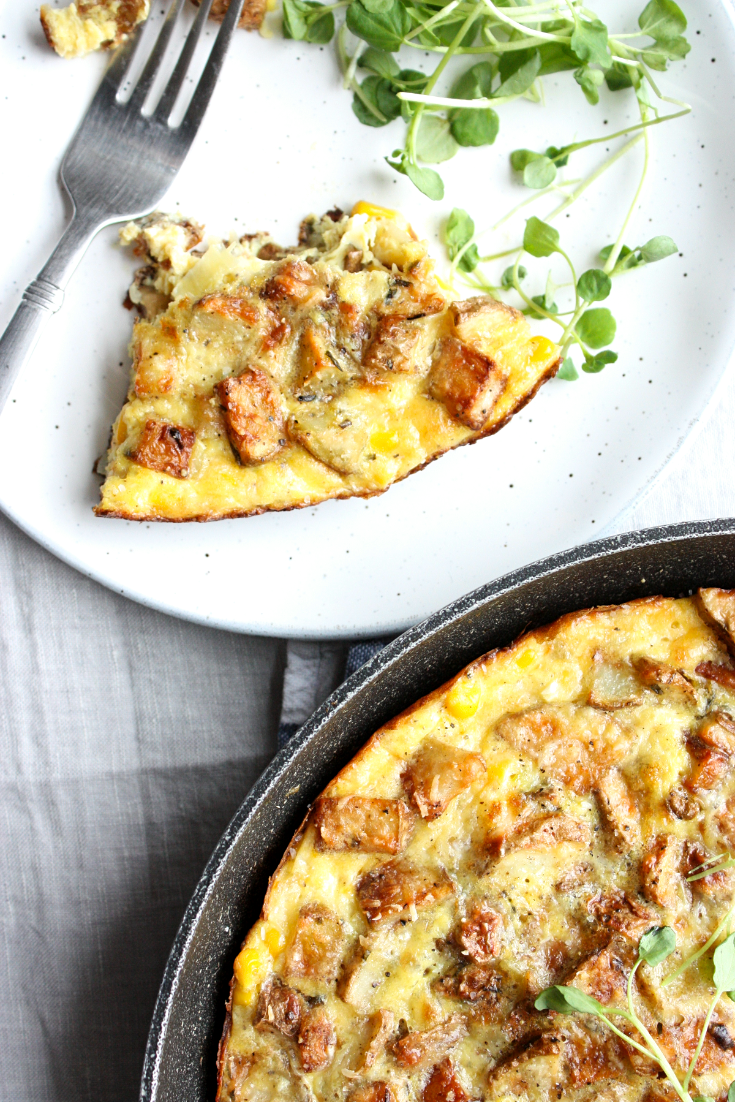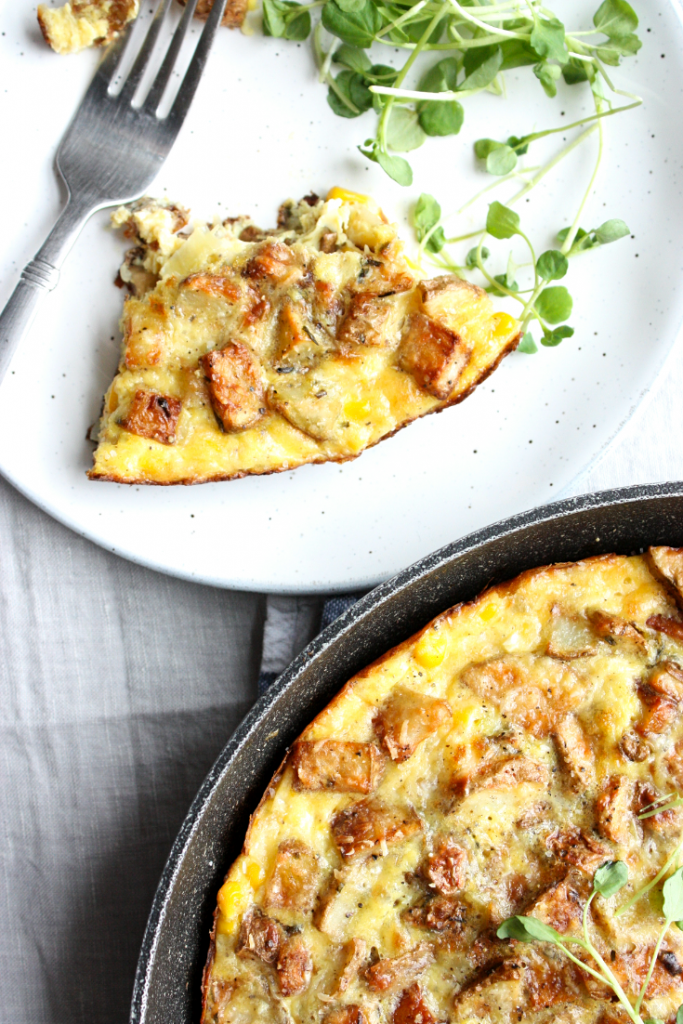 See all that golden deliciousness? It will be really hard not to eat them all up just like this.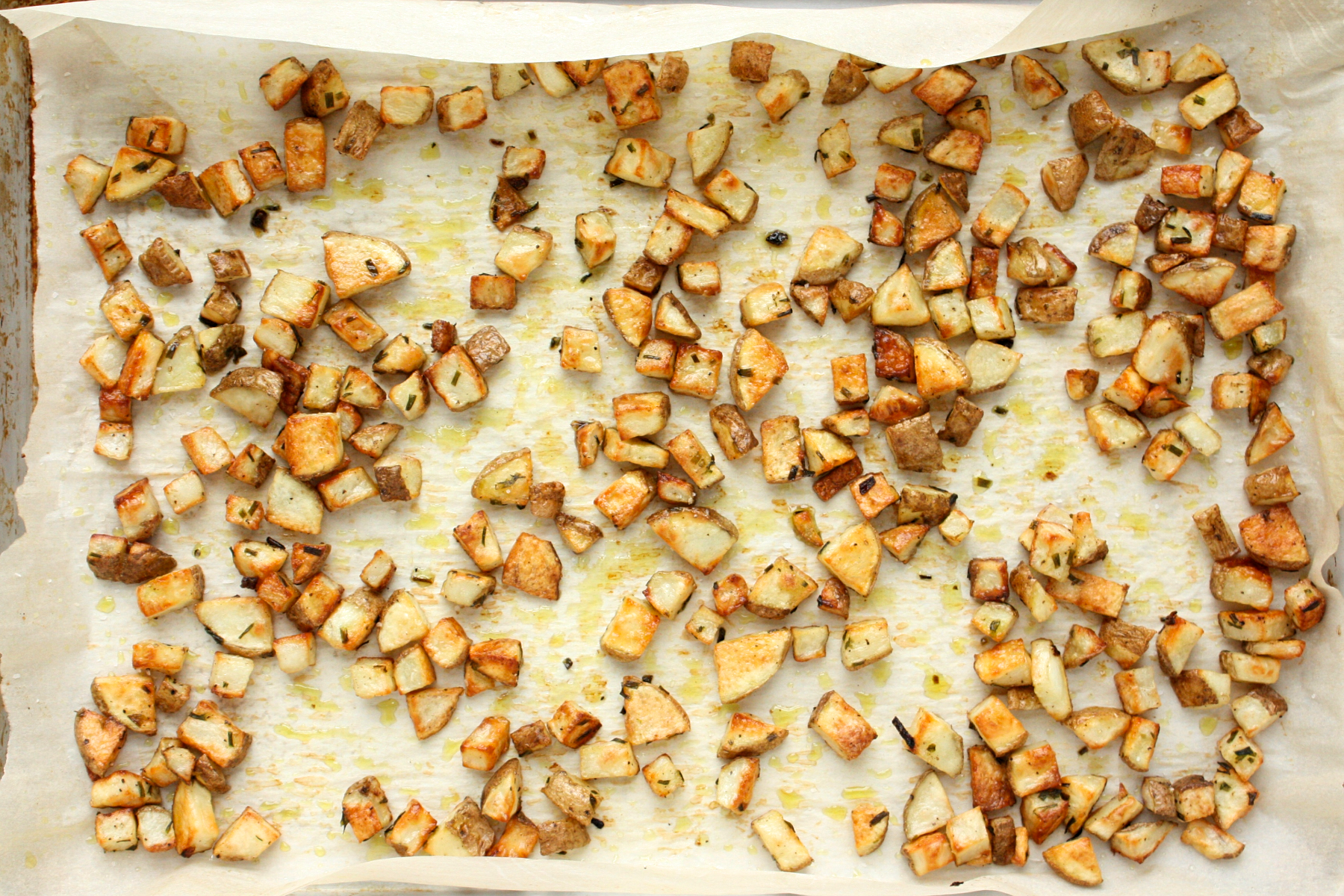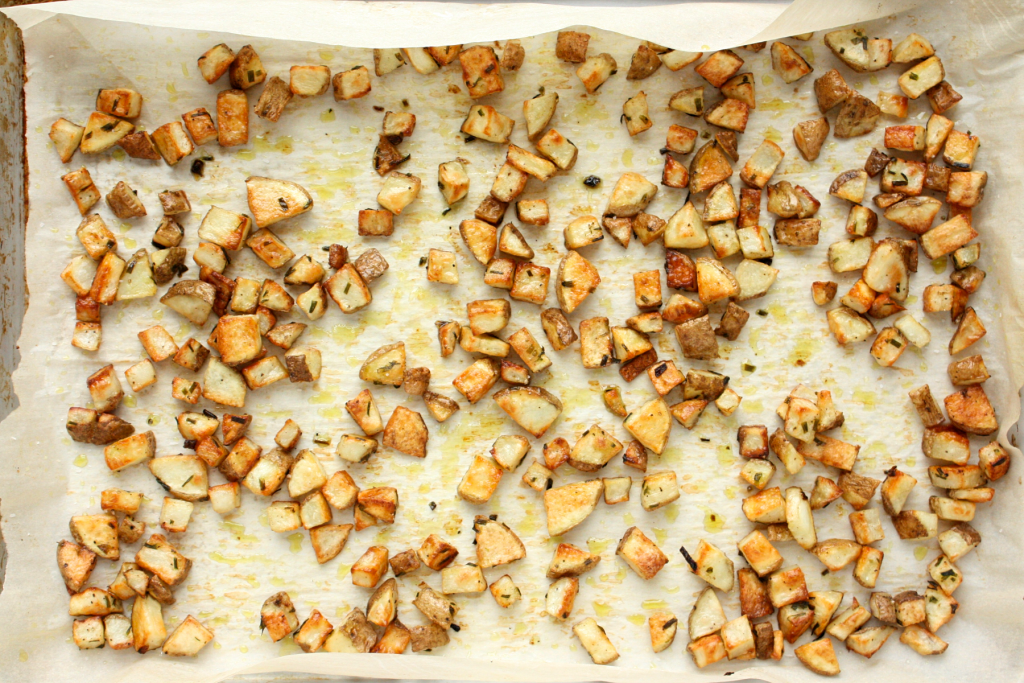 Make sure to use a stove-to-oven pan. I use a 10 inch Heritage The Rock pan. Highly recommend.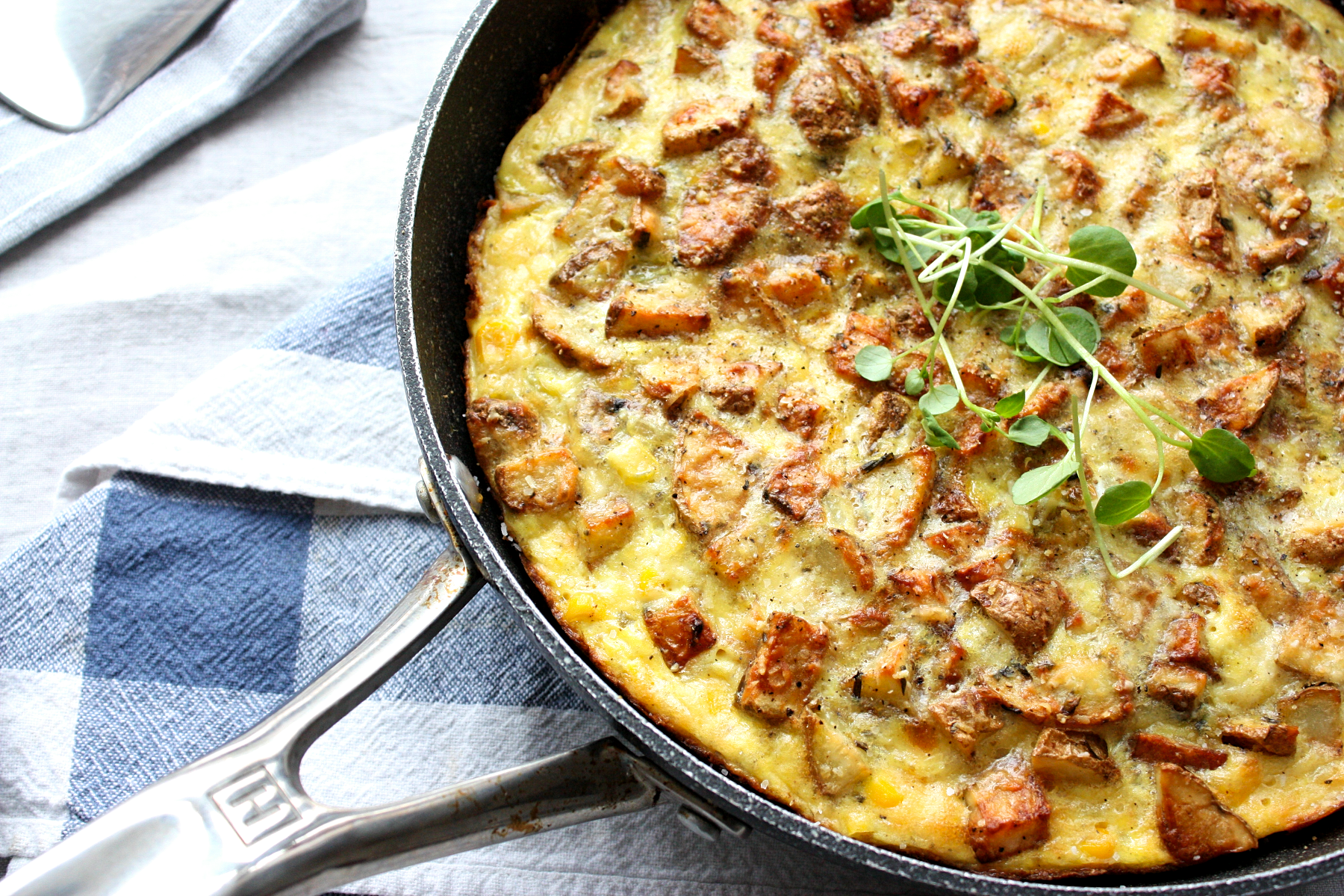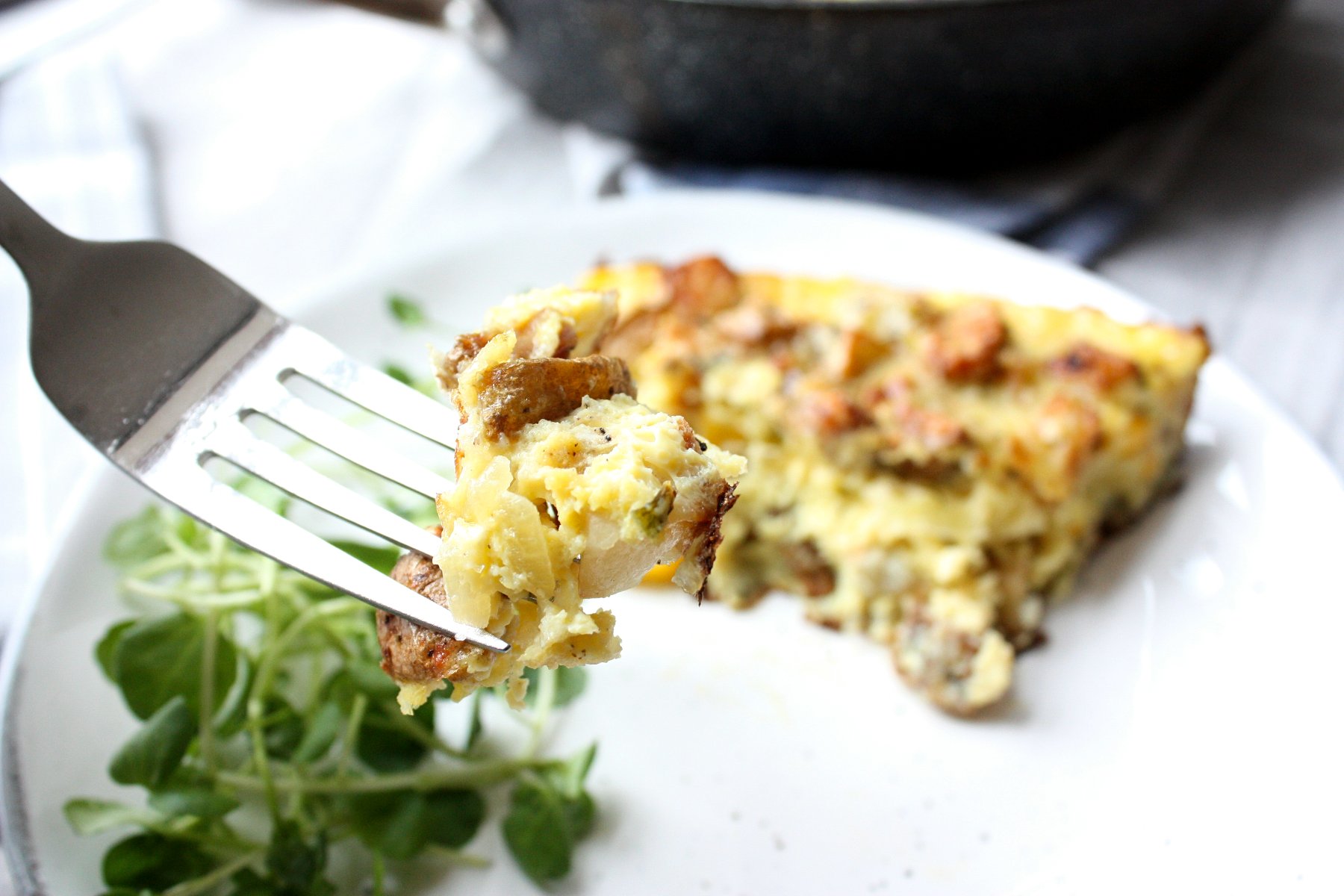 How to make this frittata recipe:
Start with roasting the russet potatoes (and chives) until brown and flavor-packed. They'll need 35-45 minutes in a 425-degree oven.
While the potatoes are roasting, sauté the chopped onion and prepare the egg mixture, which includes six large eggs, milk, parmesan, salt, pepper.
Into this mixture, toss the cooked onion, roasted potatoes, and corn.
Skillet time! Pour the egg mixture into a hot, oiled 10-inch oven-safe skillet and cook over medium heat for 5 minutes, until the sides appear set.
Pop the skillet into a 350-degree oven for 8-10 minutes until fully cooked.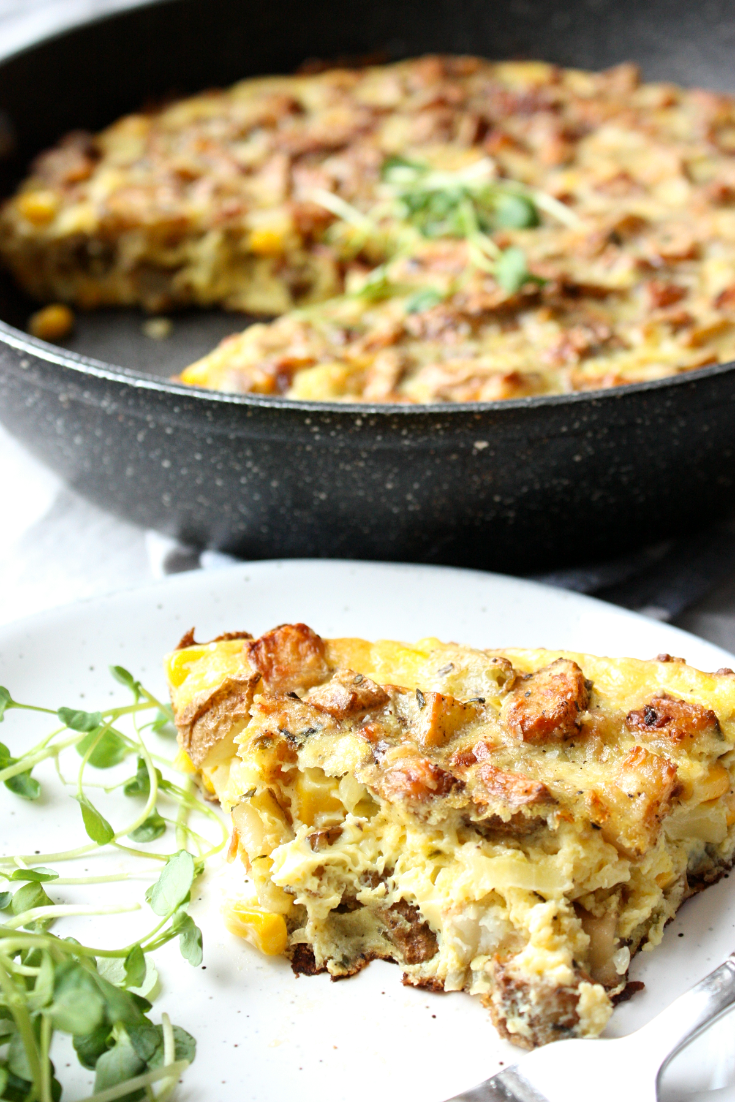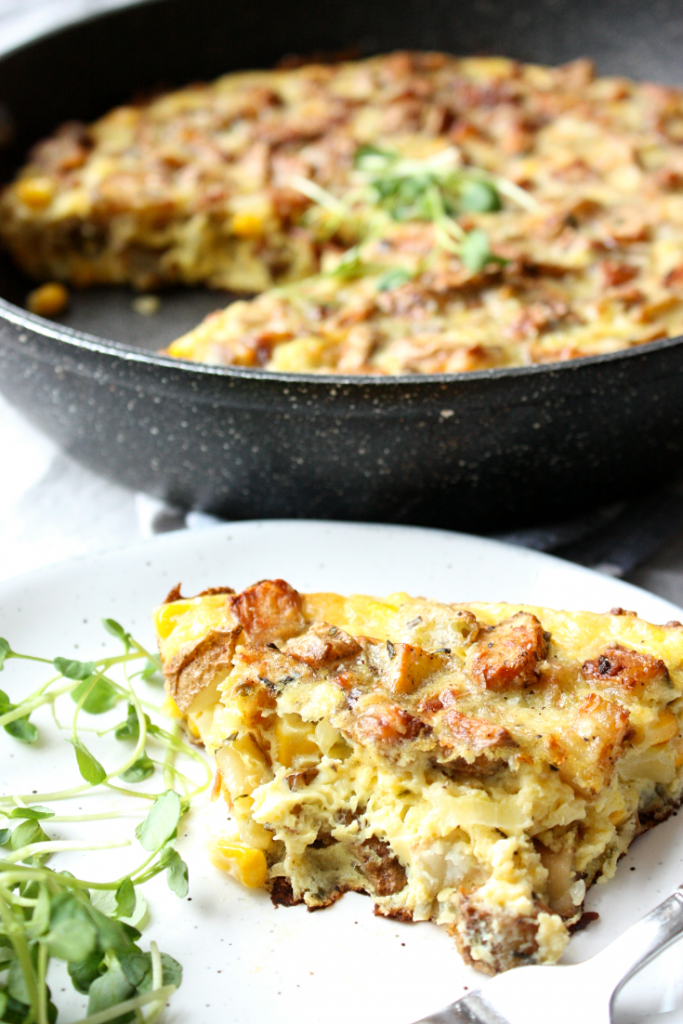 If you give this frittata recipe a try, let me know in the comments below, and share your rating! I love to hear from you!
xo
Bri
P.S. This mushroom and parmesan tart is a super quick and easy—and delicious—recipe, perfect for brunch or dinner.
Oven-Baked Roasted Potato Frittata Recipe
A delicious baked frittata recipe loaded with roasted chive potatoes, corn, and freshly grated parmesan.
Ingredients
5

small russet potatoes

chopped into 1/4 – 1/2 inch cubes

olive oil

as needed

2

tbsp

fresh chives

finely chopped

1

cup

sweet corn

frozen

1

small yellow onion

finely chopped

6

large eggs

1/2

cup

milk

1

cup

parmesan reggiano

finely grated

1/2

tsp

kosher salt

1/2

tsp

freshly ground pepper
Instructions
Preheat oven to 425 degrees. Line a large baking sheet with parchment paper. Add cubed potatoes, a good drizzle of olive oil, chives, and a generous pinch of salt and pepper. Toss to coat and bake for 35-45 minutes (giving them a flip once or twice) until crispy and brown.

Meanwhile, sauté chopped onions over medium heat for 5 minutes, just until tender and translucent—not browned. Set aside.

In a large mixing bowl, beat eggs with milk, parmesan (reserving a couple tbsps for the top), onion, salt and pepper. Stir in potatoes and corn, and pour into a hot 10 inch oven-safe pan that has been well-coated with olive oil—make sure to give the pan a good oil brushing, up the sides as well. Sprinkle top with reserved parm.

Cook the frittata for 5-8 minutes on medium heat, until the sides are well set—pop into a 350-degree oven and bake for 8-10 minutes until fully cooked. Broil for a minute or two, just until the parm bubbles and is slightly golden. Enjoy!
Notes
A silicon spatula comes in handy here. Use it to check if the sides are set before popping the frittata into the oven. Go around the edge of the pan to see if the egg is firm and lifts away.
A spatula will also help to slide the frittata onto a plate for serving.
No need to heat the corn in advance, toss it in directly from the freezer (unless you're using fresh corn on the cob, in which case, make sure to cook the corn before using).
Share