This herb-loaded meatball recipe is simple, easy comfort food made with ground beef, fresh herbs, and parmesan. Big on flavor and perfect for any night of the week.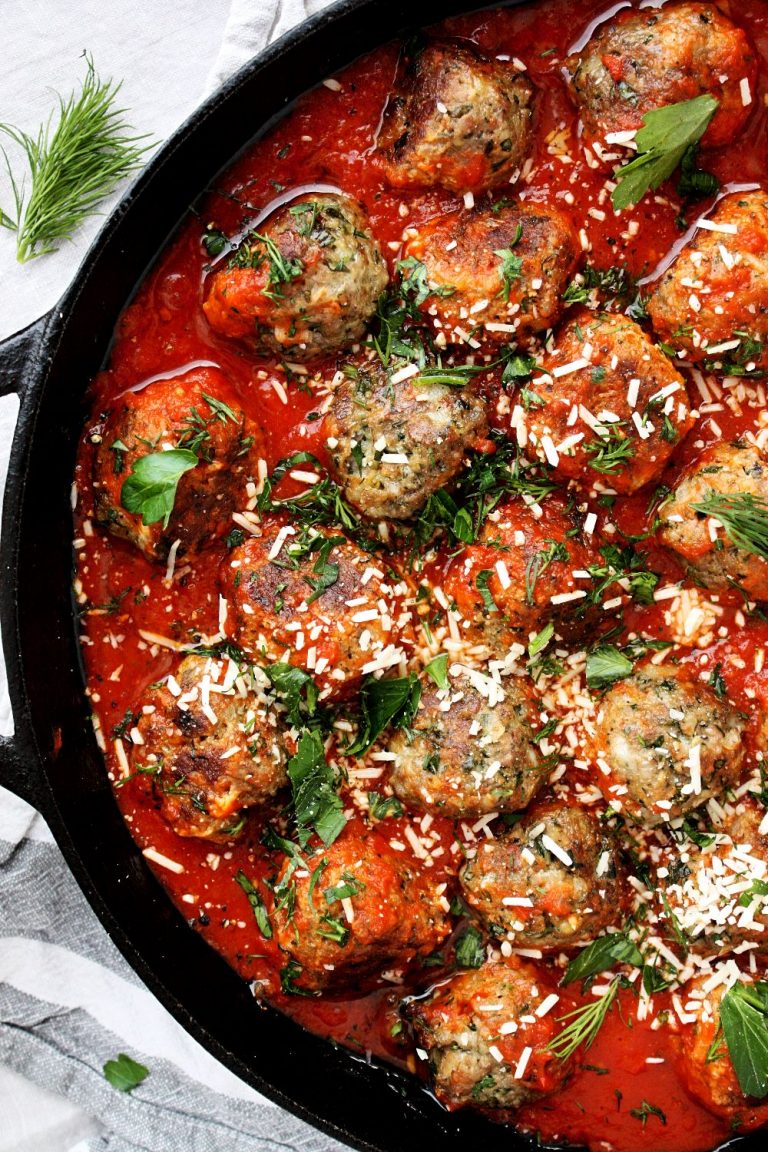 Easy Herb-Loaded Meatball Recipe
There is something deeply rooted in me that finds comfort at the sight of a saucy pot of meatballs, dressed up in marinara, served over noodles, and dusted with parmesan shavings and freshly chopped herbs. Guys, tell me I'm not alone. Not only do these meatballs bring on some cozy, warm vibes, but they are also simple, no-fuss, and a total crowd-pleaser (especially in the dead of winter).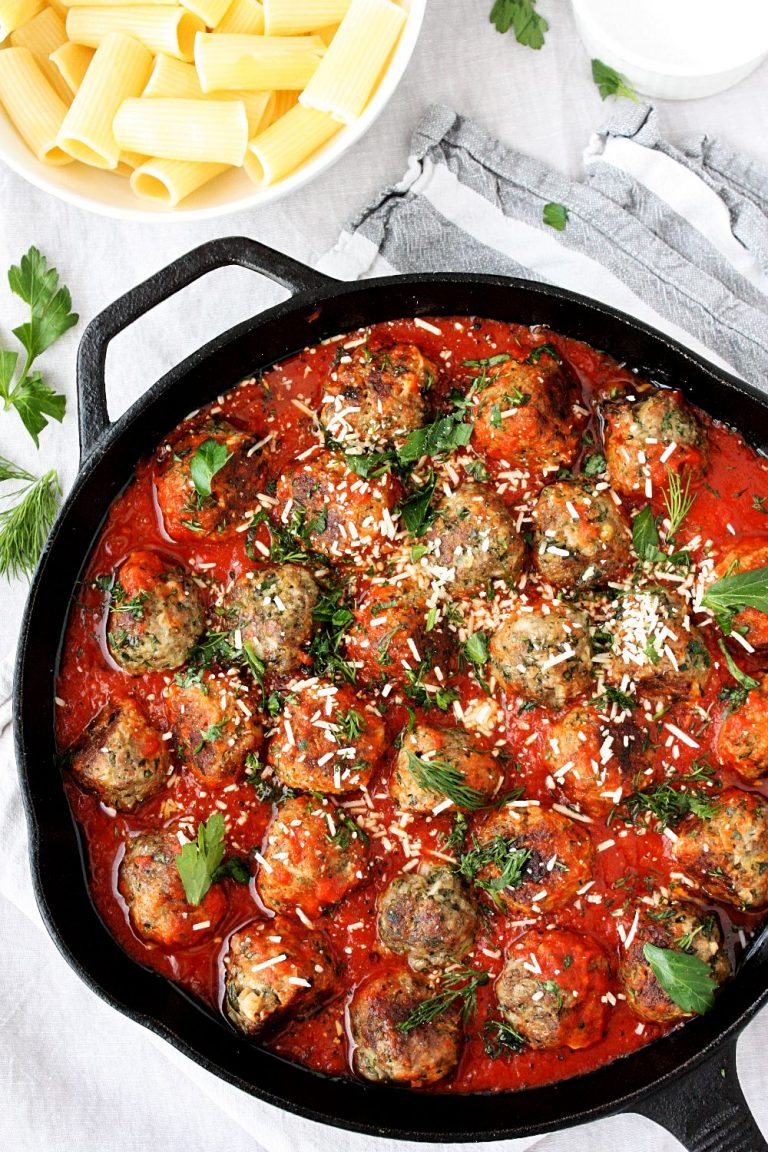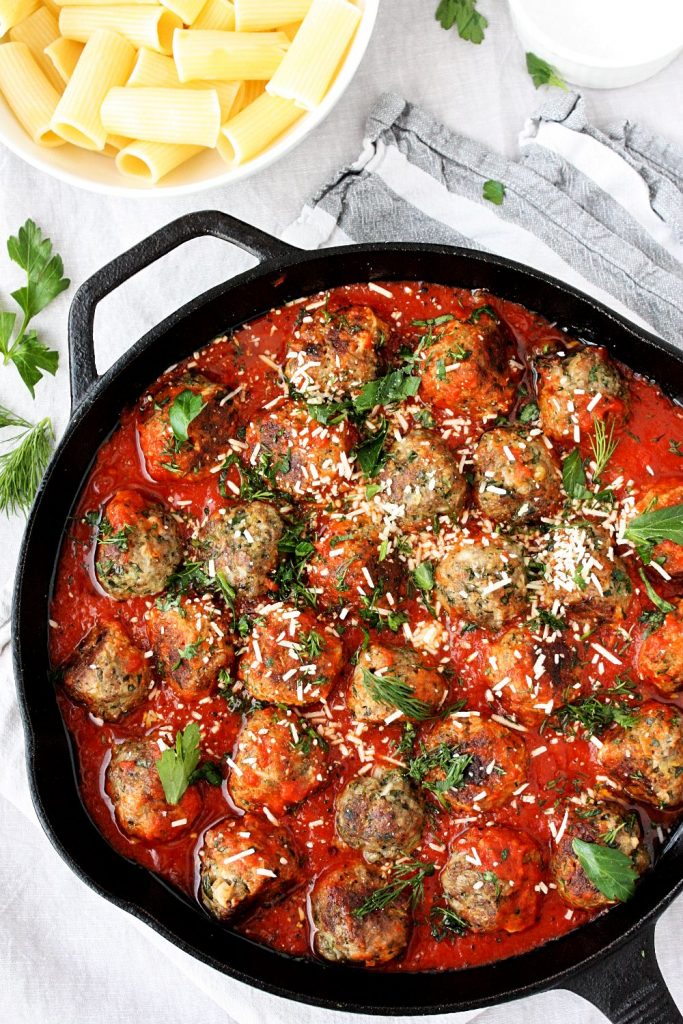 Let's get technical. When I think about what I want in a meatball recipe, it comes down to this:
Meatball Recipe Musts
There must be cheese, preferably parmesan, but I can work with mozzarella or ricotta. Cheese is a must for flavor AND because it makes a moist and juicy meatball—and that's what we're going for.
Let there be herbs, as many herbs as you are willing to chop. All varieties welcome. My go-to: dill, basil, parsley, and rosemary (go heavy on the dill and basil and light on the rosemary). Fresh herbs turn a potentially dull, stodgy meatball into a fresh, flavorful dish.
Easy Meatball Recipe Tips
A medium cookie scoop makes the perfect-sized meatball and saves you a ton of time. Plus, your meatballs will be round and uniform in size. I love my Oxo scoop.
Mix it up! This recipe is super adaptable with easy substitutions. No shallots, no problem, a yellow onion works too, as does ground turkey in place of beef, Italian bread crumbs in place of panko, and mozzarella for the parm. As for the herbs, use your favs or whatever you have on hand.
When it comes to meatballs, I often take the easy route and pick up one of my favorite store-bought marina sauces. Pastene and Stefano are my go-to. You can of course whip up a homemade marinara. I'm partial to the Pioneer Woman's marinara recipe.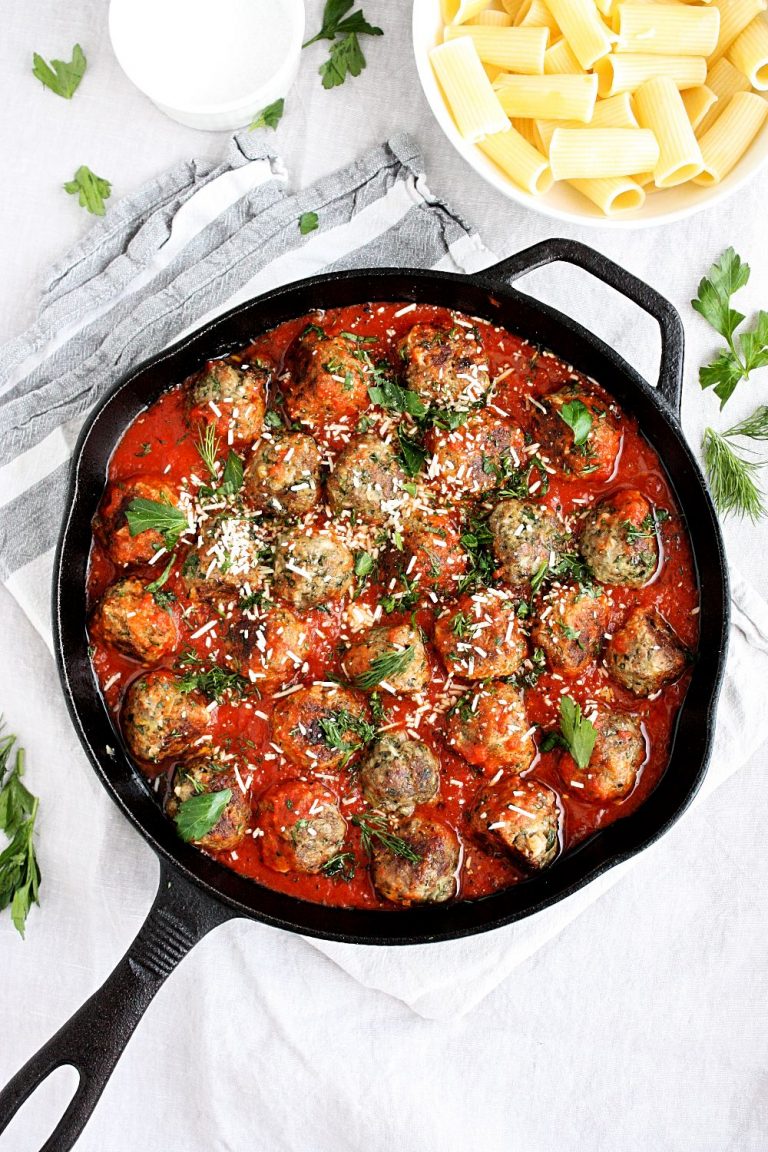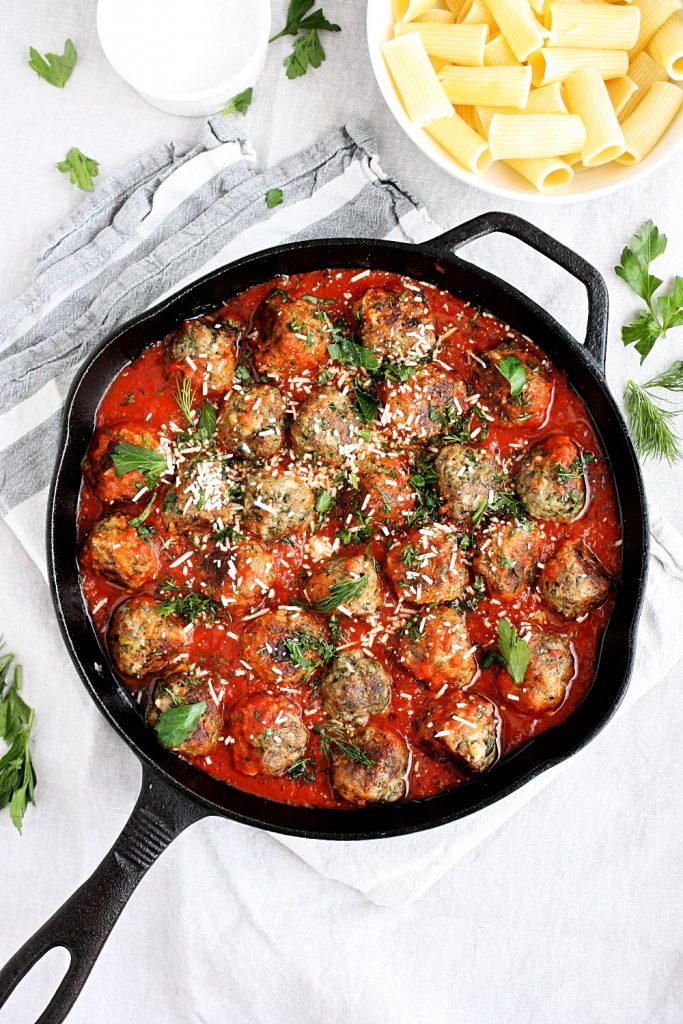 *These easy meatballs get bonus points for being kid-approved. I have yet to come across a little person that isn't happy to see a bowl full of noodles topped with meatballs.
If you give this one a try let me know in the comments below! I love to hear from you.
xo Bri
---
Looking for more cozy dinner recipes? Check out a few of my favs.
---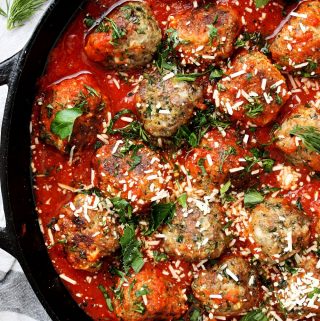 Easy Herb-Loaded Meatball Recipe
This herb-loaded meatball recipe is simple, easy comfort food made with ground beef, fresh herbs, and parmesan. Big on flavor and perfect for any night of the week.
Ingredients
1.5

lbs

ground beef

a little more or a little less is fine – sub: ground turkey

1

cup

fresh herb mixture finely minced

1/3 cup dill, 1/3 cup parsley, 1/3 cup basil, 1 tbsp rosemary or use your own combo – just go light on the rosemary

2

shallots

finely diced

1

cup

parmesan Reggiano

finely grated – sub: mozzarella cheese

juice of half a lemon

2

eggs

1

cup

panko crumbs

sub: regular Italian bread crumbs

3/4

tsp

kosher salt

1/2

tsp

ground pepper
Instructions
Preheat oven to 350 degrees.

Add all ingredients to a large mixing bowl.

Mix with a fork until well combined.

Use a medium cookie scoop to form meatballs. *I scoop all the meatballs, then roll each one between my palms to make them perfectly round.

Heat a large cast-iron pan over medium heat. Note: any oven-safe pan will do. Add a generous glug of olive oil to coat the base and once hot (a minute or two), add the meatballs to the pan. Let them cook for 1-2 minutes until they begin to brown. Roll the meatballs around, cooking for 1-2 minutes each time, until the meatballs are nearly browned all over.

Place the pan in the oven and bake for 10-15 minutes, or until the meatballs are cooked through.

Add your sauce of choice and serve over pasta.
Notes
Makes 26 – 28 meatballs
A medium cookie scoop holds 1.5 tbsp and makes forming meatballs so quick and easy! I use this one.
Share
Did you make this recipe? Tag @mondaysundaykitchen on Instagram and hashtag it #mondaysundaykitchen!