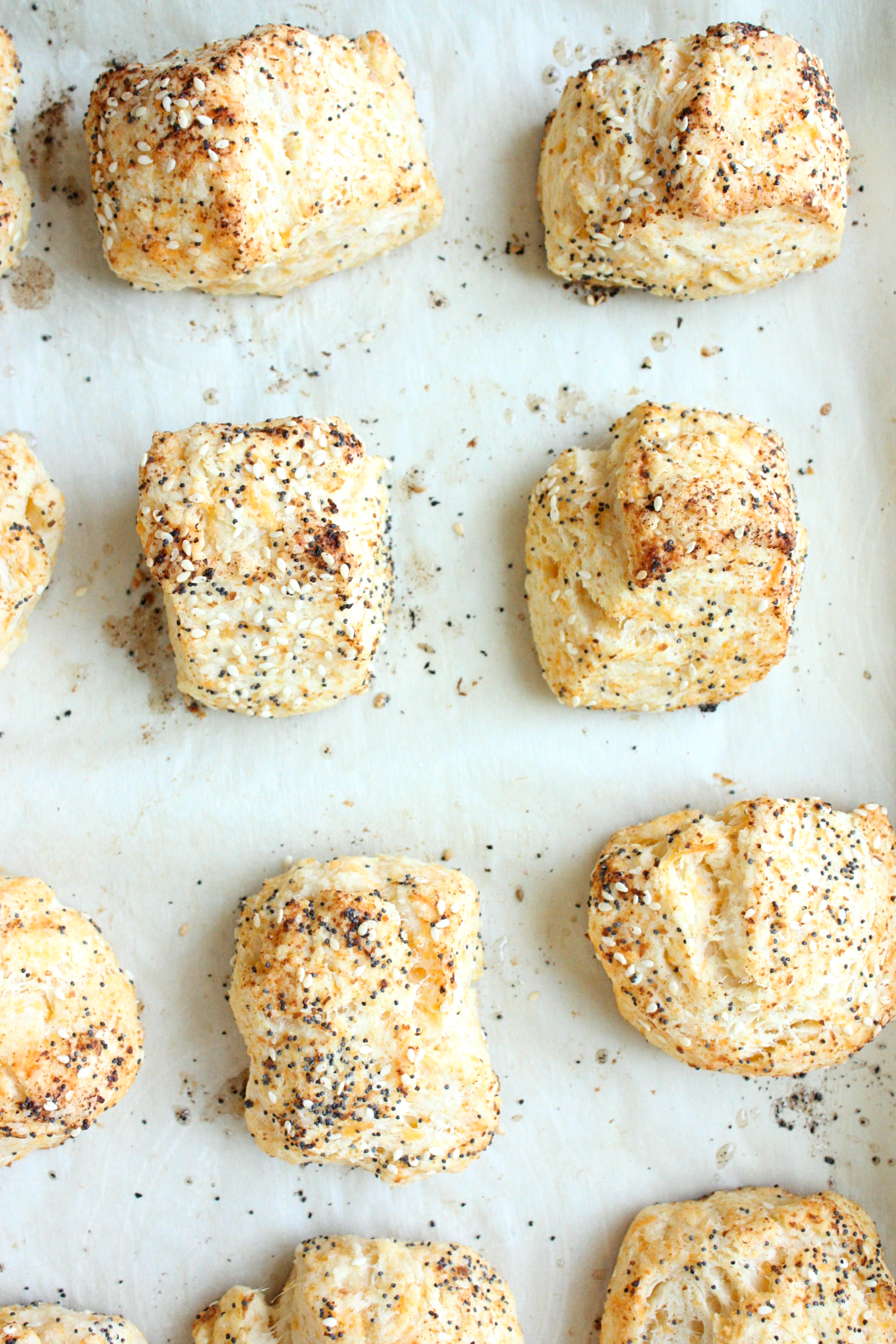 I'm just gonna say it. These are THE BEST most buttery, all dressed cheddar biscuits. Ever. Ever. I can hear the horn-tooting as I write down these words, but the force of these biscuits is just too strong. My eight-year-old re-enforced these good feelings by saying they were the best thing he has ever tasted. He also gave them a million on a scale of 1-10, so there's also that. Basically, we'd marry these biscuits if we could. But since that's not a thing, I'll just make these on a very regular basis, forevermore (and you should too!).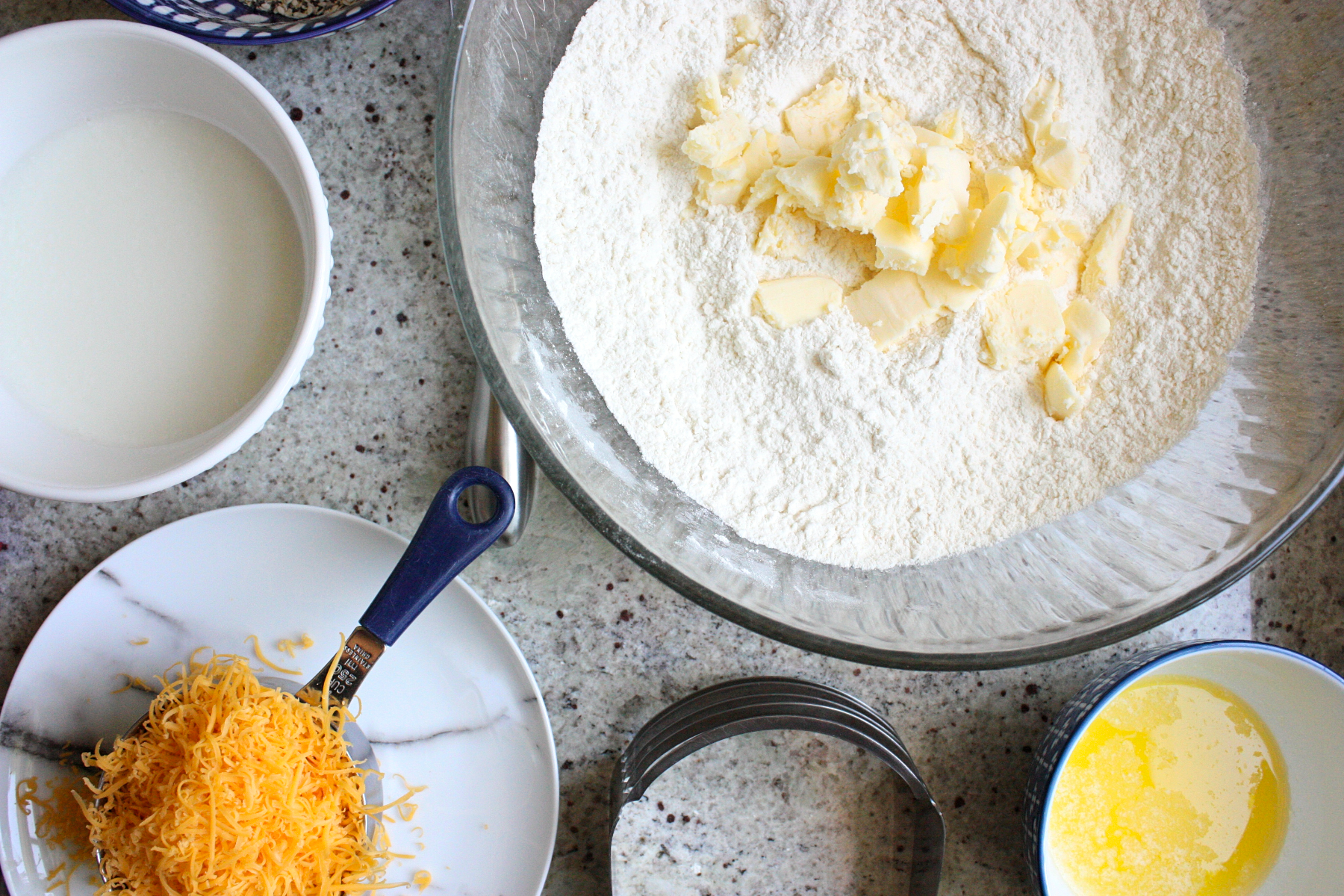 What's so darn good about these biscuits? Well, they're actually super basic, made with easy ingredients you likely have in your fridge and pantry. Butter, flour, salt, baking powder and sour milk (i.e. milk and vinegar). Add cheddar and all dressed seasoning and voila—the MOST flavourful, yummy biscuits. A perfect breakfast, lunch, or dinner companion—or on their own….straight out of the oven, smothered in butter…
As mentioned, these biscuits are easy peasy. Cut your butter into the flour mixture and toss in the grated cheddar by hand. Once you stir in the sour milk, get dirty again and give the dough a 30 second kneading until it all comes together nicely (see picture above, on the right).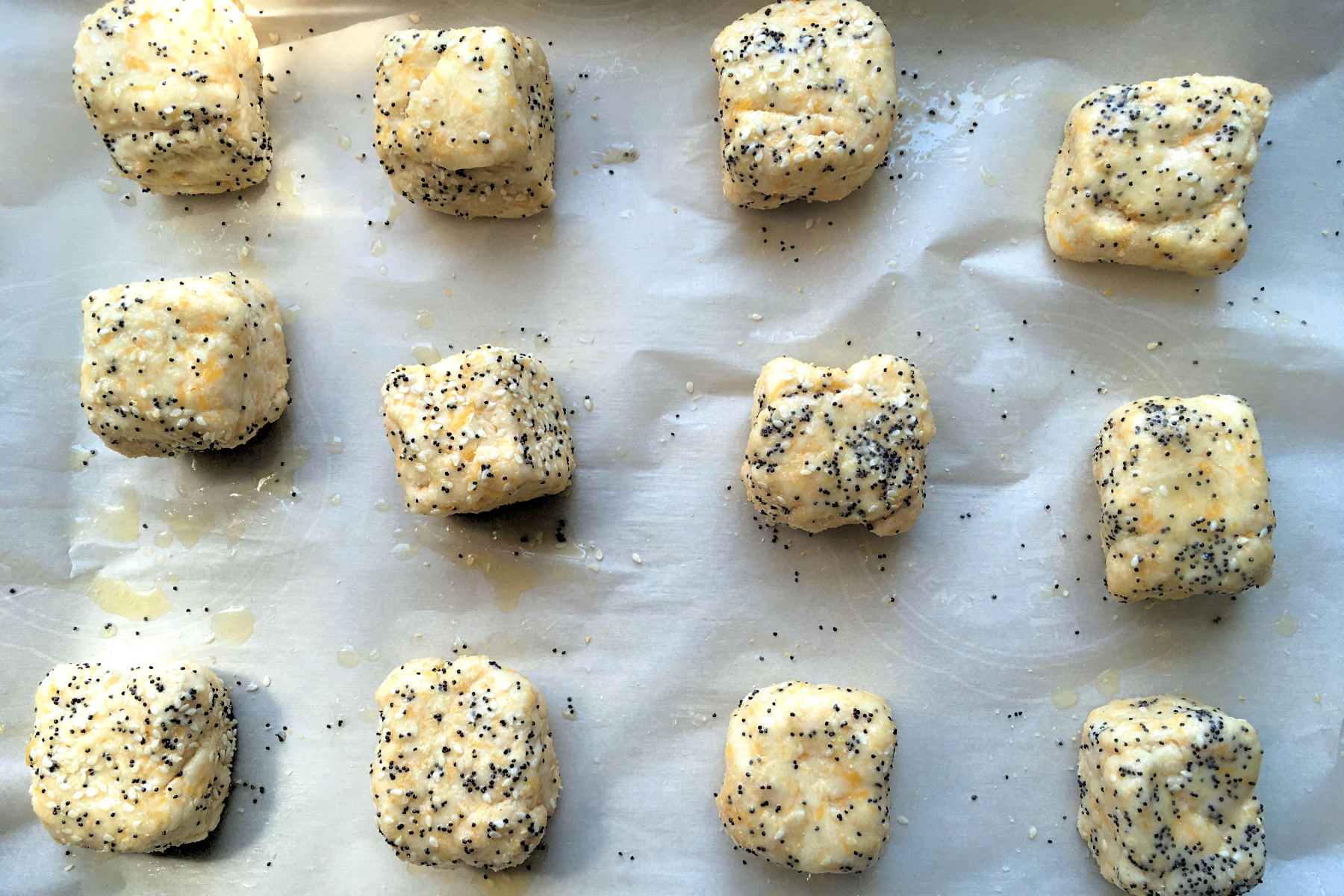 Using your hands (again), form into a thick square, large enough to divide into 12 square biscuits. My method? Smush (very technical) the dough down until about an inch and half thick and smush in the edges to form a square. From there it's pretty simple to cut into 12. Now, time to season. Give them a quick roll in the all dressed seasoning, place them on a baking sheet and for good measure, brush with melted butter.
After 12-15 minutes in a 450 degree oven, these biscuits will be slightly golden, fluffy, and flaky. Try to let them cool for 5 minutes. OR, just go for it, tear one in half and slather on some butter. It's a win, win situation.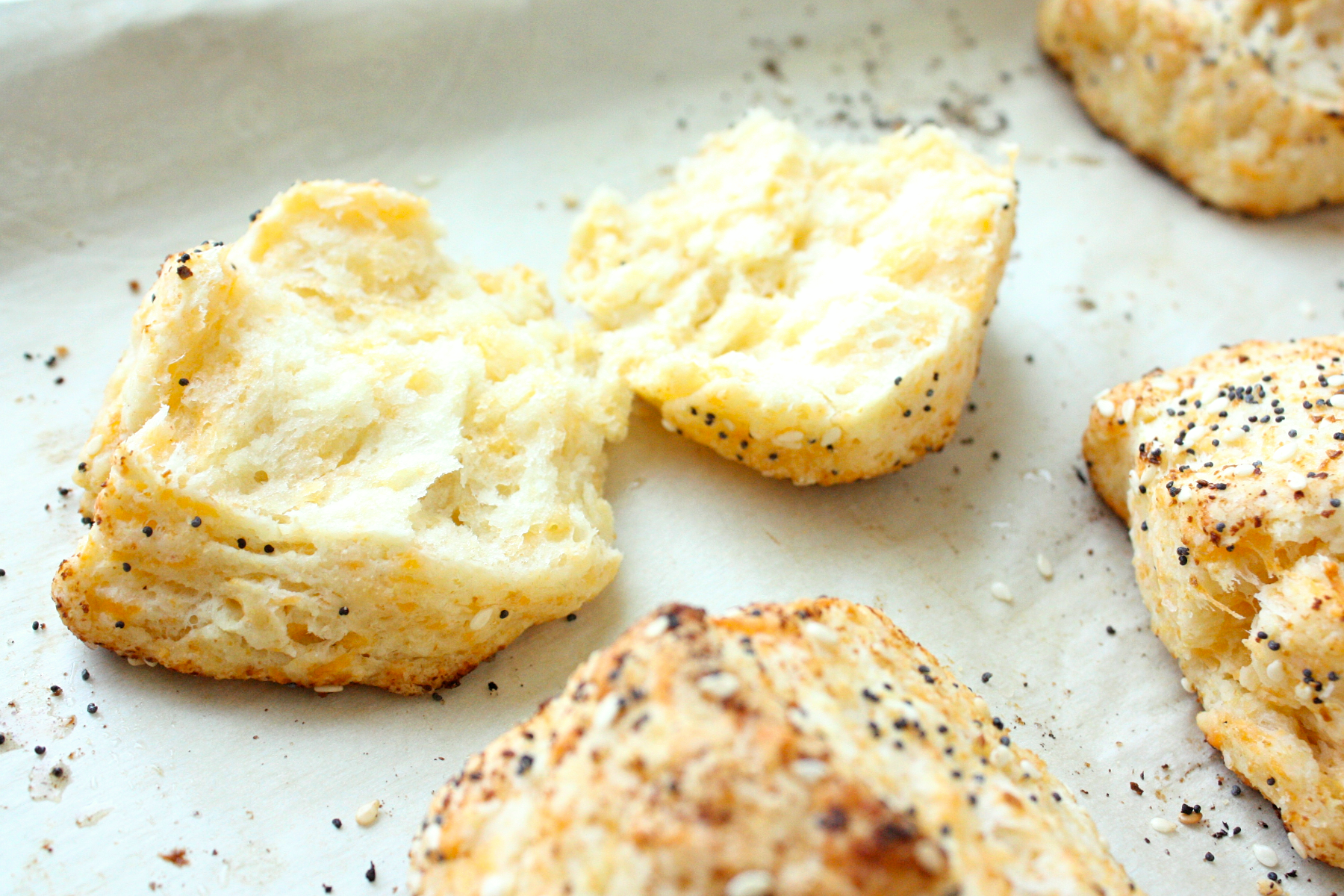 These biscuits are best served straight out of the oven, but they'll keep well for a day or two at room temperature in a sealed container. If you're making them in advance, I'd recommend warming them for a minute or two in the oven just before serving.
If you give these a try, let me know in the comments below how they turned out for you!
Buttery All Dressed Cheddar Biscuits
Ingredients
Biscuits
2

cups

all purpose flour

1

tbsp

baking powder

1

tsp

salt

1/2

cup

cold butter

cut into small cubes

3/4

cup

sour milk or buttermilk

1

cup

orange cheddar cheese

finely grated

2

tbsp

melted butter

for brushing
All Dressed Seasoning
1

tsp

poppy seeds

1

tsp

sesame seeds

1

tsp

garlic powder

1

tsp

onion powder

1/2

tsp

kosher salt
Instructions
Preheat oven to 450 degrees.

Mix all dressed seasoning in a small bowl and set aside.

In a large mixing bowl, combine flour, baking powder and salt. Add cold cut butter. Using a pastry cutter, combine until the mixture resembles coarse crumbs.

Add in finely grated cheddar and toss (hands are great for this) until well incorporated.

Pour in buttermilk (or sour milk, which is what I used) and stir until a dough begins to form. Use your hands to bring it all together, kneading it for 30 seconds or so.

Transfer to a parchment paper lined baking sheet and form into an inch and half thick square. Cut into 12 equally divided squares.

Toss each square into seasoning to lightly coat. Give em a quick roll. Transfer back to the baking sheet, placing the seasoned biscuits roughly two inches apart.

Lightly brush the tops and sides with melted butter.

Pop into a 450 degree oven and bake for 12-15 minutes, until golden and fluffy. Enjoy!
Notes
For 3/4 cup sour milk, combine 3/4 cup milk with 2 1/2 tsp white vinegar. Let sit for 5 minutes. Et voila.
Share
Did you make this recipe? Tag @mondaysundaykitchen on Instagram and hashtag it #mondaysundaykitchen!