Muffin success! I often try my hand at creating recipes from scratch or adapting my favorite ones, and truthfully, more often than not, they fail miserably, and then I'm left with mediocre goodies to eat — not good enough to post, but not bad enough to throw away. Soon after these muffins came out the oven (2 minutes later) my husband gobbled down three in a row, while I tried (emphasis on tried) to summon all my inner strength and wait for them to cool. Finding the restraint necessary not to eat muffins (or any baked goodie) straight out of the oven is a challenge. Time and time again I burn my tongue and honestly, I can barely taste a thing when they're pipping hot. Failed attempts at restraint aside, hot or cool, these muffins are delicious.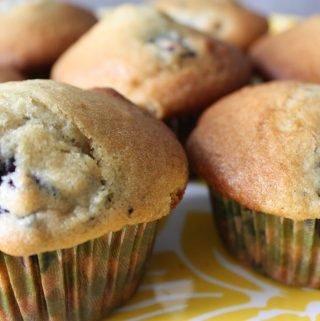 Blackberry Almond Muffins
Ingredients
2

beaten eggs

1/2

cup

vegetable oil

1/2

cup

2% plain unsweetened yogurt

1/2

cup

milk

1

tsp

almond extract

2

cups

flour

3/4

cup

light brown sugar

1

tsp

baking powder

1

tsp

baking soda

1/4

tsp

salt

2

cups

fresh blackberries
Instructions
In a medium mixing bowl, combine eggs, oil, yogurt, milk and almond extract.

In a large mixing bowl, sift together, flour, brown sugar, baking powder, baking soda, and salt.

Make a well in the dry ingredients and slowly pour in the egg mixture. Stir until just combined.

Fold in blackberries and spoon into prepared muffin tins.

Bake at 375 for 20-22 minutes. Makes 12 to 16 muffins. Enjoy.
Share