Fluffy, moist, apple goodness. Don't even get me started on how delicious your kitchen will smell while these apple cinnamon muffins bake. Not only will your kitchen smell DIVINE, everyone will love you more. If you plan on sharing, that is…and if you don't, well, this is a judgement free zone. You be you.
I know for a fact that I'll be greeted with happy, smiling faces when I whip these out for post-school snack time, and THAT makes my day.
These muffins are very moist, loaded with granny smith apples two ways — grated and chopped.
YUM. If you're in a muffin mood, check out these favourites.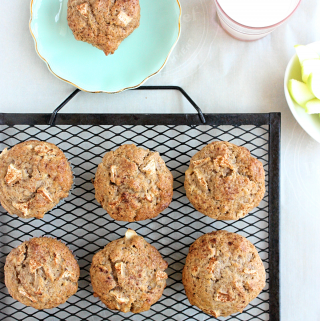 Apple Cinnamon Muffins
Ingredients
1 3/4

cups

all purpose flour

2

tsp

ground cinnamon

1

tsp

baking powder

1/4

tsp

baking soda

1/2

tsp

salt

1

egg

beaten

1/2

cup

vegetable oil

1

cup

brown sugar

1/2

cup

milk

2

tsp

vanilla

2

granny smith apples (1 cored and shredded

one cored, peeled and chopped into bites)
Instructions
Preheat oven to 400 degrees.

In a small mixing bowl, combine flour, cinnamon, baking powder, baking soda, and salt.

In a large mixing bowl, beat egg with oil, sugar, milk, and vanilla. Stir in grated apple and chopped apple bites.

Add dry ingredients to egg mixture and stir until well combined.

Scoop batter into lined muffins tins and bake for 20-22 minutes, until lightly golden.
Share