These delicious and easy tilapia fish tacos are made with crispy, spicy, pan-fried tilapia and topped with mango salsa, cabbage slaw, and a creamy chipotle sauce. So yum. ♡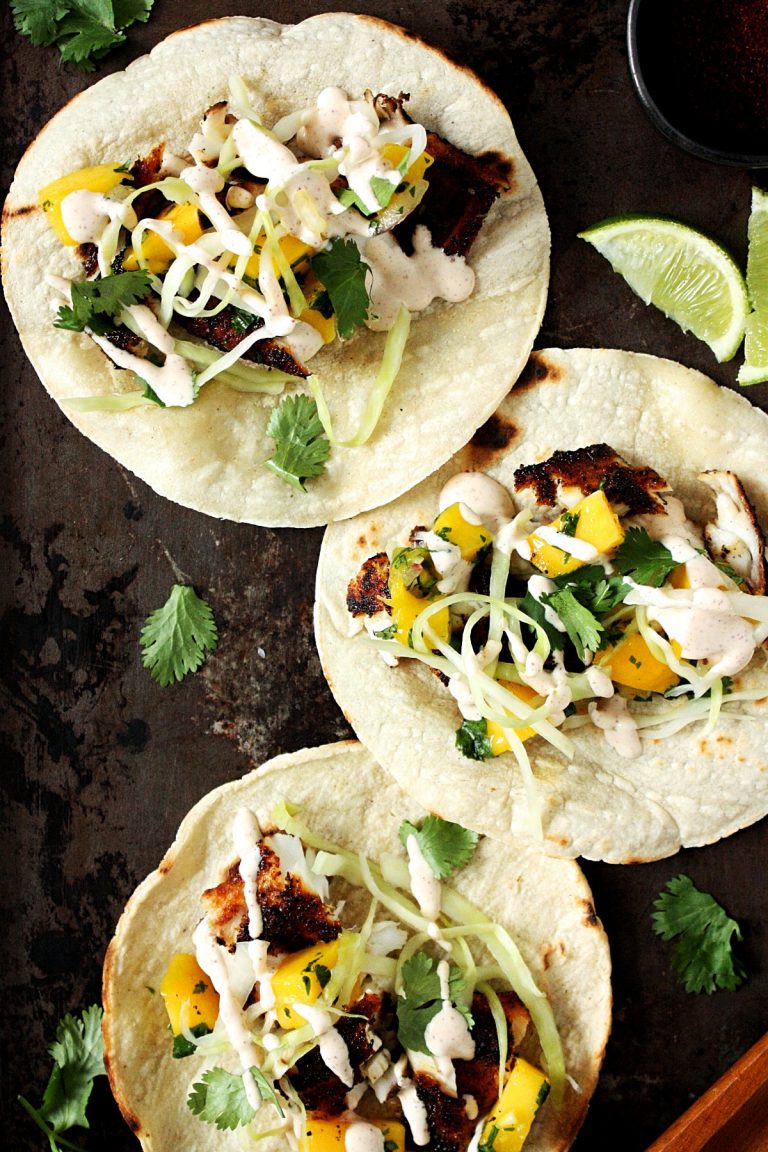 Before we jump in any further, you should know that this fish tacos recipe comes from a taco-obsessed household.
Veggie tacos—with roasted cauliflower and sweet potato—yes. Shredded chicken, grilled shrimp. Yup. We are down with anything you can stick in a warmed-up corn tortilla, so long as it's served with lime wedges and a creamy sauce. 🙌
About this easy fish taco recipe
Tilapia is my go-to white fish. It's a firm fish that holds together well when cooked and lends itself to a variety of seasonings, plus it crisps and blackens so nicely when pan-fried. Perfect for this tilapia fish tacos recipe. Pan-frying tilapia is quick and easy and takes 4-5 minutes per side—unless your fillets are extra-thick, in which case you might need an extra minute or two.
The taco fixings—shredded cabbage slaw, an easy mango salsa, fresh cilantro, and a creamy chipotle sauce—provide the all-important crunch, sweetness, acid, and heat needed to build the best fish tacos.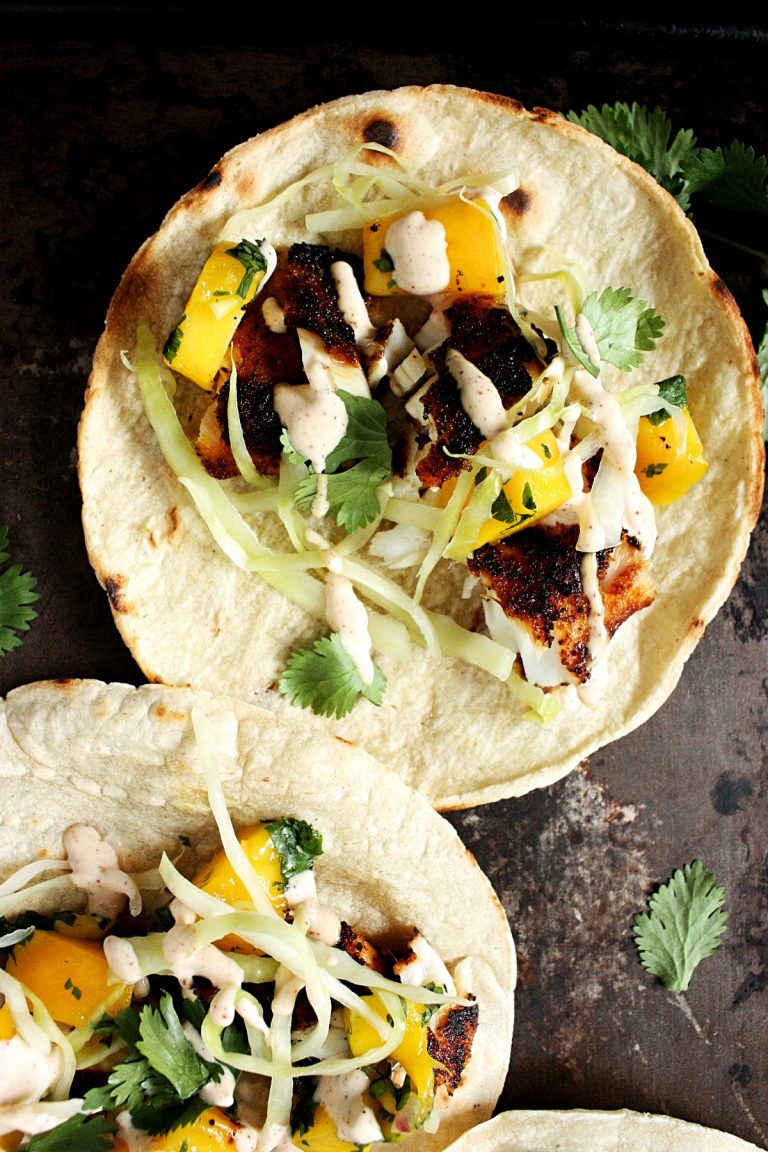 How to fry tilapia for fish tacos, so it doesn't stick to the pan
Place the tilapia fillets on a large baking sheet and remove any excess moisture by patting them firmly with paper towels. Do this before adding the spice rub.
Preheat a large dry pan on the stovetop, for 2-3 minutes, over medium heat. Flick in a few drops of water—if it sizzles, pops, and evaporates, the pan is ready for the oil.
Heat the oil. Like with the pan, you'll want to heat the oil over medium heat until it's good and hot (but not smoking!) before adding the fish. This takes roughly a minute or two, so stay close by. Be sure to use enough oil to coat the bottom of the frying pan generously.
Use an oil with a high smoke point like canola, vegetable, or avocado oil. Oils with a lower smoke point, like extra-virgin olive oil, ruin quickly, resulting in a more acrid taste. I typically use vegetable or avocado oil.
Leave the fish be! Once the pan and oil are hot, gently place the fillets into the pan and let them cook undisturbed for 4-5 minutes. This will help them become dark and crispy. Resist the urge to move them around.
Once the tilapia is cooked and crispy (second picture below), break the fillets into smallish chunks for fish taco building.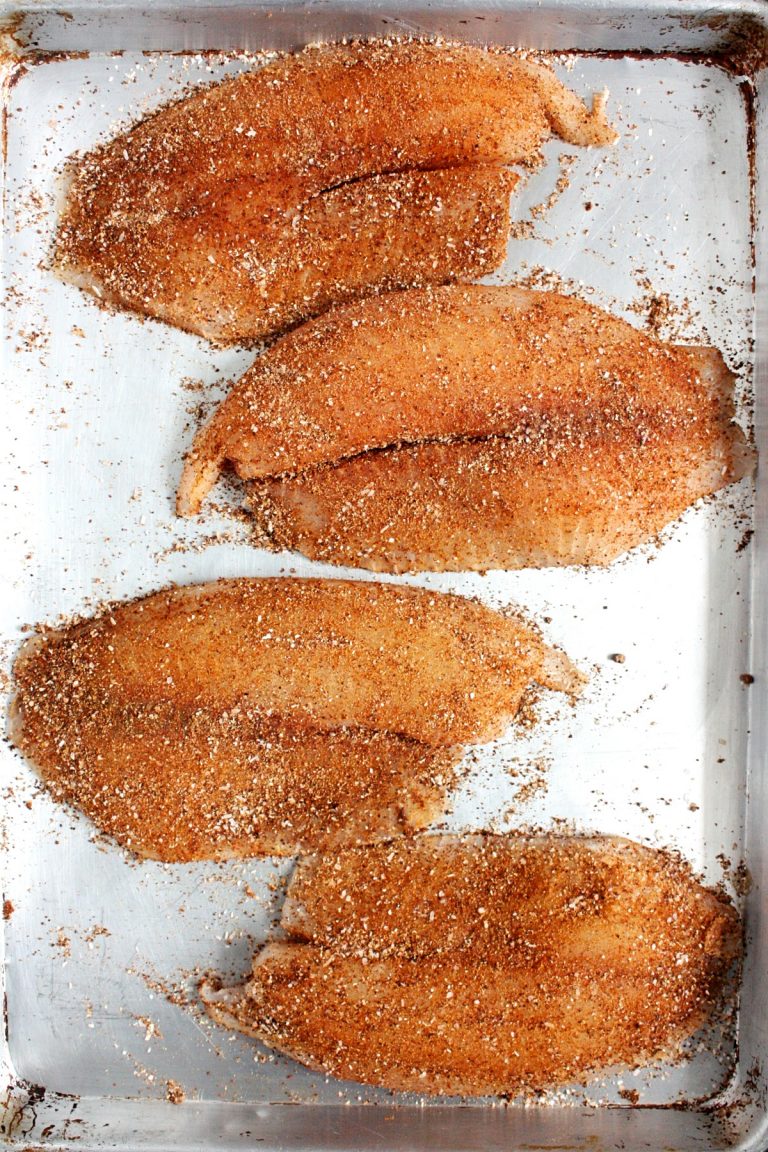 Seasoning for tilapia fish tacos
This easy taco seasoning is made by combining cumin, chili powder, cayenne, onion powder, kosher salt, and flour. The mixture is then gently rubbed onto both sides of the tilapia until the fillets are well coated.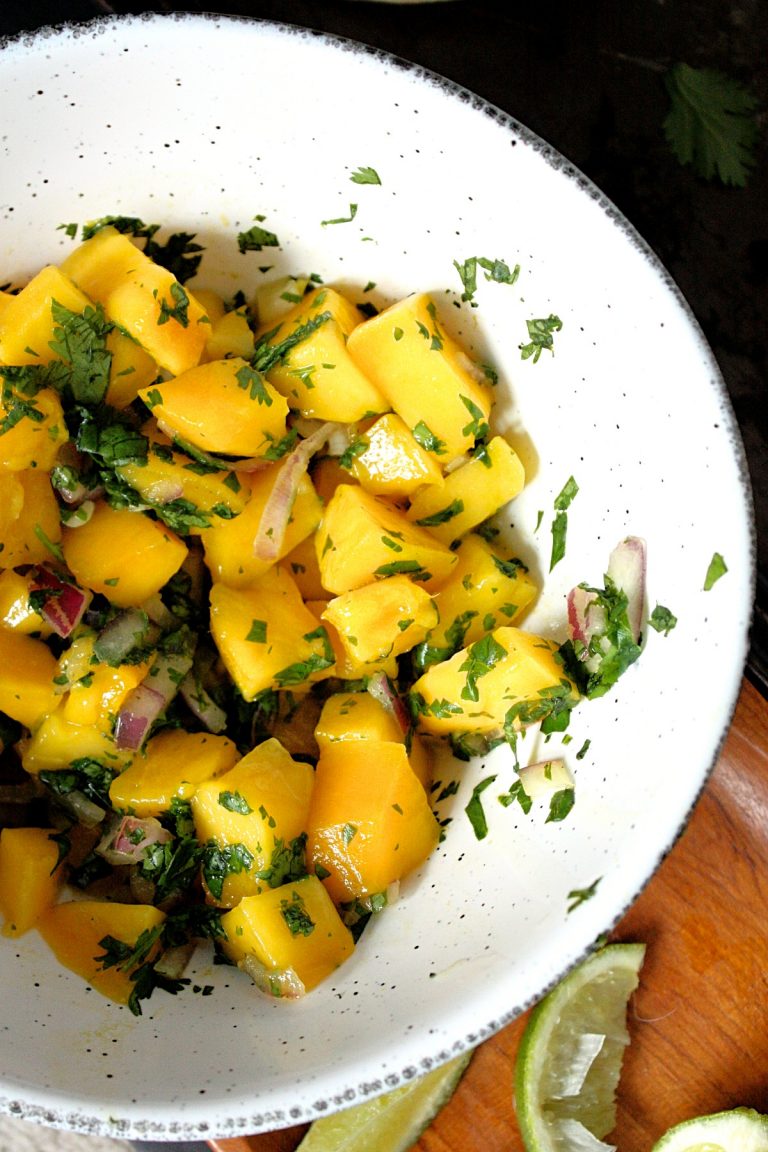 Mango salsa for fish tacos
With the subtle heat of the fish seasoning, the vinegary, crunchy cabbage slaw, and the creamy chipotle sauce, the addition of this bright mango salsa is PERFECTION. It's fresh, sweet, and easy to make.
To make mango salsa all you need is a ripe mango, fresh cilantro, red onion, and fresh lime.
Chop the mango into bites and add to a serving bowl along with the diced onion, finely chopped cilantro, and freshly squeezed lime juice. Stir and set aside for serving.
How to peel and cut a mango
Peel first with a sharp peeler. It is much simpler to use than a paring knife, and you'll save more of that coveted mango flesh.
Along the tallest line of the mango, slice lengthwise, right along the large flat side of the pit. Get as close to that pit as possible. Do the same for the other flat side, then slice along the narrow edges of the pit.
From here, you can easily chop into small cubes for the salsa.
This short video demonstrates the mango cutting technique.
Fish tacos toppings
Top these tilapia fish tacos with the mango salsa, crunchy slaw, and creamy chipotle sauce and dig in!
Additional or substitute toppings
Guacamole or sour cream in place of the chipotle sauce.
Salsa verde in place of the mango salsa.
Crunchy iceberg lettuce in place of the cabbage.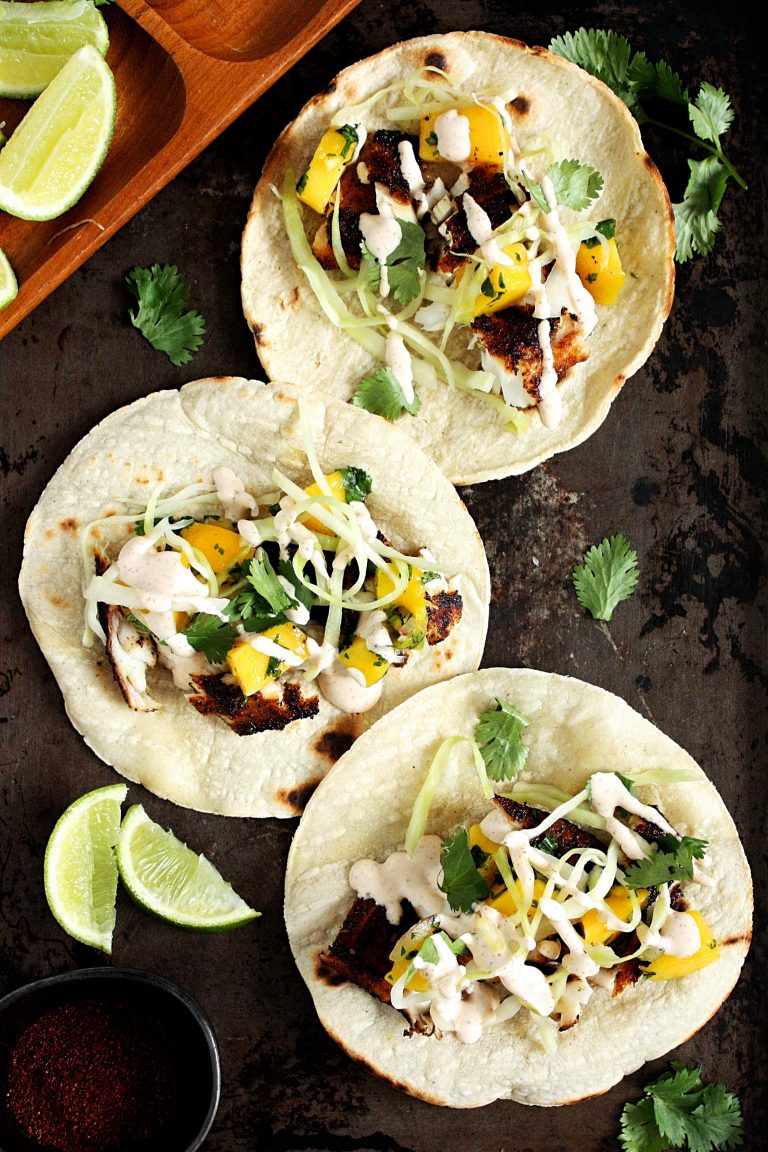 If you give these tilapia fish tacos a try, let me know in the comments below. I love to hear from you!
xo Bri
---
Looking for more taco love? Try these delicious taco recipes.
---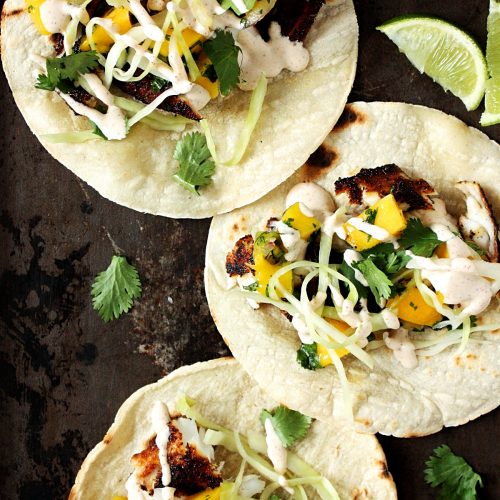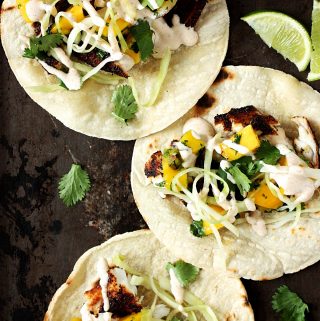 Easy Tilapia Fish Tacos with Mango Salsa and Slaw
These delicious and easy tilapia fish tacos are made with crispy, spicy, pan-fried tilapia and topped with mango salsa, cabbage slaw, and creamy chipotle sauce. So yum.
Ingredients
4

medium-sized tilapia filets

~20 corn tortillas

vegetable, canola, or avocado oil

for frying
Chipotle sauce for fish tacos
1/2

cup

mayonnaise

1/2

cup

sour cream

1/2

tsp

chipotle powder

1/2

tsp

kosher salt

half to a whole lime

depending on how juicy the lime is -start with half
Cabbage Slaw
2

cups

thinly sliced cabbage

white vinegar

enough to cover

1/2

tsp

kosher salt
Mango salsa
4

tbsp

chopped cilantro

plus more to serve

2

chopped mangos

4

tbsp

chopped red onions

the juice of 1 lime

pinch

of kosher salt
Tilapia seasoning
1

tbsp

cumin

1

tbsp

chili powder

1

tsp

onion powder

1/4

tsp

cayenne pepper

1

tsp

flour

1

tsp

kosher salt
Instructions
Cabbage Slaw
Combine thinly sliced cabbage in a bowl with enough white vinegar to cover, plus kosher salt. Let sit while the other fixings are prepared. When it's time to serve, drain the excess vinegar.
Mango Salsa
Combine chopped mango, cilantro, red onion, lime juice and a pinch of kosher salt. Set aside for serving.
Creamy Chipotle Sauce
In a mixing bowl, whisk together mayo, sour cream, chipotle spice, salt and lime juice until smooth and well combined. Set aside for serving.
Pan-Fried Tilapia
In a small bowl, combine cumin, chili, onion powder, cayenne, flour, and salt.

Using paper towels, pat tilapia filets to remove any excess moisture and place them on a large baking sheet.

Sprinkle roughly a teaspoon of the seasoning mixture onto each tilapia filet and rub it in using your fingers. Flip filets over and repeat with the other side.

Preheat your frying pans (use two pans for four filets, so not to crowd the fish) dry, over medium heat for 2-3 minutes. At this point, add in the oil and let it heat up for a minute before adding the fish.

Gently place the fish into the hot pans and cook for 4-5 minutes per side (depending on their thickness) over medium-high heat. *Adjust the heat if the pan begins smoking, or the fish appears to be burning.* Flip and cook for another 4-5 minutes until cooked through. The fish should be white and flaky. Gently break apart into small chunks. Set aside for serving.
Tortillas
In a dry pan, over medium-high heat, add corn tortillas. Cook for a few minutes on each side, until hot.
Taco Building
Load up warm tortillas with fish, mango salsa, cabbage slaw, and chipotle sauce. Serve with with fresh cilantro and lime wedges.
Notes
See my tips in the post above on how to chop mango and how to pan-fry fish.
Share
Did you make this recipe? Tag @mondaysundaykitchen on Instagram and hashtag it #mondaysundaykitchen!