The best banana bread recipe, folks! Grab your over ripe bananas and let's get baking. This classic moist banana bread is easy and satisfying and calling your name. Perfectly paired with coffee for an afternoon treat.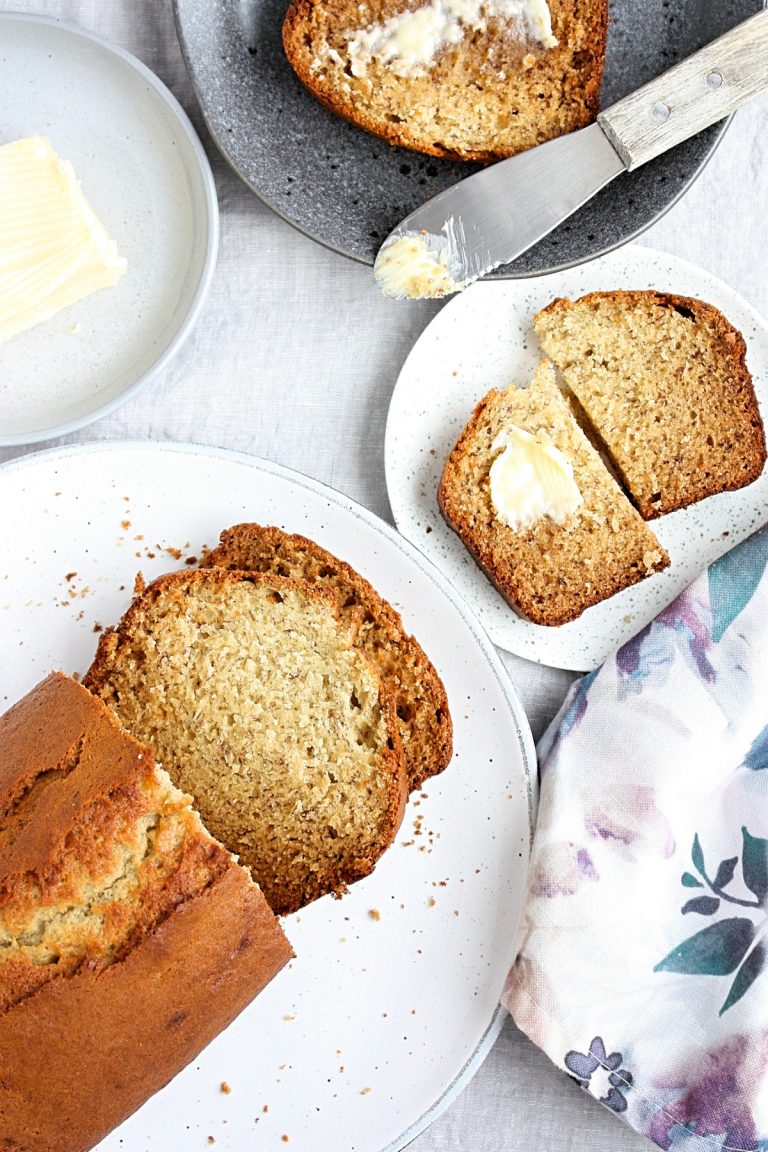 There is something so homey and comforting about the smell of banana bread baking. Your patience finally rewarded after days of waiting for those bananas to turn spotted and ripe…and fending off banana eaters. But the wait is worth it.
About the best banana bread recipe:
As far as recipes go, the best banana bread recipes have a few requirements. Namely:
Moist banana bread is a MUST.
Dense, but not overly oily.
Sweet and made with enough banana to taste the banana flavor. *If your bananas are not ripe enough, you'll taste the difference.
And lastly, prep to oven in under 10 minutes. Easy banana bread — it's the only way to go.
This recipe checks all the boxes. A classic banana bread recipe passed down from my mum, who inevitably tried many recipes before settling on this one as our go-to. She really did all the leg work, lucky me.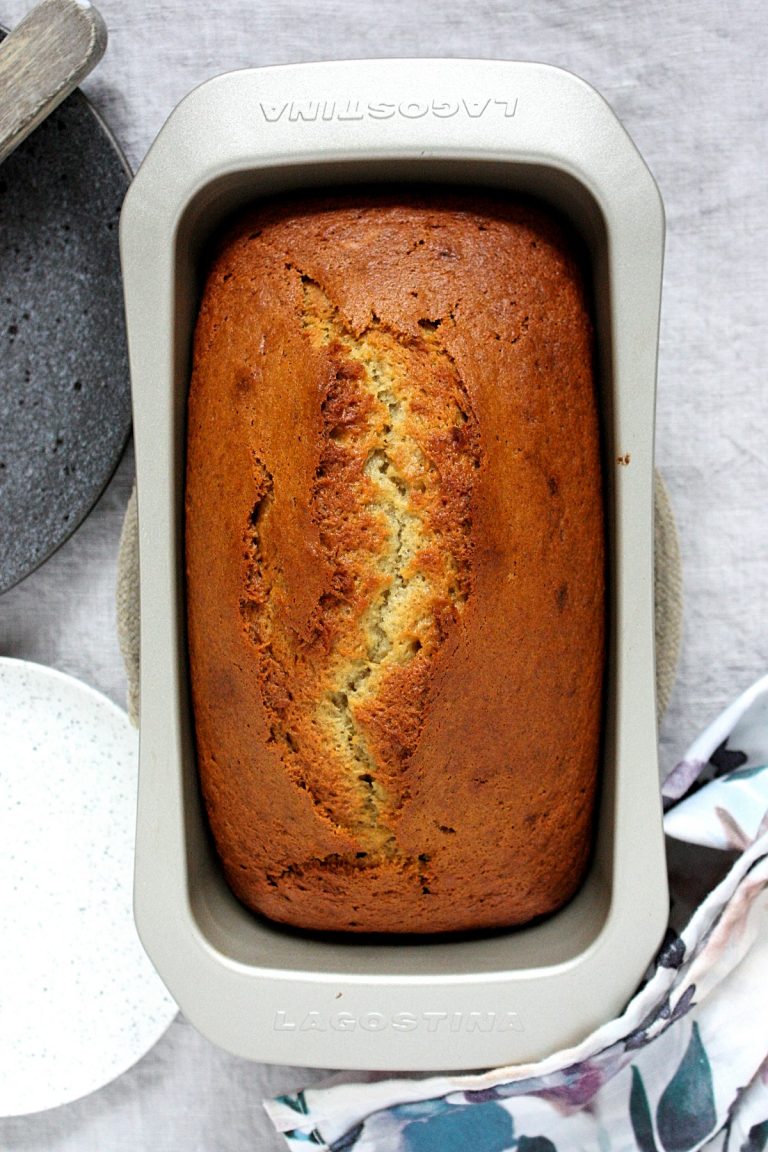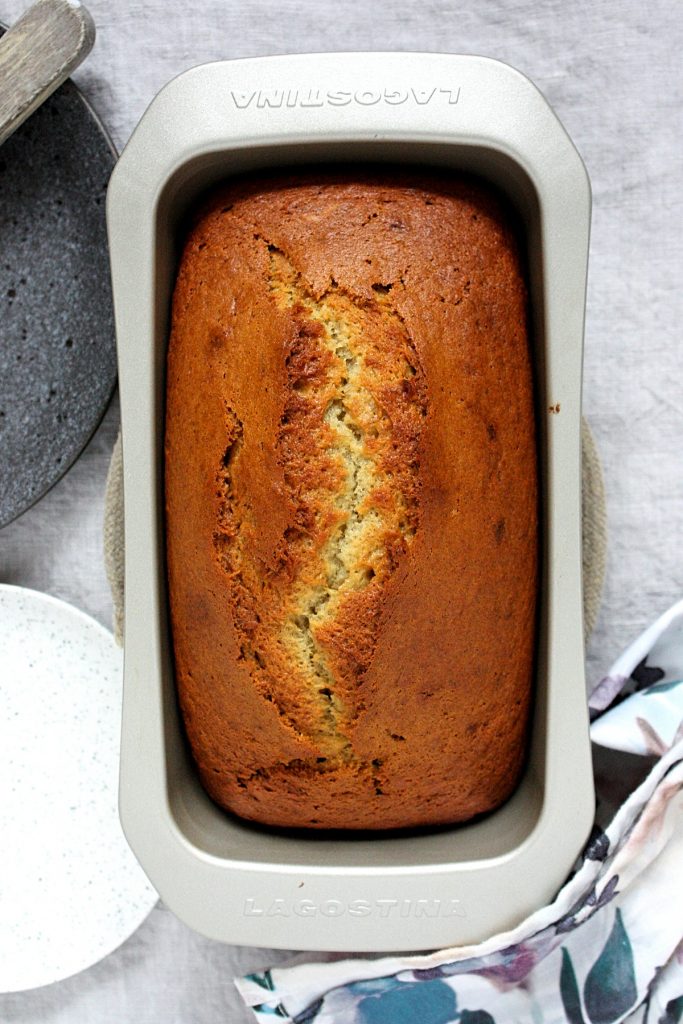 So grab your mixing bowls, and let's make some easy banana bread.
In a medium bowl, mash two very ripe bananas with two teaspoons of vanilla. Mash them well. They should turn quite liquidy. Set aside.
In a large mixing bowl, cream half a cup of soft butter with a cup of sugar. Whisk in two eggs, followed by four tablespoons of milk. Next, add all the dry ingredients (two cups of flour, a teaspoon each of baking soda and baking powder, plus a half teaspoon of salt). Stir well.
Time for the mashed bananas. Pour them into the mixture and stir until well combined.
Pour the batter into a greased loaf pan and bake at 350 degrees for one hour, until golden and delicious and ready for a good slathering of butter.
xo
P.S. Talking about ripe bananas, I've got the Best Blueberry Banana Pancakes for you. A little fluffy, sweet and so, so good on a Saturday morning.
Also these Double Chocolate Banana Muffins. ARE. EVERYTHING.
Best Banana Bread Recipe
Ingredients
1/2

cup

soft butter

1

cup

sugar

2

eggs

4

tbsp

milk

2

cups

flour

1

tsp

baking powder

1

tsp

baking soda

1/2

tsp

salt

2

very ripe bananas

well mashed

2

tsp

vanilla
Instructions
In a large mixing bowl, cream the butter, sugar. Whisk in the eggs.

Add milk, followed by the dry ingredients. Stir well.

In a medium bowl, mash the ripe bananas and stir in the vanilla.

Pour the banana mixture into the bread mixture, and stir until well combined.

Pour into a greased loaf pan and bake at 350 for one hour or until a toothpick comes out clean.